By Jeremy P. Amick
The "DEW" line—a distant early warning system designed to detect a Soviet missile attack during the Cold War—might appear to some an unremarkable section of a history book meant for reading by younger generations, but it was a tense reality lived for many months by veteran Donald Matthews.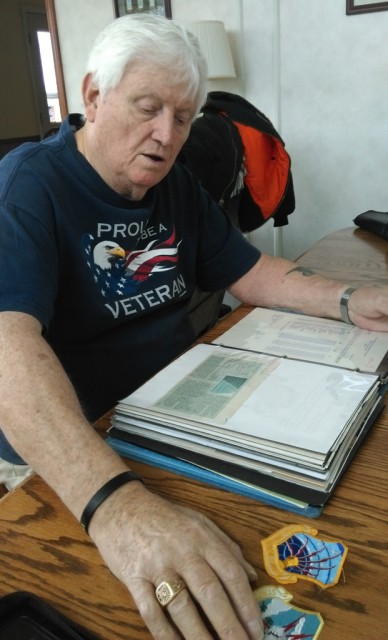 "I guess I was just cut out for the military," said Matthews, 80, California, Mo. "I had really become bored with high school and wanted to get out and see a little of the world."
Raised in the Centertown, Mo., area, Matthews' military journey began in 1952 with his enlistment in the Missouri National Guard, but the following year, he chose to continue his military service … though along a slightly different path.
Capitivated by the technology-based educational opportunities offered by the Air Force, the young recruit was soon in a uniform and attending boot camp at Lackland Air Force Base (AFB), Texas.
From there, he traveled to Francis E. Warren AFB near Cheyenne, Wyo., where he received communications training and graduated in July 1954 as an "installer cableman."
The adventure he began seeking only months previous soon arrived when he was given orders for deployment to McAndrew AFB in New Foundland.
As Matthews explained, he was provided training as a cable splicer and attached to the 22nd Communications Construction Squadron under the Northeastern Air Command," which, he noted, required temporary assignments at locations in both New Foundland and Greenland.
"At that time," he said, "the Air Force was extending the runways for the B-52s (a long-range bomber) and we were installing the communication networks for the towers and buildings around the runways."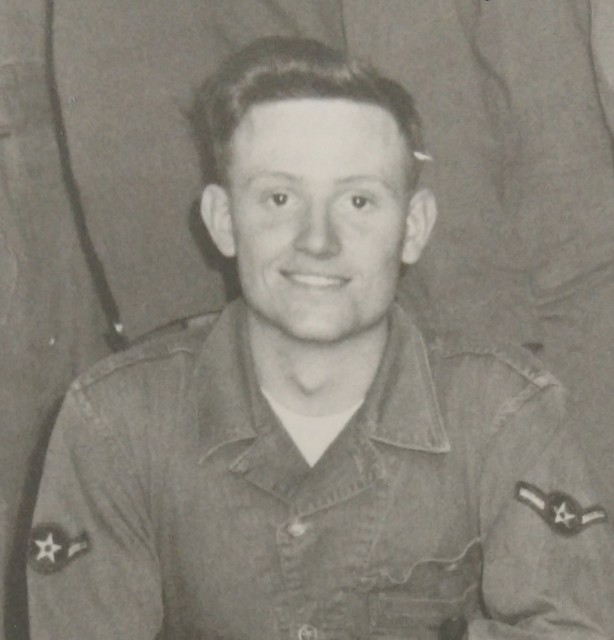 He added: "I also worked on the steel communication towers that helped transmit the information collected by the 'DEW' line, which was an imaginary line of radars that, if crossed by Russian aircraft, would provide an early warning."
Matthews also said that the B-52s were—at that time—"in the air nearly 24 hours a day" because of the perceived threat.
The young airman remained overseas for nearly two years, eventually returning to the United States in 1955. He finished the final two years of his enlistment installing communications at several stateside locations as a member of the 1st Communcations Construction Squadron.
"They (Air Force) were cutting back at that time and I got the urge to finally settle down," he grinned.
Discharged in 1957, Matthews married his fiancée, Darlene Hofstetter, the following year. The couple went on to raise three children: Terry, David and Lisa.
Unable to secure a civilian job in the communications industry after leaving the service, Matthews was hired as a pressman and printer with the California (Mo.) Democrat newspaper.
His life began to assume the mantle of many returning veterans—focusing his energies on a career and building a family—until a conversation with his son several years later awakened an interest in revisiting what he had previously begun.
"My oldest boy was in the (Missouri) National Guard and told me there were a lot of new benefits … and that I ought to get back in." With a grin, Matthews added, "He was kind of the instigator of it all."
In 1981, after nearly a quarter century since leaving the Air Force, Matthews enlisted in the National Guard at the age of 47 and went on to serve with several Mid-Missouri units.
He retired from his career with the newspaper in 1986 and went to work for the state of Missouri. In 1995, he embraced "full retirement," leaving his state job and finishing his career in the National Guard with 20 years of military service.
"Now I enjoy rockin' in my rocking chair," Matthews joked.
Though he experienced a protracted break in service and enlistments spanning two branches of the military, Matthews asserts his memories of the Cold War remain the most poignant and believes the history surrounding the Soviet threat needs to be preserved.
"It was a very interesting and distressful time; we all had to wear detectors on our uniforms that would warn us of any fallout from a nuclear attack," Matthews said. "But you just went about doing whatever you were doing—making sure your job was done."
In conclusion, he said: "It seems to me that a lot of the younger generation are no longer familiar with with the events that I and others experienced during the Cold War and the threats that actually existed."
Jeremy P. Ämick writes on behalf of the Silver Star Families of America.
Jeremy P. Ämick
Public Affairs Officer
Silver Star Families of America
www.silverstarfamilies.org
Cell: (573) 230-7456