The Brecon Beacons on a hot, bright summer's day provides one of the most fantastic views in Britain. However on a dark rainy night in winter or if there is low cloud cover, it is a dangerous place and should be avoided. During WWII it was especially so for pilots, flying without modern navigational aids. The Brecon Beacons National Park contains over 40 military aircraft crash sites.
Those identified tend to be close to and in hard-to-access mountain top locations. Getting to them is not for the faint hearted. To visit some of them can take a day to walk there and back.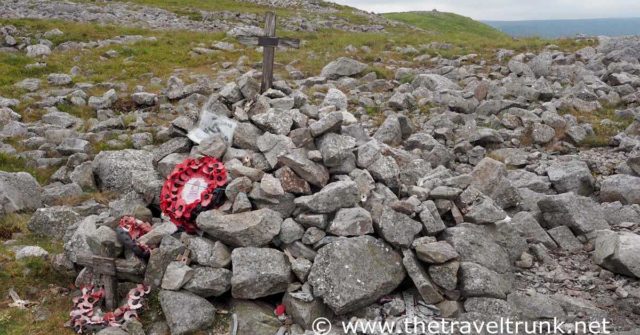 One that is a little more accessible and very poignant is that of the Wellington bomber T2520 that crashed killing all its Canadian crew in 1940.
The aircraft from 115 Squadron was based at RAF Marham. It was one of nine Wellingtons taking part in a bombing raid on Bordeaux. Seven planes returned after the sortie – one landed back at Boscombe Down and another at Brackley.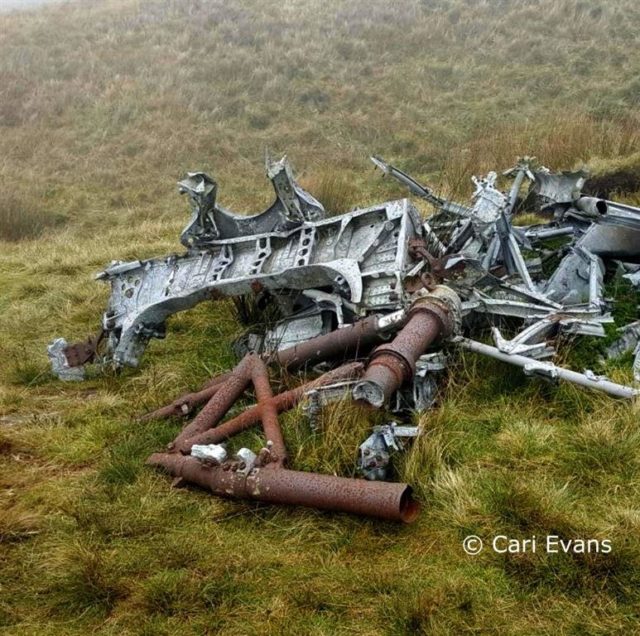 A report from RAF Tangmere said that T2520, call sign 'Alpha,' had made radio contact during their return flight and reported they were reducing height to conserve fuel. It appears the crew thought they were many miles to the east and in bad weather, it seems they became separated from their formation and got lost.
At 03:12hrs, the aircraft, flying at just under 2,000feet, flew into the rocky top of Cefn yr Ystad in Powys and burst into flames. There is still a small amount wreckage at the protected site which shows how the plane melted in the intense fire that followed the crash.
Sadly, all six crew members died. They were in their 20's. They were Pilot Officer A Tindall; Sgt A Brown, RNZAF, Air Gunner; Sgt S Howard, Wireless Operator; Sgt D Mills, Second Pilot; Sgt H D Ellis, Navigator, and Sgt D E Wallace, Air Gunner. They were killed instantly. Quarry workers arriving for work early the next day recovered the bodies for the authorities.
Other crashed aircraft from WWII include a Spitfire and more Wellington bombers in other areas around Brecon Beacons Park. Another WWII Wellington bomber wreck lies not far away from T2520 at a site above Pontstycill, near Merthyr Tydfil.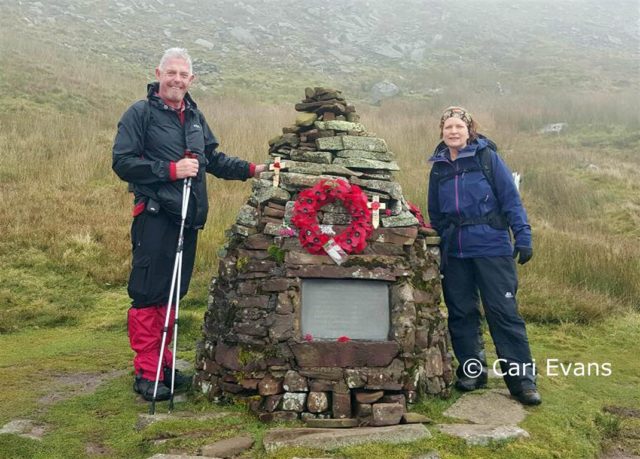 In 1953 an early jet fighter – a De Havilland Vampire – crashed in the Black Mountains in the north east of the Park, killing its pilot. There is also an Avro Lancaster, a Liberator and an Anson which all came down in the same mountain range.
More recently in February 1966, an Avro Vulcan crashed near Heol Senni in the Brecon Beacons. The RAF removed much of the wreckage at the time. Five members of its crew were killed after a low-level flight trial went wrong. It is believed the crew misidentified where they were and flew into the wrong valley.
One way to help people get safely to the sites is to hire a Mountain and Hiking Guide – for instance from Muddy Boots Hiking Adventures. Having an experienced guide to hand is well worth the moderate expense. They can provide all sorts of information along the way and save time in getting people directly and safely to the sites. At times the terrain can be steep, rough or wet.
The Brecon Beacons have fast and changeable weather conditions so a guide could, indeed, be life-saving. It is very easy to get lost when sudden low cloud descends on the mountains.
Many guides have a huge amount of knowledge of the Beacons. They know not only many details about crash sites people wish to visit but also the flora, fauna, and geology encountered on the way to them.
All images provided by the author.