World War II service of Merchant Marine saved for posterity
June 6, 1944: The Allied invasion of Normandy begins. This date, known as "D-Day," generally conjures up images of Landing Ship Tanks (LST) dropping their ramps and releasing a wall of gritty soldiers onto a beach bursting with shellfire and loaded with deadly hurdles—all in an effort to help free a nation held in the clutches of a German occupation that had devastated much of Western Europe.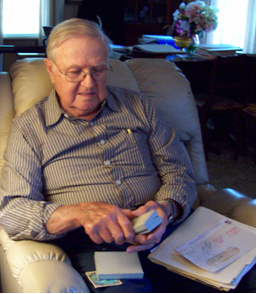 What is oftentimes missing from these electrifying battle images, however, is the visage of the U.S. Merchant Marine—a fleet of champions who surrendered an inordinate amount of blood and youth throughout the cycle of this great conflict. "Our ship, the T.B. Robertson, arrived with the rest of the invasion force and anchored just off of Utah Beach, recalled Rhoads. " We started to take fire from German 88mm's and had to move back about a quarter-mile or so."
But the Navy, who had taken control of the vessel on which Rhoads served, did not provide the young seaman—or the rest of the mariners aboard—with very much information regarding the conflict that they would soon be supporting. "I really didn't know that we were going to be part of the invasion until we got there," the former mariner grinned," but our ship ended up being used as the port director for Utah Beach (on D-Day)." Rhoads credits a couple of factors for his decision to become a Merchant Marine.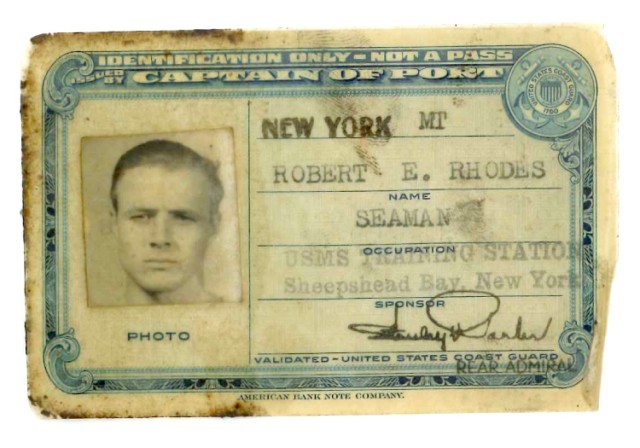 "Jobs were scarce at that time and there wasn't a lot of work to be found," Rhoads explained. "I wanted to serve my country but I was having some medical problems with my legs at that time and I wasn't sure if the military would take me. So I ended up in Kansas City where I signed up for the Merchant Marines."
The Merchant Marines is a network of privately-owned vessels that are registered and operated under the American flag, serving as an integral part of our country's commerce. They ship goods both to and from foreign ports and—in a time of war—can be mobilized into national service in order to deliver supplies to the U.S. military and its allies.Realizing the importance of transportation assets during a war, President Franklin Roosevelt ordered the mass production of what was to be known as Liberty ships (the same type of vessel on which Rhoads would consequently serve) and established the U.S. Maritime Service in order to train individuals to operate these vessels.
In 1942, the U.S. Coast Guard—through Presidential Executive Order—was given the authority to train Merchant Marines. In 1943, Rhoads attended training at the United States Maritime Service Training Station in Sheepshead Bay, New York. "During my entire time in service," he explained, "I went by the last name of 'Rhodes' instead of 'Rhoads' because the doctor spelled my last name wrong on my birth certificate." Following completion of his training, Rhoads was assigned to a ship as a mess man (cook) and participated in many of the convoys which were traversing the Atlantic Ocean during the war.
The veteran vividly recalls his ship shuttling supplies around various English ports only to later discover that they were not actually shipping supplies; instead, naval observers were watching the ship's movements to determine if German spies were monitoring its activities.b Although the veteran wasn't ever engaged in direct combat, he witnessed his fair share of action and close calls. "One day there was a bunch of us on the deck of the ship trying to watch a dogfight between German and American aircraft that was taking place in the clouds overhead," he said. "Some of the ships had focused the fire of their 20mm guns in an attempt to take out the German planes."
He continued: "All of a sudden several of the planes—both American and German—burst out of the clouds and flew right into the path of the shells being fired from the ships. A couple of the planes fell out of the sky towards our ship…they just barely missed us." Rhoads went on to serve as a merchant mariner for more than three years and eventually returned to Centertown, Mo., to continue his life with his wife, Mabel, whom he had married prior to the war, and his son, Richard, who had been born during his absence. He later began his career as a lineman with Capital City Telephone Company, retiring from Sprint as a field engineer in 1983 after 31 years of service.
During the late 1940's he assisted in raising funds to establish the American Legion post in Centertown even though he was not eligible to join since Merchant Marines were at that time still considered civilians and not veterans. This changed in 1988 when President Ronald Reagan signed legislation recognizing Merchant Marines as veterans and thereby extending eligibility for benefits through the Department of Veterans Affairs. Rhoads then became a member of his local Legion post and went on to serve as the post chaplain.
In reflection, the former mariner expressed his satisfaction with the profound sacrifice made by many of his fellow crewmen. During the war, the Merchant Marines experienced the sinking of 1,554 ships—losing 9,300 crewmembers. This equated to a casualty rate of 1 in 26. "I had heard rumors that we were losing one out of every three ships to German submarines, but you didn't think about things like that. You just focused on doing your job," stated Rhoads.
Rhoads passed away in Jefferson City, Mo., in 2014 at the age of 91.
Jeremy P. Ämick writes on behalf of the Silver Star Families of America
Jeremy P. Amick
Public Affairs Officer
Silver Star Families of America
www.silverstarfamilies.org
Cell: (573) 230-7456