The B-29 bomber known as Doc may be flying again before the summer is over.
On May 20th, the nonprofit group Doc's Friends announced that they had accepted an airworthiness certificate from the Federal Aviation Administration.
Several dozen members of the group, along with other supporters, attended a ceremony at Doc's hangar at Air Capital Flight Line, the former Boeing Wichita factory complex.
"The biggest thing is how important this airplane is to history," said Jeff Turner, board chairman for Doc's Friends. "The light of freedom was growing dimmer (during World War II), and the men and women of our nation rose up and secured our freedom. I don't want us to ever forget that."
The certificate was one of the final hurdles in the restoration plan for the plane. The group will now be seeking permission to operate the plane from McConnell Air Force Base.
Jim Murphy, program manager for the restoration, said that the certification announcement came 16 years to the day from when the pieces that make up Doc arrived in Wichita on flatbed trucks from California.
Turner, the former CEO of Spirit AeroSystems, thanked all who had helped with the project over the years. He said that 26 of the volunteers have since died. Over 350,000 volunteer hours were put into the restoration.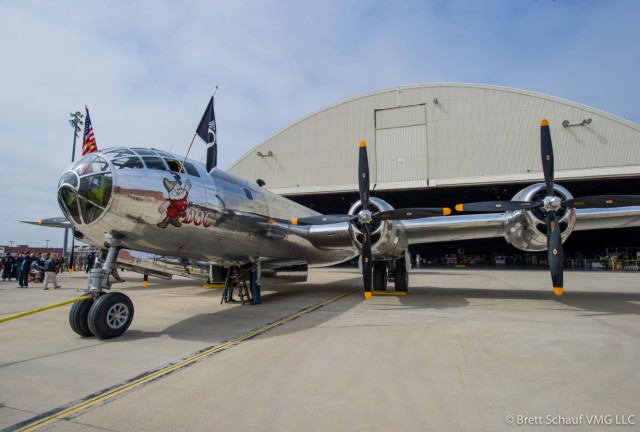 Tony Mazzolini discovered Doc on a bombing range in the Mojave Desert in 1987. He traveled from his home in Cleveland for the ceremony. Mazzolini said that he originally figured the restoration would take three or four years. "I've been involved with this for about 30 years," Mazzolini said. "It has been much more difficult than I originally thought, but it's all been worth it. I wanted to help preserve our aviation history in America, and I wanted to keep the memories of that time period alive."
The ceremony featured many of the surviving members of the restoration team, including Connie Palacioz, who worked on the B-29 production and who riveted Doc's nose section before it left the assembly line in March of 1945.
"This group of people is so neat," said volunteer Max Parkhurst of Wichita. "These people have been working together for so long toward a common goal. I think the ones who aren't with us any longer are peeking over the clouds and probably giving each other high fives."
Parkhurst, 84, a former employee of Boeing, was one of several people who Turner pointed out as integral to the project. "This is unbelievable," Parkhurst said. "I can't wait to fly it."
Video
For the first time since 1956, the nearly restored B-29 known as Doc moved under its own power. The restoration crew performed the first of many low-speed taxi tests on May 11, 2016, as the final preparations got underway before first flight.