By Jeremy P. Amick
When John Scheperle joined the Marine Corps during World War II, he was following in the footsteps of an older brother who had experienced combat in Pacific locations such as Saipan and Tinian, never realizing that he would himself cross paths with a man whose silhouette would become part of one of the most iconic images in American military history.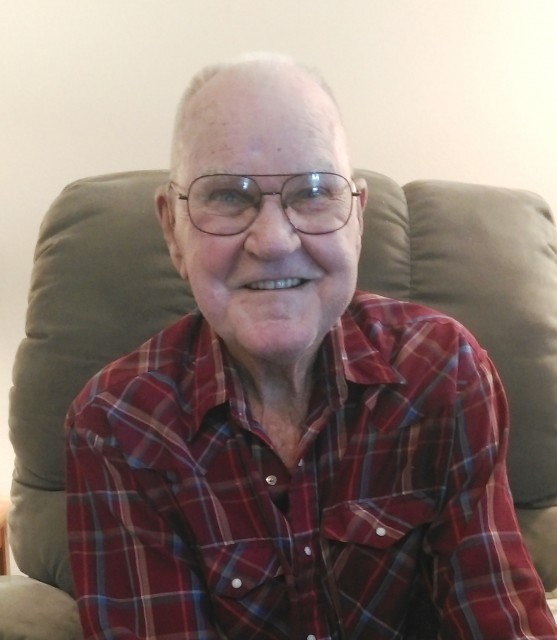 Raised on a farm on Boonville Road in rural Cole County, Scheperle—a 1943 graduate of Jefferson City High School—chose to give up his farm deferment to enlist in the Marines in 1944.
"My older brother was already in the Second Division," said Scheperle, 90, Jefferson City, Mo. With a sly grin, he added, "I figured I needed to keep up with him."
His first stop was the Marine Corps Recruit Depot in San Diego where he completed several weeks of boot camp. From there, he traveled to Camp Pendleton and was pooled with other Marines to form the 5th Division.
"They put me in E Company, 2nd Battalion of the 28th Regiment," Scheperle explained. "I trained with a BAR (M1918 Browning Automatic Rifle chambered for a .30-06 cartridge), which was a little heavy, but a hell of a good gun."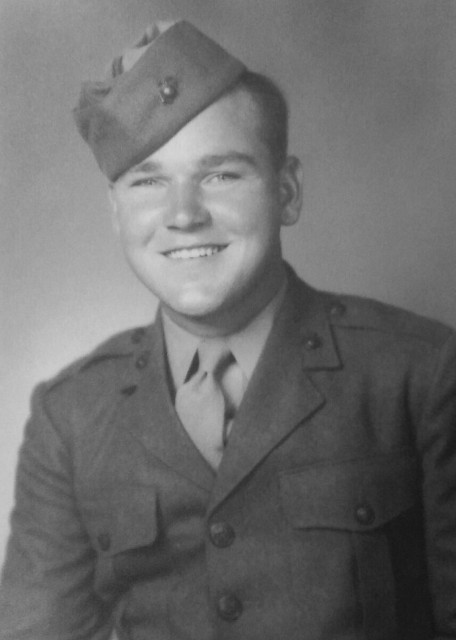 In the fall of 1944, the 5th Division moved to Camp Tarawa on the big island of Hawaii, beginning practice landings and assaults in preparation for the invasion of Iwo Jima.
"My job was simple," he said. "I was to go over there and kill Japanese (soldiers) … that's all."
Scheperle recalls boarding a troop ship in February 1945 and sailing to the island of Saipan. It was there, he continued, that 3rd Platoon (to which he was now assigned) transferred to a landing ship tank bound for Iwo Jima. Once near the island, they boarded a landing craft and headed in with the invasion force.
"This landing craft had a gate that dropped in the back," he said, "so that you didn't have to face the machine gun fire when approaching the beach."
Although not among the first group of Marines to arrive on the island, 3rd Platoon met significant Japanese mortar resistance on their approach, forcing Scheperle and his assistant gunner to seek cover in a crater that was created by shellfire.
"The (Japanese) started dropping mortars off in the water because there were still landing craft coming in," said the veteran. "They got closer and closer until one went off about 15 feet or so from us."
His assistant gunner received slight wounds to his face from sand thrown by the mortar explosion, while Scheperle earned his first Purple Heart after receiving a shrapnel wound to his right arm.
The injury did not prevent Scheperle and his assistant gunner from rejoining the men in their platoon, who were preparing to seize control of Mt. Suribachi on the island. Later in the day, Scheperle's wound began to aggravate him to the extent that he was evacuated to the USS Samaritan—a hospital ship anchored nearby.
While receiving treatment, several Marines in 3rd Platoon secured Mt. Suribachi and raised an American flag at the summit, in what has become an iconic image in Marine Corps chronicles. (This photograph was later restaged and captured by a Marine photographer and included Navy corpsman John Bradley, whose son wrote the book "Flags of our Fathers.")
Days later, Scheperle earned his second Purple Heart after rejoining his fellow Marines, who were fighting their way across the island to clear the estimated 23,000 Japanese soldiers from networks of caves and tunnels.
"We came up on a dugout area and my platoon sergeant told me to throw a grenade in it," Scheperle said. "I grabbed a grenade and was just getting ready to pull the pin when a (Japanese) soldier shot me." He added, "It went in under my right arm and came out under my left shoulder."
Navy corpsman John Bradley provided the initial treatment; however, Scheperle was later evacuated to a naval hospital in Honolulu. Months later, he was reunited with his company in Hawaii following the surrender of Japan.
In late September 1945, Scheperle was assigned to the Alameda Naval Air Station, Calif., from where he was discharged the following February.
The veteran returned to Jefferson City and married Carolyn in 1950, and the couple went on to raise three children. The two-time Purple Heart recipient completed an apprenticeship as a bricklayer and worked in construction until his retirement in 1990.
Like so many veterans of the "Greatest Generation," who endured trying and grueling combat conditions, Scheperle maintains a modest analysis of the role he played while serving with his fellow Marines in the Pacific.
"I've had some good times from being in this outfit (3rd Platoon)—being able to take trips to places like the Marine Corps Museum in Washington D.C., and meeting people like President (George W.) Bush and the Navajo code talkers," said Scheperle.
Noting that there are now only three Marines from his platoon still alive, he added: "And really, I didn't do a whole lot while I was over there (Iwo Jima) … I just happened to land in a good outfit that accomplished a bunch."
Jeremy P. Amick writes on behalf of the Silver Star Families of America.
Jeremy P. Ämick
Public Affairs Officer
Silver Star Families of America
www.silverstarfamilies.org http://www.silverstarfamilies.org Cell: (573) 230-7456