By Jeremy P. Ämick
As a first-generation citizen of the United States, Jefferson City, Mo., resident Anastasios "Alex" Alexiou possesses a sincere appreciation not only for his father's homeland, but for the adopted nation that has provided his family much opportunity.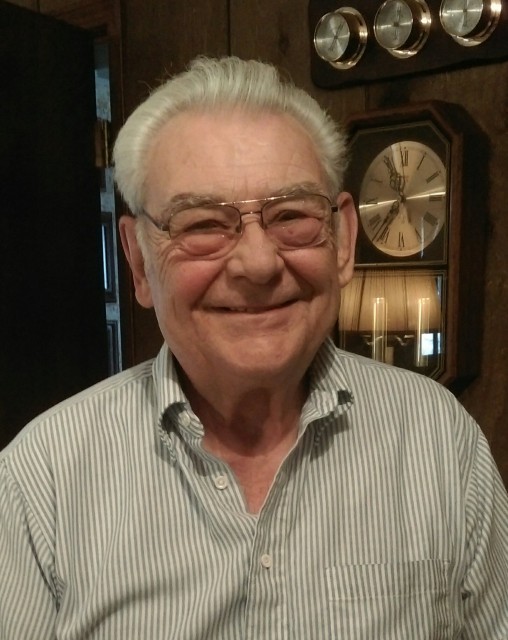 "My parents were born in Greece and my father served in the army there, but they later immigrated to the U.S.," said Alexiou, 83. "He was so grateful that he was allowed to become a citizen and always said that we owe the country."
Following his parents migration to the U.S., Alexiou was born in Brooklyn, N.Y., in 1931, and several years later graduated from high school in Long Island.
Working odd jobs for the next "six months or so," he finally made the decision to enlist in the military; however, the service branch he chose was motivated by availability rather than preference.
"I wanted to go in the Navy but they rejected me because they said I had high blood pressure," Alexiou said. Grinning, he exclaimed, "I walked across the street to the Air Force recruiters and they took me right away!"
Alexiou also noted that his parents were in declining health at the time of his enlistment in April 1951, and that he believed the military might afford him the financial resources by which to provide some assistance.
Traveling to Sampson Air Force Base in Geneva, N.Y., the new enlistee completed the requisite eight weeks of basic training before reassignment to the Headquarters Squadron, 3450th Medical Group at Ft. Sam Houston, Texas. It was here that he learned to perform medical maintenance, repairing the machines used in a hospital setting.
With his initial training completed several weeks later, Alexiou reported to his first and only duty assignment at F.E. Warren AFB in Cheyenne, Wyo., in the fall of 1951.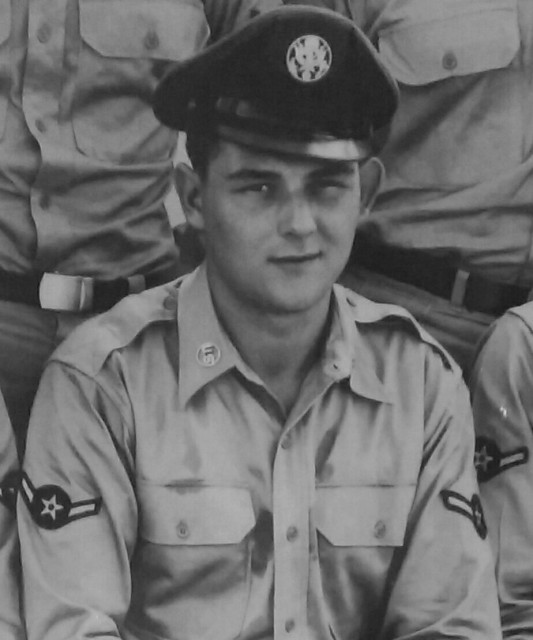 Assigned to the base hospital, Alexiou notes that the majority of the patients treated at that time were wounded service members brought back from the front lines in Korea, which, he discovered, was where his squad was scheduled to deploy.
"I can remember us being told to erase the red crosses that we had on our helmets (denoting them as medical personnel) because the Koreans would try and shoot medical personnel to cause more casualties and prevent the treatment of wounded soldiers."
The military can be a familial environment, Alexiou explained, where personal circumstances are discussed among close friends; and a fellow airman advised the commanding officer (CO) that Alexiou was the sole support for his parents back home.
"The entire time I was in the service I was sending almost everything I made back home," he said. "I barely had enough money left over to buy myself toothpaste."
But the young airman soon discovered that someone was sympathetic to his family's situation.
"The CO came and told me that he was going to hold me back from going to Korea while the Red Cross investigated my situation to see if I qualified for a hardship discharge," he said. "He said the military didn't want to pay for transportation all the way from Korea to New York if I was going to be discharged later."
While his squad made the trip to provide medical support on the Korean peninsula, Alexiou remained at Cheyenne until he received word a few weeks later that his hardship discharge was approved.
"I really don't even know what happened to my squad after they left … which was somewhat depressing because I had made so many good friends while I was in the service."
Discharged in December 1951, Alexiou returned home to New York but later relocated his parents to California, where he began working various jobs, or, as he described, "doing anything to support my family."
After a church friend encouraged him to go to college and offered to help him find a job to help with tuition, Alexiou moved to Springfield, Mo., and earned both his bachelor's and master's degree from Drury University.
In 1962, he was hired by the Department of Elementary and Secondary Education (DESE) as a teacher at the State School for the Severely Handicapped in Springfield, but moved to Jefferson City in 1967 when hired as an area supervisor. Alexiou retired from DESE in 1994.
In 1968, he married Judy Bender and the couple raised three sons. The veteran notes that in his retirement, he now enjoys such simple pleasures as straw bale gardening and making peanut brittle for friends and family.
Alexiou admits that because he never served in a direct combat role while in the Air Force, there was a time when he harbored feelings of inadequacy related to his military service, supposing he could have done more for his country; that is, he added, until a recent event forever changed his viewpoint.
"I had always felt that I wasn't deserving of any honor, as though I hadn't done anything special," he said. "But when I went on the Honor Flight last year to see the memorials in Washington D.C., and met other veterans who did not see combat, it made me realize that it takes every part of the body to make the entire body work—the ammo handlers, cooks, medics, mechanics.
He concluded: "It was really a type of closure for me because it helped me realize that my job in the Air Force wasn't meaningless, that I had done something very important for my country."
Jeremy P. Ämick writes on behalf of the Silver Star Families of America
Jeremy P. Ämick
Public Affairs Officer
Silver Star Families of America
www.silverstarfamilies.org http://www.silverstarfamilies.org Cell: (573) 230-7456