The seasonal aisle at my local supermarket is filling up with tins of chocolates and short cake, mince pies and stolen. I will not use the name – but you know it is coming. Nuff said. So here, fellow parents who read this page, is something for a stocking or whatever you put out, come December, for that special person in your lives who likes military stuff. Nuff said, again.
This stumpy little offering is an entertaining episode in print. The book gives us the briefest descriptions of uniforms and soldiery from the ancient Greeks to the Spetnaz. I would have loved it forty odd years ago and fully appreciate it for what it is, now.
This is a clever package that acts like a catalogue of previous Osprey stuff repeating the artwork from a tried, tested and much loved range. I can't see it appealing to adults, but for youngsters delving in to military history it is a bit of a hoot.
The artwork is a take it or leave it thing. No insult to the artists intended. Some you like and some you don't – but the overall effect, the collection if you will; is really very attractive. The guys in the Osprey think tank deserve extra cookies with their lattes for producing this wheeze.
The range of subject matter reflects what Osprey have been doing for a long time and I cannot fault the thing. Martin Windrow has done a tidy job and I salute him.
We get over three hundred pages of art and knowledge for under a tenner. Thus leaving me enough space for one last "Nuff said."
Reviewed by Mark Barnes for War History Online.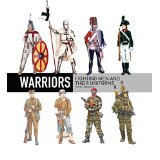 WARRIORS
Fighting Men and Their Uniforms
By Martin Windrow
Osprey Publishing
ISBN: 978-1-4728-1297-1