Jim Mattis, Ivis Sloane and Tony Solis served in the same unit during the Vietnam War, forging an unbreakable bond throughout the conflict. This made it all the more difficult when Mattis and Sloane returned home without their friend, believing he'd been killed in action – that is, until five decades later, when they orchestrated a surprise reunion with a very much alive Solis, who they learned had made it back alive from Vietnam.
The trio's service in Vietnam
Mattis, Solis and Sloane all served with the 4th Infantry Division during the Vietnam War. The division was deployed to Camp Enari (also known as Hensel Airfield and Dragon Mountain Base Camp) in Pleiku, South Vietnam on September 25, 1966. They were stationed there for over four years, participating in Operation Attleboro and Operation Junction City, before returning Stateside in December 1970.
As for the trio, it's unclear exactly how many years they served with the division. They all joined the US military in the mid-1960s and were thrust into the middle of the fighting oversea. During their time in Vietnam, they became as close as brothers, watching each other's backs as they served together.
Things changed in 1966, when the 4th Infantry Division became involved in a devastating firefight, resulting in Solis suffering serious injuries.
Tony Solis' fate was unknown for decades
Fortunately for Solis, Mattis and Sloane were there to help him get the help he needed. They carried him out of harm's way and onto a helicopter, which took him to a medical facility. While loading him onto the chopper, the pair saw their friend for what they believed was the last time.
The two didn't hear anything about Solis' condition after he was taken away, nor did he get in touch with them. Assuming he hadn't survived his injuries, they finished their tour and returned to the United States. As it turns out, Solis did exactly the same thing. He'd recovered from his wounds and moved to Idaho, where he spent the next years of his life.
Vietnam veterans stage a reunion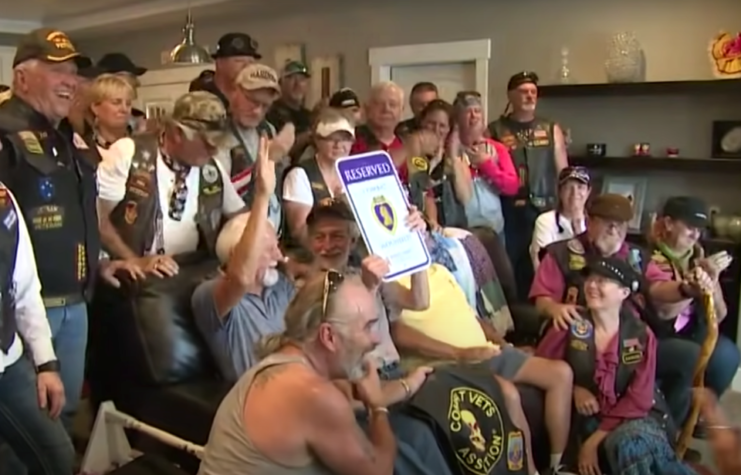 It was thanks to the internet that the three Vietnam veterans and comrades were able to hold a reunion. After stumbling across Solis' name during an online search, Mattis and Sloane realized he'd survived the war. The pair decided they wanted to surprise him and sought the help of the Combat Veterans Motorcycle Association to do so.
The plan was for Mattis and Sloane to show up at Solis' 76th birthday party. Members of the Combat Veterans Motorcycle Association drove in formation around the veterans, escorting them to their friend's retirement home in Caldwell, Idaho.
More from us: Arizona City Celebrated WWII Veteran's 105th Birthday with Amazing Surprise
The men were overjoyed to see each other again and talked about the moment Solis saw them for the last time. He recalled in an interview with KTVB that, even though he was severely injured, he felt bad leaving them all behind. "Never thought I'd see my buddies again," he shared. Not only was Solis given the gift of seeing his long lost friends, he also received a Purple Heart for his service.
Of his time in Vietnam, he simply turned to his comrades and said, "We made it."