By Jeremy P. Amick
Established in 1919, the American Legion Post 5 in Jefferson City, Mo., was founded through sacrifice of combat veterans seeking to ensure the legacy and impact of the "Great War" would remain in the thoughts of future generations.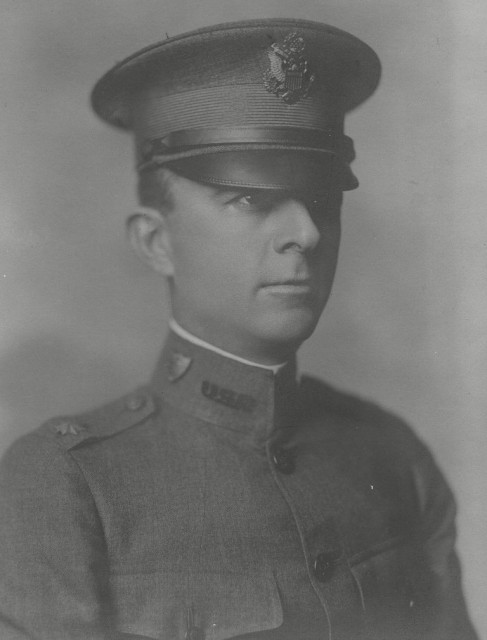 In the years since its charter, Post 5 has amassed documents and photographs that chronicle a tapestry of influence woven by many local individuals, including one not native to the Central Missouri area.
Paul C. Hunt was born in New York City on July 10, 1877. When only 11 months old, Hunt's family moved to St. Louis where his father became involved in the real estate business.
As Hunt came of age and graduated high school, he enrolled at Washington University and completed two years of schooling; however, his interests soon shifted elsewhere.
As noted in the "Centennial History of Missouri" written by Walter Stevens in 1921, a biography of Hunt states he chose to enter the workforce in 1896, but was moved by a desire to serve his country two years later.
Stevens wrote that Hunt enlisted in the First Missouri Volunteers during the Spanish-American War and "served all through the period of hostilities," adding, he then "joined the regular United States Army as a private and was advanced to the rank of second lieutenant …"
His military career progressed during the next several years as he received several promotions and eventually relocated to Jefferson City when then-Gov. Herbert Hadley appointed Hunt as the assistant adjutant general of Missouri in 1909.
When Hadley left office, Hunt engaged in business pursuits, becoming a purveyor of stationery and office supplies as the owner of the Paul Hunt Stationery Store and successfully bid a contract to provide printing for the state.
He became further interlaced in high society when he married Carolyn Tweedie, in 1920, the daughter of John Tweedie, Jr.—who, according to his obituary, served as superintendent and later as president of Tweedie Footwear Corporation in Jefferson City.
Hunt's biography explains that the "World war put an end to his commercial activities for a time, for on the 10th of May, 1917, he enlisted …" The 29-year-old officer received a commission as a major and served in several overseas assignments with the American Expeditionary Forces.
Following his discharge in 1919, the two-time combat veteran returned to his stationery business and continued his service an an infantry officer in the United States Reserve Corps with the rank of lieutenant colonel.
Original minutes for the American Legion Post 5 in Jefferson City state that upon organizing in June of 1919 during "a mass meeting of ex-servicemen at the Lohman Hall," Hunt was voted to serve as the post's first historian.
The soldier's name also appears on the official charter dated June 21, 1919, and he was elected to serve as the fledgling post's third commander in 1921—an eventful year for the veteran.
Records accessed through the City of Jefferson's website mentions 1921 as the year Hunt was elected mayor of the city; an article found on the Cole County Historical Society website notes the sale of his stationery company to Botz & Sons Printing and Stationery Company of Sedalia the same year.
A smattering of newspaper accounts indicate that after the sale of his company, Hunt served as a colonel in the National Guard and was again appointed assistant adjutant general in 1925 during the administration of Gov. Sam Baker.
Two years later he resigned his miltary position to serve as chief of hatcheries for the state's Game and Fish Department—a postion befitting a man the Sikeston Standard desribed as "one of the most widely known sportsmen in Missouri."
Once perched at the peak of local social circles, Hunt's marital and health circumstances seemed to take a turn for the worse. According to census records, in 1940 the war veteran was no longer married and living in Shannon County in southeast Missouri.
His death certificate—located online via the Missouri State Archives— shows he was admitted to the "Veterans' Administration Facility" at Jefferson Barracks on September 9, 1943, where he remained hospitalized until February 14, 1944, at which time he succumbed to heart disease at the age of 66.
Colonel Hunt was laid to rest three days later in the Jefferson Barracks National Cemetery.
Though remnants of Hunts legacy have been virtually forgotten, his influence in the community survives through the continued work and community involvement of organizations such as the Roscoe Enloe American Legion Post 5.
And just as in 1919, when Colonel Hunt and his fellow veterans gathered to work toward the organization's charter, a sense of community service and a life dedicated to assisting others thrives in perpetuity as described in the Preamble to the American Legion's Constitution.
"For God and Country, we associate ourselves together for the following purposes: … to safeguard and transmit to posterity the principles of justice, freedom and democracy; to consecrate and sanctify our comradeship by our devotion to mutual helpfulness …"
Jeremy P. Amick writes on behalf of the Silver Star Families of America
Jeremy P. Ämick
Public Affairs Officer
Silver Star Families of America
www.silverstarfamilies.org http://www.silverstarfamilies.org Cell: (573) 230-7456