A TikTok creator has gone viral after uploading a video in which she claims a recruiter tricked her into joining the US military – something she now regrets. As of publishing, the clip has racked up some 453,000 views, and commenters have mixed feelings about what was said.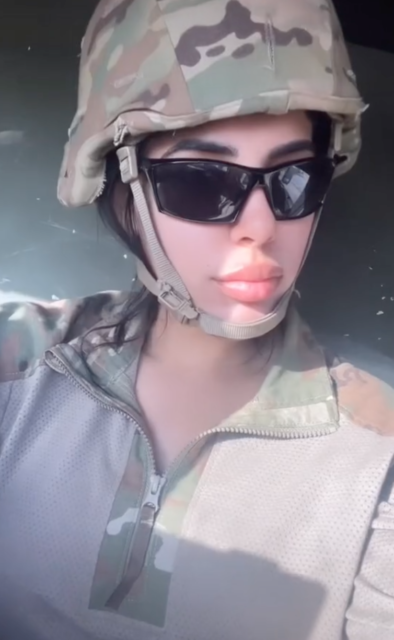 The video, uploaded by Itzel Hernandez, starts with, "My recruiter telling me how I will make the best decision of my life by joining the military," quickly followed by "My recruiter lying to me and making me make the worst decision of my life" and clips recorded over the course of her service.
When asked in the comments how she was tricked, Hernandez responded that she was told she would "never deploy and only do field exercises once or twice a year." Instead, she claims she's been participating in exercises once a month and is scheduled to be deployed to Iraq next year.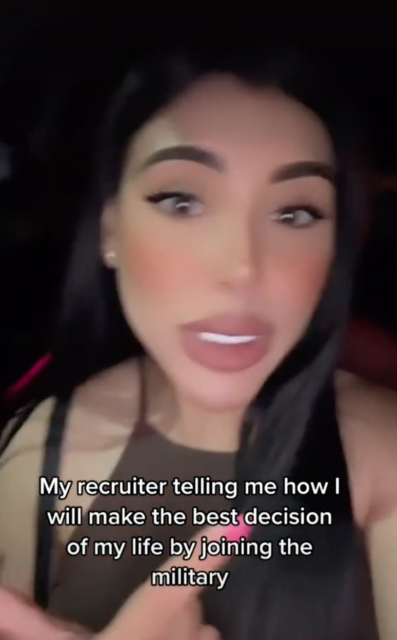 Since being uploaded to TikTok on June 7, 2022, the video has received over 900 comments, the majority of which have been mixed. There are some who understand where Hernandez is coming from, with one user writing, "Doesn't matter how strong you are before or what your morals are, the military life is NOT for everyone. The military has a horrible attrition rate."
Those who served have shared that Hernandez might feel differently down the line, citing their own personal experiences. "Only when you get out will you realize that those were probably the best years of your life," wrote one, while a second said, "The [Army] was the best and worst decision I've ever made. The strength I got from my service holds strong to this day."
"Enjoy and take advantage of what the military can give you," another added. "I assure you that you will succeed outside the military."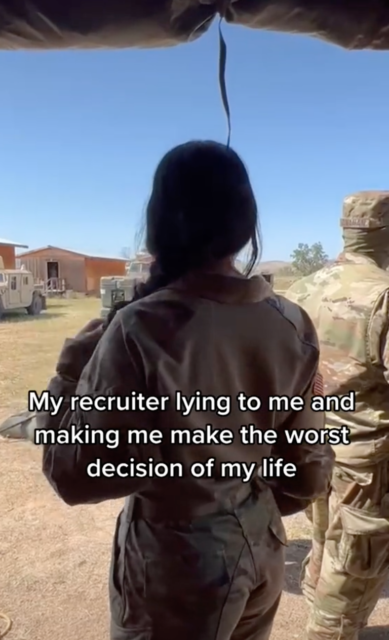 Others, however, are calling Hernandez out for not realizing that there was a possibility she would be deployed, given she was signing up to serve her country. "You must've been in the clouds if you signed up without believing you'd get deployed.. that's literally the point of training," wrote one user, while another commented, "No one can make you do anything.. We all make our own choices. Life is about taking responsibility for our actions."
There were even some users sharing similar stories to Hernandez, saying recruiters also lied to them about what they would be required to do while enlisted. As one wrote, "My recruiter convinced my mom when I was 17. I told her a year in I hated it."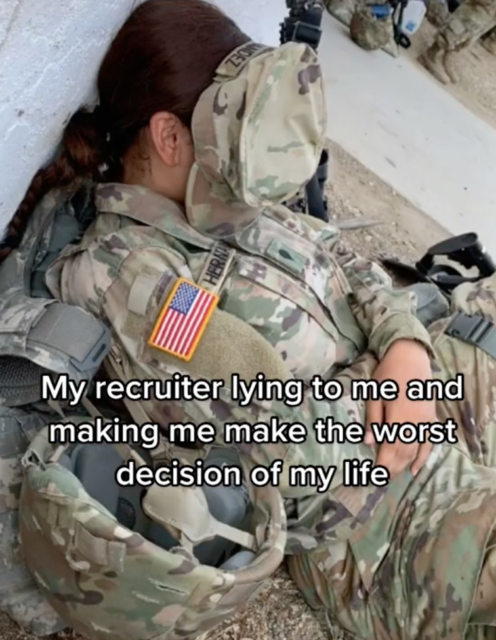 More from us: Video Captures Touching Moment Between Grandfather and Higher-Ranking Granddaughter
Since uploading the video, Hernandez shared more from her time serving. One post, which has received 1.1 million views, reiterates the point of her original video, discussing how she naively joined the military at 18, while in another she shares she would rather have joined the US Air Force, instead of the California Army National Guard.
She's even addressed those who have called her out for her comments, publishing a video with the caption, "Come walk in my shoes little hater."