The self-publishing juggernaut rumbles on with this entertaining and quite personal work from Kerry White from Australia. Having published two previous books, he now turns to the story of three airmen who served their country in very different circumstances and in different wars.
We begin with the First World War and the sad tale of a pioneer of Australian military aviation. The British military and political authorities in India were in charge of the invasion of Mesopotomia, modern day Iraq, intending to drive the Turks, out of this strategic region. After a reasonable start things started to go particularly awry and would reach their nadir with the disaster at Kut-al-Amara in 1916.
One of many casualties suffered before Kut was George Merz, a qualified doctor serving with the Australian Flying Corps in Mesopotamia, modern day Iraq. Merz was a talented pilot and used his medical and flying skills to good effect. Hostile Arabs killed Merz and his comrade William Burn after their Caudron aircraft came down in enemy territory in 1915. They were the first Australian airmen to die on active service. Their bodies were never recovered and they are commemorated in the heavily vandalised Memorial to the Missing at Basra.
Les Hammond was a bomber pilot who joined 49 Squadron RAF during 1944 and carried out a number of sorties flying Lancasters against German targets. The author recounts details from several of the raids he took part in and provides a pen portrait of his life after the war. It was not without tragedy. Mr Hammond seems to have been a pretty cool customer under fire and earned the respect of his fellow airmen.
The author also considers the career of Jim Cambell, an army helicopter pilot who was awarded the Distinguished Flying Cross for his bravery during the Vietnam War. Kerry White is, himself, a Vietnam veteran and was witness to Jim Campbell's courage.I've read a number of accounts of the Australian experience in Vietnam and they all seem to offer similarly matter-of-fact descriptions of extremely dangerous situations. Serving in Vietnam was a defining experience for many young Australians and the author's empathy with Mr Campbell is evident.
One of my son's teachers at primary school was a Vietnam vet who taught the young kids in his care traditional Aussie songs and told them something of a youth very far removed from the places and people they knew and would experience in their life.The book is completed by essays on other interesting characters from the post-war era of military aviation in Australia and memorials to people the author cares about.
Mr White proves that enthusiasm allied to good research and patience is the route to producing entertaining books. Bigger, more in depth treatments of history rely on the Kerry Whites of this world to provide the footnotes and little anecdotes to fill out their histories and this is all to the good. Mr White draws in many other people and events to give his book depth and colour and he shows that evenings using the Internet can be put to good use. I hope that others are inspired by books like this one and give serious thought to writing their own and adding to our knowledge of the men and women who served during war.
Books like this can, by default, be a little uneven; but does this matter? I am not sure it does. They are extremely personal works telling us as much about the author as his subject matter and I repeat my total support for this kind of work. For me variety is king and whether I am looking at a tome from a top end publisher or a book like this one I treat them all with equal respect. This book helps to keep something of men we would otherwise know very little about, or more probably nothing, about. Read the book and be inspired.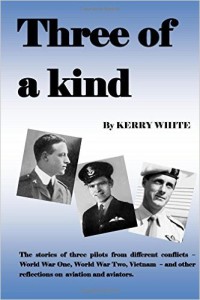 Reviewed by Mark Barnes for War History Online.
THREE OF A KIND
By Kerry White
Self-published
ISBN: 978 0 9942814 2 5