Stanley Kubrick was a talented, yet controversial, Hollywood figure. Best known for directing such classics as The Shining (1980), A Clockwork Orange (1971) and 2001: A Space Odyssey (1968), he knew how to bring engaging screenplays to the big screen. What many might not realize, however, is that Kubrick also directed a handful of war movies, all of which have gone on to become classics within the genre.
Stanley Kubrick's decades-long directing career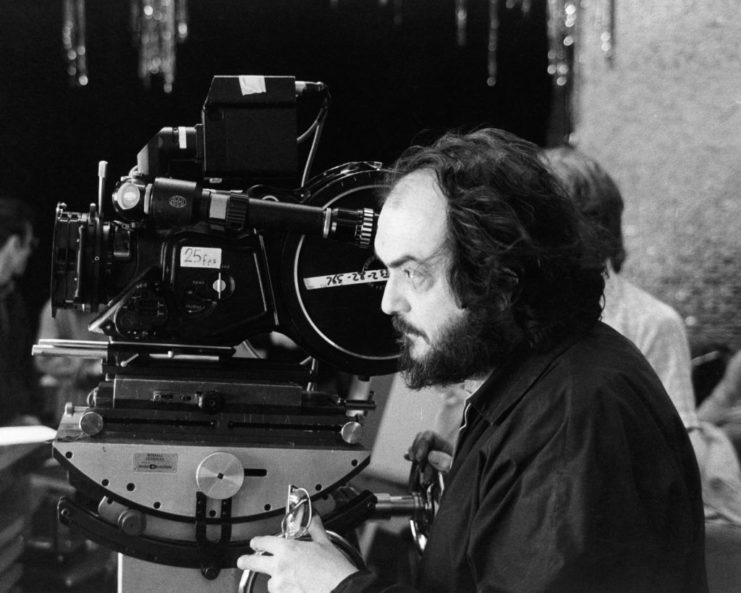 Stanley Kubrick's life behind the camera didn't begin with one that produces moving pictures. He spent years as a photographer and quickly became known for his ability to tell stories through photographs. Unsurprisingly, this, paired with his love for film, led him to develop an interest in the entertainment industry.
Kubrick began dabbling in filmmaking in the 1950s by making shorts and documentaries for his friends and family. He was a man who wore many hats; along with directing, he wrote, produced, edited and served as cinematographer. His debut feature was the anti-war film, Fear and Desire (1953), which disappeared shortly after its release. A handful of other films followed before Kubrick really started to get noticed by Hollywood bigwigs.
In 1957, Paths of Glory was released, signaling the start of a number of popular and critically-acclaimed films, the most popular being Dr. Strangelove or: How I Learned to Stop Worrying and Love the Bomb (1964), 2001: A Space Odyssey, A Clockwork Orange, The Shining and Full Metal Jacket (1987). His final film, 1999's Eyes Wide Shut, was released posthumously, as he'd passed away just a few months prior to its debut in theaters.
As aforementioned, Kubrick's resume included a number of classic war films. Many are considered anti-war, using the visuals of combat and military life to get the sentiment across.
Fear and Desire (1953)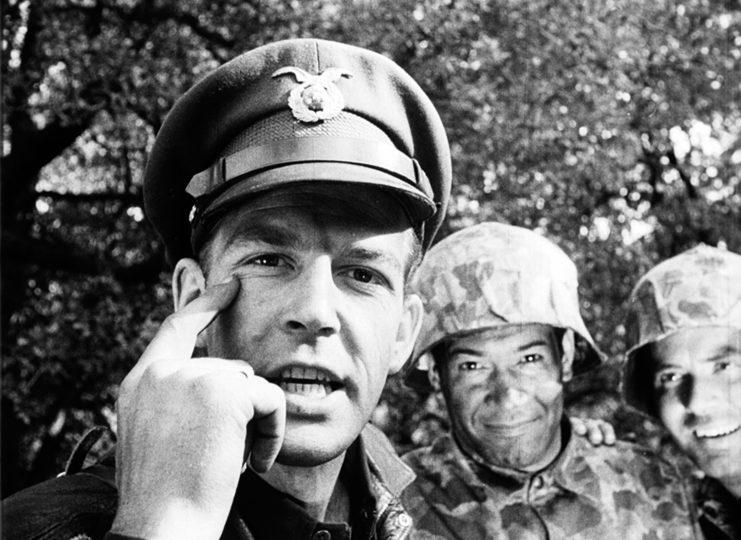 Debuting at the Venice Film Festival in 1952, Fear and Desire saw its official release in theaters the following year. Featuring a relatively small cast and filmed with a skeleton crew, the anti-war movie was Stanley Kubrick's feature-length debut.
After a conflict between two unnamed countries breaks out, four soldiers find themselves stuck behind enemy lines when their aircraft crashes. The group must make it back to their battalion while evading capture, but doing so involves confronting their fears and desires – hence the title. Among those to star in the film were Frank Silvera and Paul Mazursky.
While this Kubrick war movie didn't perform at the box office, it did receive critical acclaim upon its release. It also appeared to have all but disappeared after the distributor died. It's alleged Kubrick himself destroyed all existing negatives, so that the only versions that remained were those in private collections. As such, there have been few public viewings since the 1950s.
Paths of Glory (1957)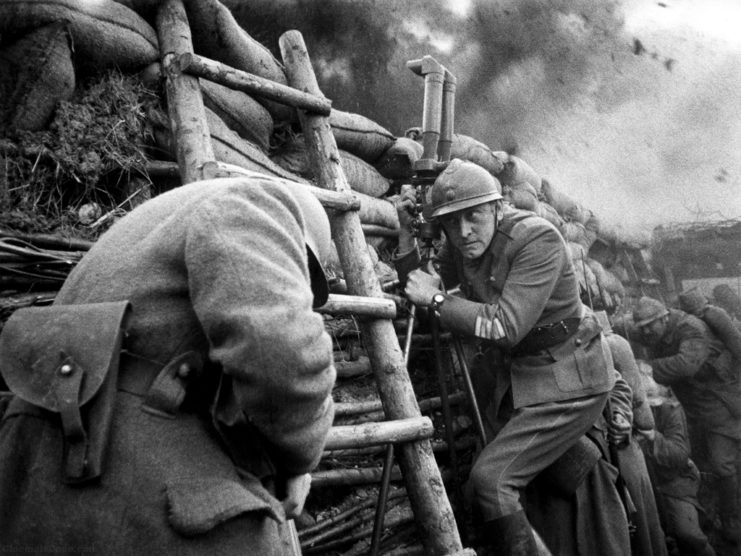 Based on the novel by Humphrey Cobb, Stanley Kubrick's classic war movie Paths of Glory depicts one of the most controversial incidents of the First World War. The Souain Corporals Affair of 1915 saw the execution of four French corporals for cowardice after they refused orders to charge toward a German position that had virtually slaughtered their comrades.
Twenty-four men – six corporals and 18 officers – were court-martialed and sentenced to death as a means of setting an example to others in the French Army. Of that total, only four were executed: Louis Victor François Girard, Théophile Maupas, Lucien Auguste Pierre Raphaël Lechat and Louis Albert Lefoulon. In a cruel twist of fate, the French High Command commuted their sentences to forced labor just two hours after.
Starring the likes of Kirk Douglas, Wayne Morris, Ralph Meeker and Richard Anderson, Paths of Glory wasn't all that successful at the box office, but did earn Kubrick critical acclaim. It was also mired in controversy, given its anti-war sentiments and portrayal of the French Army, leading it to be banned from theaters in France, Switzerland and Spain. It also couldn't be shown at US military bases.
Despite this, Paths of Glory has since been added to the US National Film Registry after the Library of Congress deemed it "culturally, historically or aesthetically significant."
Spartacus (1960)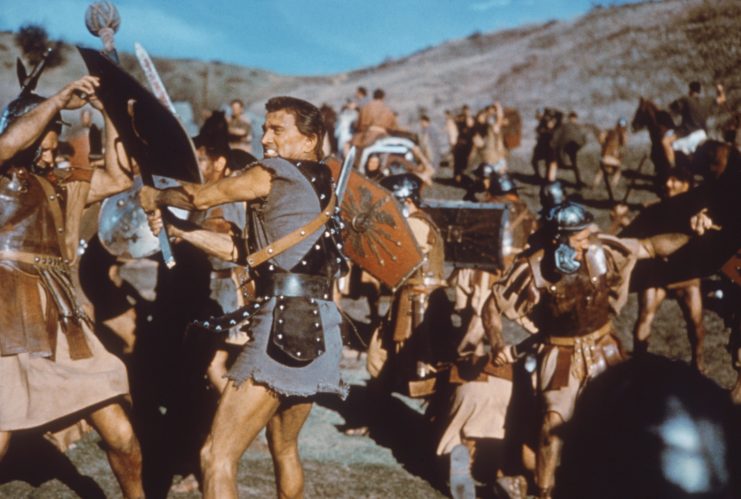 Once again teaming up with Kirk Douglas, Stanley Kubrick blended war with the historical epic with his 1960 movie, Spartacus. Inspired by Spartacus and the events of the Third Servile War, it follows the gladiator as he goes against his owners and becomes the leader of a slave rebellion, traveling from city to city with his ever-increasing following.
Along with Douglas, Spartacus starred Laurence Olivier, Peter Ustinov, Jean Simmons, Tony Curtis, John Gavin and Woodrow "Woody" Strowe. Unlike the previous films on this list, it was a box office success and became the highest-grossing movie of 1960. In fact, it was so popular that it was re-released in 1967. This success translated to the following year's Awards Season, with it winning four Academy Awards and a Golden Globe, among a number of other honors.
As with Paths of Glory, the movie was added to the US National Film Registry.
Dr. Strangelove (1964)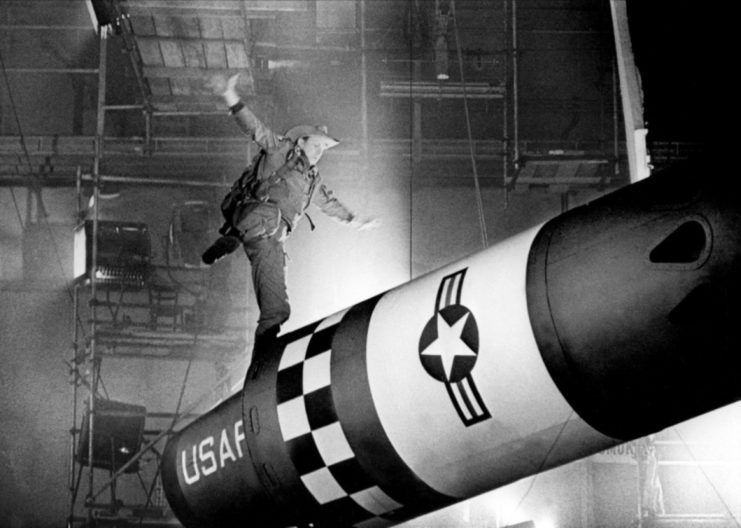 Given Stanley Kubrick experienced his rise during the Cold War, it's not surprising he opted to make it the subject of one of his movies, albeit in a satirical manner.
Dr. Strangelove or: How I Learned to Stop Worrying and Love the Bomb covers the events that occur after an eccentric US Air Force general orders a nuclear strike on the Soviet Union, including the efforts by the president and his advisors to prevent the crew of Boeing B-52 Stratofortress from taking off and triggering a nuclear war.
Regarded as one of the best comedies ever released and among the best films of all time, it featured a star-studded cast that included Peter Sellers, Slim Pickens, James Earl Jones and George C. Scott. While Columbia Pictures was initially hesitant about the movie, given its political satire, it quickly became Kubrick's highest-rated film.
Full Metal Jacket (1987)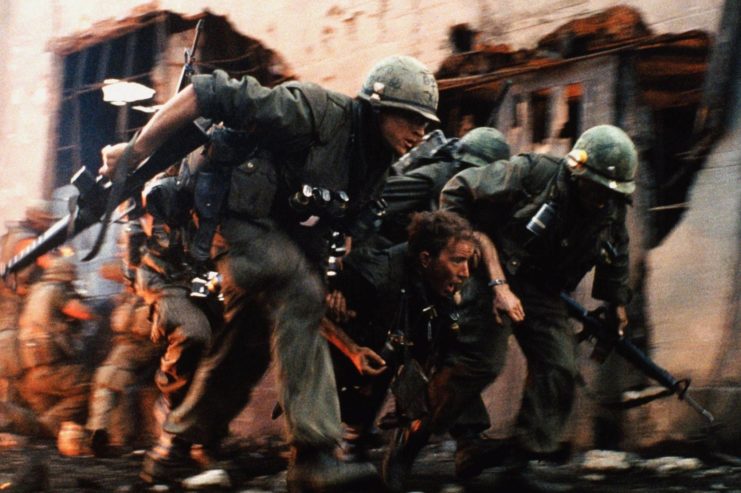 The last film on our list is arguably the one that has the largest cult following. Released in 1987, Full Metal Jacket came at a time when the Vietnam War was a popular topic to cover in film, with the likes of Oliver Stone's Platoon hitting theaters a year prior and Hamburger Hill just a few months after.
Based on the semi-autobiographical novel The Short-Timers by US Marine Corps veteran Gustav Hasford, Full Metal Jacket is an anti-war film that showcases the horrors of the decades-long conflict, from the difficulties of boot camp to the brutal jungle warfare those serving in Vietnam faced on a daily basis. It also shows the events of the Tet Offensive, a three-phase military campaign launched by the Viet Cong and North Vietnamese Army (NVA) against the US and South Vietnamese forces.
Starring Matthew Modine, Vincent D'Onofrio and Adam Baldwin, and featuring real-life Marine Corps veteran R. Lee Ermey, the movie is considered among the most polarizing in Stanley Kubrick's catalog, given its anti-war sentiments. Depending on who you ask, it's either a theatrical masterpiece or does a disservice to those who risked and gave their lives in Vietnam. That being said, it still received critical acclaim, with it going on to receive a number of award nominations and wins.
More from us: Samurai Sword Master Kaito Suiju Rates Japanese Sword Movie Scenes
It's hard to pick a favorite out of the films featured on this list. As such, it's highly recommended that every military and war movie fan give them a watch. If it were up to us, they'd be required viewing.