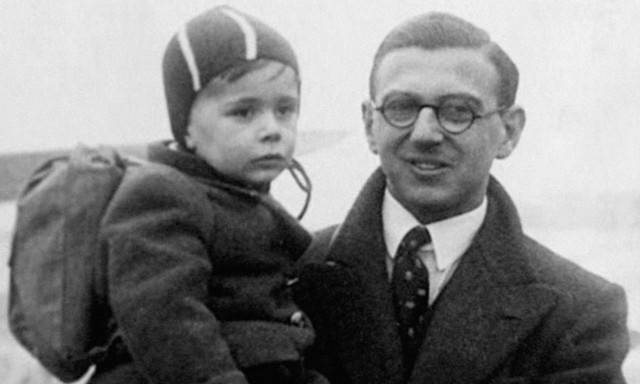 On the Fist of July, this year, a hero died at the age of 106 years. What made him a hero? His actions, his humbleness, the 669 children he saved from death.
I first head about him when I stumbled upon a video, from a TV show names "That's life" (see below), where hundreds of people rose when asked to do so if their lives were saved by Nicholas. His name and his life should be known by everyone.
His name is Nicholas Winton, he was born in 1909 and though he was born from Jewish parents, he was baptized and raised as a Christin to merge into the society in England. He worked as a stockbroker and during one of his vacation, in 1939, in which he was supposed to go skiing to Switzerland he ended up in Czechoslovakia helping in a refugee camp.
"Winton Nicholas 4637" by Hynek Moravec
The refugee camps were full of people who had escaped from the Sudetenland, the Czechoslovakian territories which were already invaded by the Nazis. Most of the refugees were Jewish, though not all of them. They lived in precarious conditions, with almost no food, cold and fearing the arrival of the Nazis.
Winton decided, when he saw this, that even if he couldn't save all of them, he would try to save the children. Nobody had tried this before, since they thought no one would let children in without their parents to take care of them. After he tried, the English authorities let them in under the condition that he would find a guardian for every kid. So he proceeded to find funds for his program and he placed adverts on the newspapers looking for the guardians for the kids. He worked mostly from England, looking for entering and exiting permits, also forging some of them if it was necessary.
He arranged Kindertransports, trains which transported kids from Nazis' invaded zone to safe places. They were functioning in other countries, but not in Czechoslovakia. He managed to send 8 trains. The 9º, the last one, was supposed to leave on September 1º, the same day where the Nazis invaded Poland and all the borders were closed. Most of the kids on that train were sent to concentration camps.
Though most of the children he saved were Jews, he also helped Unitarians, Roman Catholics and more.
All of this was kept a secret by him, till 50 years later, in 1988, his wife, Greta, found the documents he kept. She spoke to a friend of her who was an historian, and this is when they arranged the TV show, as a surprise, of course. Then he got to meet some of the children he saved and their children and grand children. He didn't just save the lives of the little refugees, but the millions of future lives that came from them. He didn't do it for honor, just because he knew it was the right thing to do.
Queen Elizabeth II conferred knighthood on Nicholas in 2002. That same year a documentary about him was released by Matey Minac, which won a Emmy Award. His daughter, Barbara, wrote a book about his life named "if it's not impossible: life of Sir Nicholas Winton."
His motto was "if something is not impossible, then there must be a way to do it." He didn't want to be seen as a hero, but as a person who did what was right. He wants people to know they can do it too.