A picture released 73 years after it was taken shows six airmen in a dinghy about to be rescued after 11 days stranded at sea.
The eight-member crew had just sunk a German U-221 submarine during the Battle of the Atlantic when their Halifax bomber was hit and Flying Officer Eric Hartley had to ditch the plane in the Atlantic, 400 miles southwest of Ireland. Two crew members were killed. The other six abandoned the plane in an inflatable dinghy. They had limited supplies and no way to send a distress signal. The next 11 days were a desperate fight for survival.
Hartley kept a log of the crew's time at sea. Over those 11 days, they were capsized by waves, kept awake by freezing spray and had to use their boots to bale out the boat.
They sucked on rain-soaked handkerchiefs for water and hung a pair of pants on a pole to try to catch fish. Their only catch was a jellyfish, which tasted terrible.
They attempted to keep up morale by praying twice a day. Still, two crew members went delirious. They waited close to the crash site for about a week before fashioning a sail from two shirts in an attempt to be blown to safety.
Recently, Hartley's family has sold the Distinguished Flying Cross that he was awarded for destroying the U-boat. The medal sold for over £3,000.
The photo taken by a seaman from the deck of the rescue ship was included in the lot. Also in the lot were letters written to Hartley's parents during the search for the missing crew, expressing they had little hope of his recovery.
When the bomber crashed, Hartley's commanding office wrote, "The area has been thoroughly searched without result. I am afraid that the chances of rescuing him are now not very great."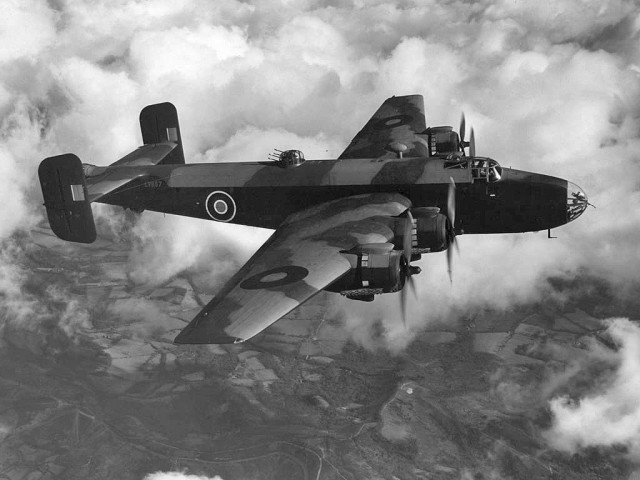 However, 12 days later a telegram read: "Delighted to inform you your son E L Hartley is safe."
Also in the crew were co-pilot Capt. Roger Meaf, navigator Sgt. T. Bach, engineer Sgt. George Robertson, wireless operator Sgt A. Fox and gunners Sgt Robert Triggol, Sgt Maldwyn Griffiths and Sgt Ken Ladds. Sergeants Triggol and Griffiths were killed in the sinking of the U-221, along with the U-boat's entire crew, commanded by Capt. Hans-Hartwig Trojer, the Transylvanian who was known as "Count Dracula."
Simon Nuttall, of Cheshire auctioneers Wright Marshall, said: "It's the most remarkable story of heroism and survival. One can't even begin to imagine the feeling of hopelessness and despair the men felt as day after day went by."
After recovering, Hartley went back into active service. In 1945 he and his girlfriend Maud wed and he went to work as a bank manager. He lived in Oldham, Greater Manchester. He left his medals and memorabilia to his daughter Kathleen Walker upon his death in 2003.
Kathleen Walker, 67, said: "We have no children to pass it on to and you begin to wonder what would happen to it after I die. I have got my memories of him and that is what counts."