There are stories often left out of popular history, not because they don't warrant attention but because someone in battle gave so much so soon that very little is honestly known. Such is the case of Private First Class, Oscar P. Austin.
Within one year of joining the United States Marine Corps, this Marine gave his life to save his fellow warrior and earned through conspicuous gallantry the Medal of Honor. Less than 12 months or the time it takes a child to go from 2nd grade to 3rd, this Marine entered an elite club of warriors that would command the respect of all those who have taken up arms since the first stone of battle was thrown.
In 1969 Vietnam, PFC Oscar Austin threw himself on top of a wounded Marine in order to absorb a grenade blast and then when certain death looked them both in the eye, PFC Austin undertook an action that could only be described as "take me first" gallantry.
An Inconspicuous Life for Conspicuous Gallantry
Oscar Palmer Austin was born on January 15th, 1948 in the small Texas town of Nacogdoches. His family eventually moved to Arizona where he would graduate from Phoenix Union High School. In April of 1968, he joined the United States Marine Corps and completed basic training at Marine Corps Recruit Depot in San Diego, California.
After infantry training at Camp Pendleton, he was assigned to Company E, 2nd Battalion 7th Marines which meant an imminent trip to Vietnam. The 2nd Battalion 7th Marines had been fighting in Vietnam since 1965 through various deployments and it just so happen that over half of Palmer's experience as a US Marine would be in Vietnam.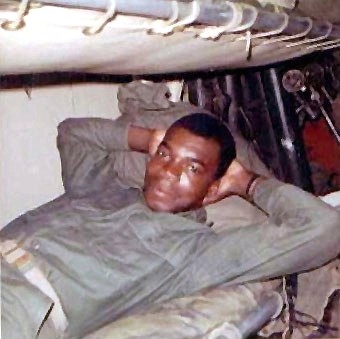 Austin would quickly find himself outside of Da Nang in 1969 where he would spend the majority of his time in combat. Da Nang was the site of the northernmost major airbase for American forces in Vietnam and was located just 85 miles south of the 17th parallel that separated the two Vietnams. The traffic flying in and out of Da Nang during the Vietnam war made it the world's busiest airport in the single runway category and when a second runway was added it actually rivaled the world's busiest airport overall due to the high military traffic.
The region's proximity to the north and high military value meant it was subject to frequent attacks from the North Vietnamese forces. On the fateful morning of February 23rd, 1969, Private First Class Austin's Marine Corps career would come to an end just 6 and a half miles west of Da Nang but not before he would display inexplicable gallantry and earn the nation's highest military honor less than a year after enlisting in the United States Marine Corps.
Take Me First
During the early morning hours, PFC Austin was manning an observation post serving as an assistant machine gunner when it came under attack by a large North Vietnamese force. The North Vietnamese were attempting to overwhelm the Marine positions and attacked with massive numbers of grenades, satchel charges, and heavy small arms fire.
As the attack began to sweep over the American positions, Austin observed a fellow Marine become wounded and fall unconscious in a dangerously exposed fighting position. Recognizing this unconscious Marine faced imminent death if action were not taken, Austin left the security of his position and raced across open terrain under heavy enemy fire to retrieve the wounded Marine.
Once he arrived, he began to look over the Marine when a noticed a grenade land next to their position. Immediately and without hesitation, this young PFC threw his body on top of the wounded Marine and absorbed the brunt of the blast himself. Bleeding heavily from the blast, Austin ignored his own painful injuries and immediately began to treat his wounded comrade.
It was at this point that Austin looked up to see a North Vietnamese soldier advancing in the attack who had the wounded Marine in his sights and ready to fire. In this moment, Austin realized the North Vietnamese was at too far of a distance to engage hand to hand, but close enough to guarantee that he would not miss his target when he fired.
Bleeding heavily and injured from the grenade blast, Austin did the only thing he could and threw his body once again on top of the Marine as if to say, "you might take my friend, but you will take me first."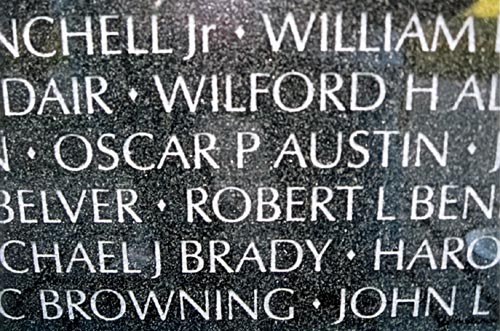 The North Vietnamese soldier fired and Private First Class Oscar Austin was mortally wounded making a valiant attempt to save a wounded Marine who faced near certain death. Austin's actions were observed and his selfless devotion to duty and his fellow Marine inspired others in the fight and the Marines eventually repelled the assault and held their positions against the swarming North Vietnamese forces.
Gallant Actions Take But a Moment
Oscar Austin was a United States Marine for but 10 months before he gave his life in service to his country, but for his action on that day in 1969, he received the Medal of Honor and the respect of every Marine past, present, or future.
Decades later, the USS Oscar Austin which was one of the first ships of the highly advanced Flight IIA subclass of the Arleigh Burke-class guided missile destroyer was commissioned in his name in 2000. In addition, the enlisted club at The Basic School in Quantico was named in his honor.
Such is the case of war and gallant actions that while some might go on to long storied careers, it takes but a moment for one to give their life for their nation and but a moment for one Marine to display inexplicable gallantry in the face of certain death.
For Austin to recognize imminent death and still throw his body on top of his wounded fellow Marine was inexplicable. It was a remarkable feat that if not for the Medal of Honor, history might fail to remember to the short career of this outstanding Marine who lived up to the finest traditions of the United States Marine Corps.