It's not often you walk around a military fair and someone taps you on the shoulder and then says "Pssst….. want to know a secret?"
Normally when people stop me at fairs they're asking me for the money I owe them so this was a pleasant change. Well, a few months back I had such an encounter and it left me speechless but at the same time wondering to myself 'is this for real?….it all sounds too good'
Well I sat on the story anyhow and not 4 weeks later I found myself staring down into the sea from Pointe Du Hoc when the story gate crashed my thoughts. Had someone REALLY found Colonel Rudders Landing craft that brought him and his Rangers to the very shore below?
The day I stood there was June 6th. It was busy as can be expected and as I looked around me I could see the throngs of people surrounding the Ranger Veterans that had made the pilgrimage over to France. I looked to the sea and to the shore and back to the Veterans.
"THE actual boat? LCA number 888 that 71 years ago lay bobbing about and under German machine gun and mortar fire not 150 foot below where I now stood!"
I needed to follow this up. I HAD to follow it up. I needed to make enquiries and I was going to make them today. I knew where to head to and I knew who to ask. Had they found a landing craft from the D-Day invasion…no, it turned out…….they'd found FOUR of them!
Below is the remarkable story of the findings and beginning of the long restoration project for all four LCAs. It's going to be a tough path and a long one with many twists and turns but it's one that by hook or crook WILL be completed. War History Online is honoured to be able to take you on this long yet exciting journey.
Phil Hodges
The restoration of LCA 888
We are delighted to be able to confirm media reports that 4 of the original WWII – D-day Rangers LCA's – Landing Craft Assault boats have been recovered and are under restoration in the south of England.
The project first started a number of years ago and has been an ongoing balance between finance and teamwork. The team now assembled to rebuild the boats are the best in the business and team leader Neil Russell is excited.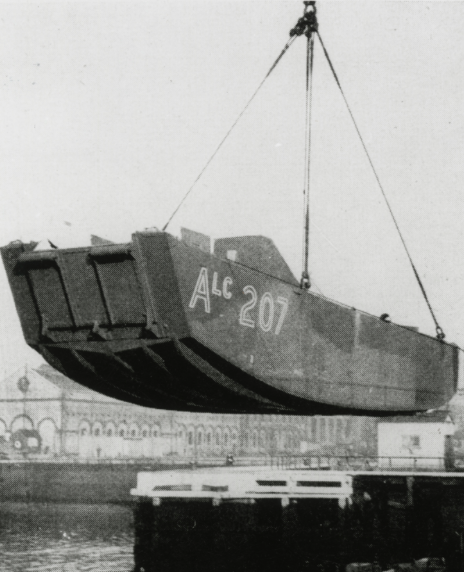 Many of the wartime LCA's were supplied for the British Commandos to use and were painted in white with varying degrees of camouflage.
"They were in fact recovered last year from a boatyard where they had remained lost for 70 years.
After a long negotiation, tricky recovery and difficult transportation, they have been moved to a workshop location – from where 3 of them are undergoing a complete ground up restoration." Two of the four vessels will be placed on permanent display next year (2016) in the Normandy village of Osmanville – only a couple of miles from Pointe du Hoc… where they will be placed into a purpose built new museum.
The 3rd LCA is to be sold once restored and it is hoped it will go to one of the major museum collections somewhere in the world. The remaining boat will be restored at some point in the future.
Shown here in a rare colour photograph are LCA 626 and LCA 421 leaving Weymouth harbour for the last time on the 1st of June 1944.
The Rangers boats were painted in battleship grey and had the Rangers trademark orange "follow me" stripe on the top rear of each boat.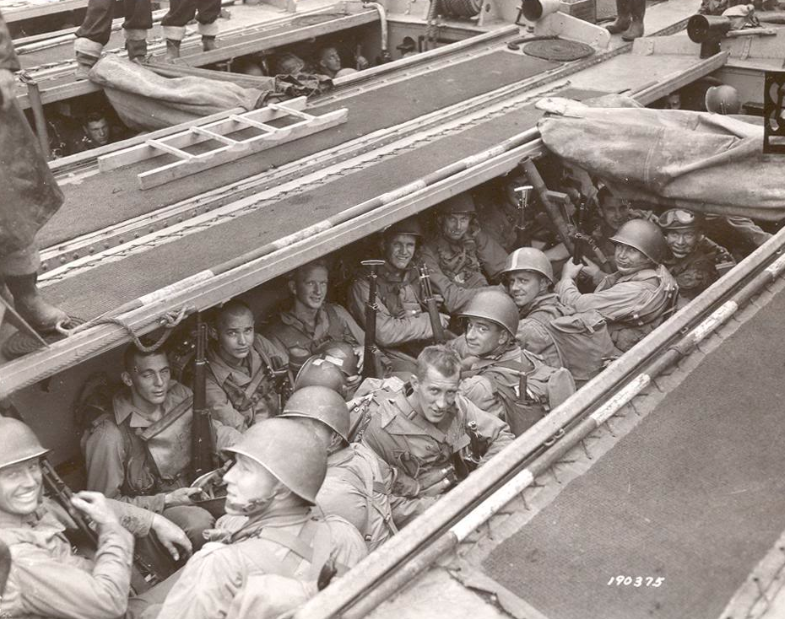 Rangers sitting in an LCA on the 1st of June 1944 in Weymouth harbour.
The museum in Osmanville, Calvados will contain amongst other things an American LCVP (Higgins Boat) and a large collection of Ranger memorabilia – as well as a vast amount of personal possessions belonging to other veterans of D-day. The restoration project and museum is a joint effort being undertaken by the Normandy Ranger Veterans Association and it is partially funded by surviving WWII Rangers and it is also supported by veterans from other units of the US Army. The first boat to be restored is LCA 888 – which carried Colonel Rudder into the famous Pointe du Hoc landings – and it is hoped that it will be completed by December 2015 – then the next boat will follow to be ready for the museum opening.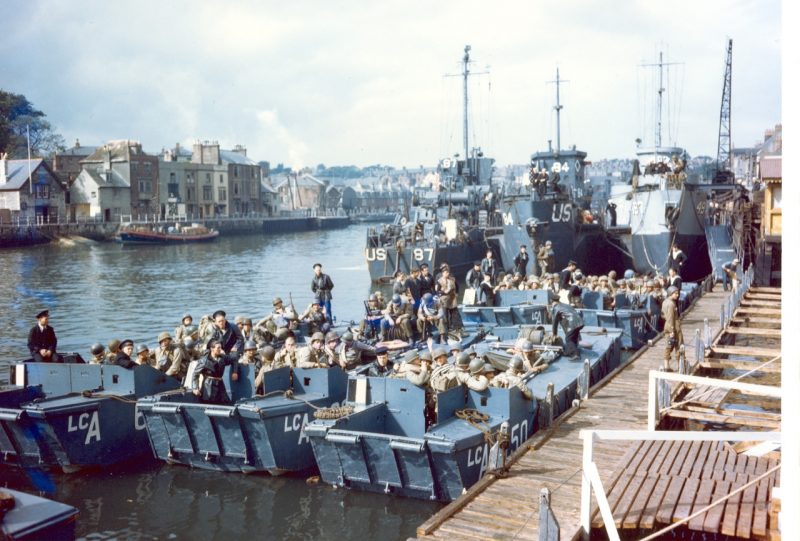 Project manager Neil Russell:
"It will be a unique opportunity for visitors to Normandy to see the actual boat that carried the Ranger commander and his men into battle at Pointe du Hoc. It is not just bullet holed armour plating – that makes these vehicles unique and historic… it is the amazing fact that they have survived all of these years. All 4 of the LCA boats have their own individual stories to tell from that day – and it is only right that they return to Normandy. Nowhere else on earth is their presence more welcome than by the French in Normandy.
We have the keel numbers from all 4 boats now – and I can confirm the reports on local TV that we do have Landing Craft LCA number 888. We also know where each of the other boats landed.
This project it not without its challenges… Simply lifting the sheets of armour plating from the sides is a four man job… not to mention the keel which is nearly 40ft long! But the project is advancing. Every day another part of the vessel is restored and it all has to be stripped, cleaned and then re-fitted.The whole project is a big one – but it really is worth the time and effort" The team are delighted to be working on these beautiful old craft and despite many early challenges, the project is still on schedule. "They are a piece of D-day history and it is pleasure to be working on them. The memory of the US Rangers should be preserved and this is only a small – but important part of their legacy"
The NRVA are a group of individuals, supported by WWII Ranger veterans and their families – our our goal is to preserve the history of both the WW2 Ranger battalions and to promote their actions, deeds and values to a wider audience.
This is not done via re-enactment, living history etc. but it is done through the study of various Ranger actions and the preservation of Ranger histories and artefacts. To this end, we are continually looking for any original items related to the WW2 Rangers – from paperwork to uniforms, badges to helmets. We are happy to buy these items and place them on display where they will be preserved in the museum for future generations to view.
Neil can be contacted on: info@landingcraftrestoration.com
www.landingcraftrestoration.com
Neil and Martin cleaning the suspension hook for LCA888.
A keel being repaired.
Re-panelling the exterior at 45 degrees and hand riveting.
Stripping down and cleaning the gunners shield.
Inside the hull. Thousands of copper rivets support the twin ply exterior upon which there was thick armour plating. The twin ply outer boards were placed at 45 degrees to each other to increase the vessels strength.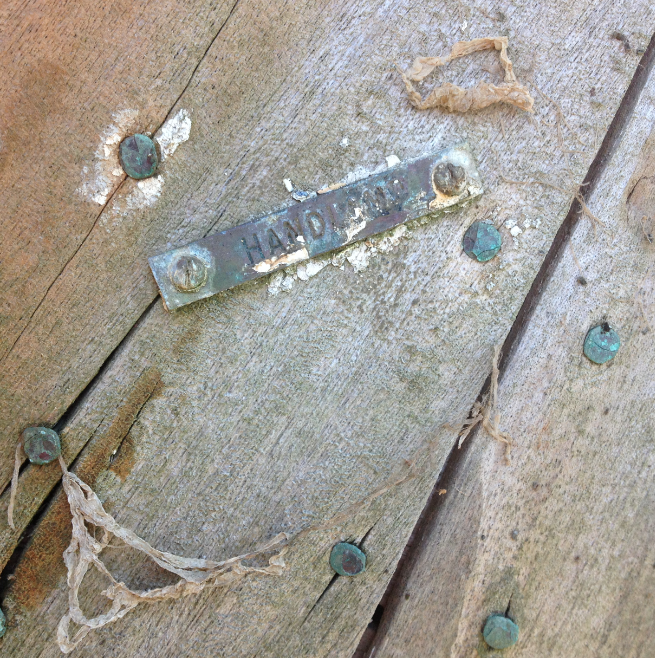 A handlamp mount sign. One of many signs on the boat for the crew.
Armour plating – some of it with bullet strikes and holes in places.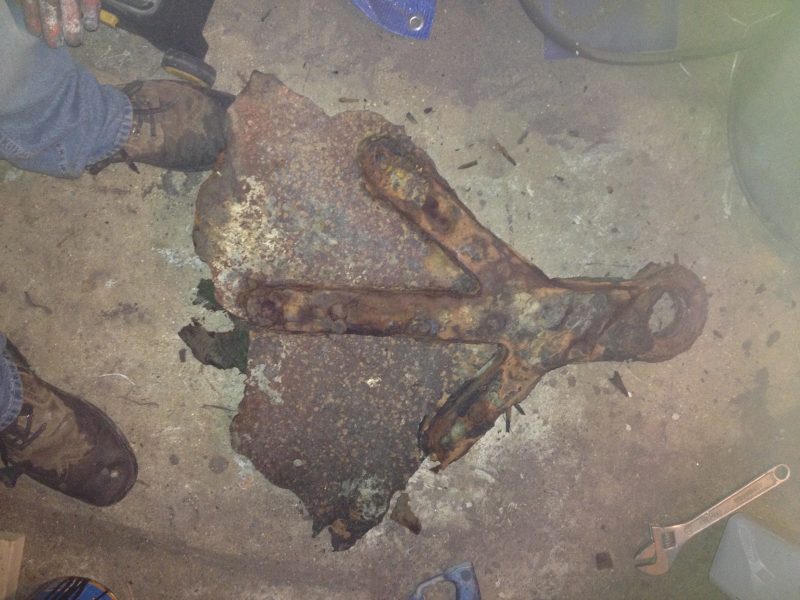 Over a period of time during the project a series of photographs will be published and work will be displayed as the restoration progresses.
Here restoration begins on one of the LCA lifting mounts. It will be stripped, cleaned, repainted and then re-fitted.
The wood restoration is advancing slowly to preserve as much as possible of the original wood.