By Jeremy P. Ämick
As noted in the book "Germans in the Civil War" by Walter Kamphoefner and Wolfgang Helbich, German Americans made up one of the largest immigrant groups during the period of the Civil War, comprising nearly 10 percent of the Union forces. In the years from 1850 to 1860, the authors note that the United States experienced an "influx of over a million Germans …"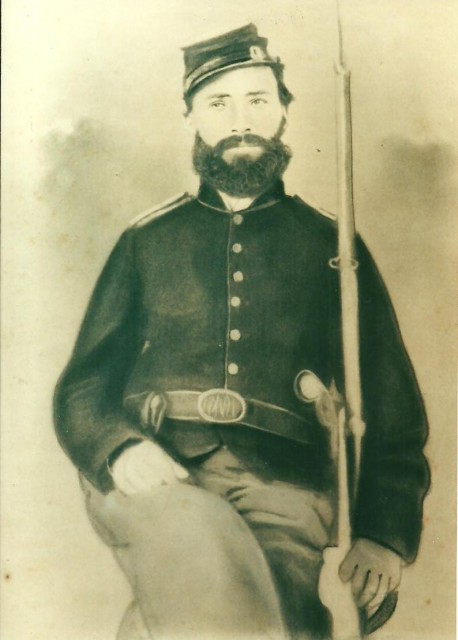 Many of these men pulled up their well-established roots to flee the turmoil and unrest fomenting in Europe (which would eventually lead to the establishment of a German nation), seeking to deliver the promise of a better life for their families in America. Few realized, however, that even greater strife awaited them when the Civil War broke out in 1861.
Now, several decades following the death of one of these immigrants turned Union soldier, a descendant wishes to preserve the memory of her departed relative's service by honoring him with a military headstone.
"Wyatt Zimmerman was one of my great-great-grandfathers," said Delores "Dee" Wolfe of Holden, Mo. "He was buried in Strickfaden Cemetery (north of California, Mo.) and all that identified his gravesite was a plain mortar block," she added.
During the last several decades, Wolfe's interest in history has matured due to her genealogical research, helping to guide her discovery of Zimmerman's military background and providing her with the necessary credentials to join an organization dedicated to preserving Civil War history.
"Because of my relation (to Zimmerman), I was able to join the Daughters of Union Veterans of the Civil War (DUVCW)," Wolfe said.
During her research, Wolfe discovered that Zimmerman—who was born in Mombach, Germany in 1824—immigrated to the United States with his parents and siblings in 1840. He eventually became a citizen in Boonville on July 11, 1856 and went on to serve as a private in Company F of the 52nd Regiment of the Enrolled Missouri Militia.
Following his discharge in 1863, the veteran engaged in farming near California, Mo., until his death in 1874 at the age fo 50, leaving behind a wife and seven children.
In researching Zimmerman's background while preparing her application for membership in the DUVCW, Wolfe visited Strickfaden Cemetery, at which point she discovered the veteran's poorly-marked gravesite.
"I was able to use a map of the cemetery layout to identify his grave," Wolfe said, and with a hint of melancholy, added, "that's when I discovered the simple, unmarked block was the only tribute to his life."
When she returned home, Wolfe—who has in the past acquired military memorial markers for the graves of her father and uncles—researched some of her previous paperwork from the Department of Veterans Affairs and found that Private Zimmerman might also be eligible for such an enduring legacy.
"I applied for a Civil War marker and it was approved," she beamed.
At a recent ceremony—attended by several dozen community members, descendants of Zimmerman and organizations such as the Daughters of 1812, Sons of Union Veterans of the Civil War and the DUVCW—Zimmerman's new headstone was unveiled, 141 years after he was laid to rest.
"In performing my research on (Zimmerman) and honoring him with this marker, it has really generated a lot of interest among my family as to our history," Wolfe said. "It has also helped connect me with distant cousins and other relatives that I have never had contact with before."
Most importantly, Wolfe stressed, is not only the opportunity to share with others information about the availability of military markers for deceased veterans, but being able to return a favor to a relative she never met in person and has only come to know through hours of investigation.
"I can't begin to imagine the rough life he had to live—leaving the hardships of Germany only to come into the turmoil of the Civil War," she said. "It's simply unimaginable."
She added: "In a sense, it was as if I felt getting his memorial marker was something that I had to do, because of our relationship … my connection to him. I was able to join the DUVCW because of him and this was something that I felt I could do for him out of respect and appreciation for his service."
For more information regarding the eligibility for headstones, markers or medallions through the Department of Veterans Affairs, please visit the National Cemetery Administration website at http://www.cem.va.gov/cem/index.asp.
Jeremy P. Ämick writes on behalf of the Silver Star Families of America.
Jeremy P. Ämick
Public Affairs Officer
Silver Star Families of America
www.silverstarfamilies.org http://www.silverstarfamilies.org Cell: (573) 230-7456