We haven't taken a stroll down Grub Street for a while. I confess I have been using another book they sent me as reference material for one of my projects and I will have to do the decent thing soon. Meantime here is another immensely interesting book from this publisher who hold a niche position with their aviation histories.
I recently enjoyed a genuinely memorable day at Duxford for their Battle of Britain show. Walking down the flightline of over twenty Spitfires was surreal. My world is usually one of tanks and other heavy metal, but aeroplanes never fail to impress – especially classic warbirds. The pick of the bunch at Duxford were four Hurricanes. There was a time when you hardly saw one, but as Gordon Riley explains, advances in restoration techniques have allowed a controlled explosion in Hurricane rebirths. The response to that is the traditional "fill yer boots."
In this fascinating book Mr Riley takes us through a procession of Hurricanes from around the world, some complete; some flying; others less secure – and the effect is to show just how many are out there. It is quite a surprising number. As with most old military things, there are outbreaks of survivors from the far reaches of the world. The bulk of discoveries have happened in Canada and Russia. The old bird was built in Canada and when we consider all the flying training and other essential work going on in the country during WW2 it should be no surprise that a number of airframes have survived. The British supplied a good number of Hurricanes to the Soviet Union, where they did well, and given the expanses of the Eastern Front crash wrecks and abandoned aircraft are still found. A number are on display in Russian museums.
The reason there are so few Hurricanes in comparison to Spitfires is due to their technology. Sydney Camm's wonderful fighter was a war winner, but it was something of a halfway house between the new all metal monoplanes and the days of wood and wires. Many Spitfires survived as instructional airframes and gate guardians, but Hurricanes were old tech and not worth keeping. It's harsh, but it is common sense. Happily the very last one built thrills crowds with the Battle of Britain Memorial Flight and the oldest hangs from a ceiling in London's Science Museum. There are other important examples in the RAF Museum at Hendon and quite a few more in safekeeping all over the world.
The richness of this book is in the immense knowledge and experience of the author. He makes it all seem so easy, but clearly this book is the sum of many years of hard graft. Having access to so much information is great, but making sense of it all is no mean feat. I am quite sure Mr Riley knows full well that his book will need updating in due course, because we can be sure someone somewhere has found another aircraft for him to record. It always happens like that.
The Hurricane holds a special place in hearts and minds. It won the Battle of Britain and did so much more over Europe, North Africa and in the Far East.
All the standard works will tell you the usual stuff about how it lacked the glamour of the Spitfire but could soak up a lot more punishment etc, etc. The only Victoria Cross awarded to Fighter Command was earned by a Hurricane pilot. The list of plaudits goes on and on.
I like Hurricanes because to me they look beautiful and there is much more to them. I remember building an Airfix kit of one when they used to come in polythene bags. Hurricanes ooze nostalgia. Even those clever fibreglass copies used to replace the originals as gate guardians or working as film props look cool. If I had a big garden I'd have one in it.
This book is not just for lovers of the Hawker Hurricane, but if you are one then this is an essential read. The understated quality of the thing may escape you at first but do not be deceived, just like the plane itself this is top quality stuff.
Reviewed by Mark Barnes for War History Online.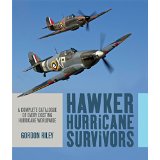 HAWKER HURRICANE SURVIVORS
A Complete Catalogue of Every Existing Hurricane Worldwide
By Gordon Riley
Grub Street
ISBN-13: 9-781-909808-34-8
Image used: Wikipedia