Originally developed by the United States Navy, the McDonnell Douglas F-4 Phantom II is a long-range supersonic interceptor aircraft/fighter-bomber with a tandem two-seat, twin-engine, and all-weather capabilities. Put into service in 1960 by the Navy, it was soon also adopted by both the U.S. Marine Corps and U.S. Air Force due to its high adaptability. It became a major part of the air wings of all three branches.
Though a large fighter, the Phantom hits an impressive top speed of Mach 2.2. A versatile fighter it can equip and carry 18,000 pounds of weapons on its nine external hardpoints including air-to-air missiles, air-to-ground missiles, and various bombs. Like other interceptors of its time, it was designed without an internal cannon. Subsequent models incorporated an M61 Vulcan rotary cannon. Starting in 1959, it set 15 in-flight performance world records including records for absolute speed and absolute altitude.
The F-4 saw extensive action during the Vietnam War. Both the U.S. Navy and U.S. Air Force fielded the Phantom as its principal air superiority fighter. It is distinguished as the last fighter to achieve ace status in the 20th century.
Throughout the 1970s and 1980s, it continued to be a major part of the U.S. military air power though it was gradually replaced by updated and more modern aircraft.
Between 1958 and 1981, production lines manufactured 5,195 Phantoms. Many are still used as front line air fighters in the military forces of seven countries. The U.S. Air Force continues to use them as targets drones to this very day.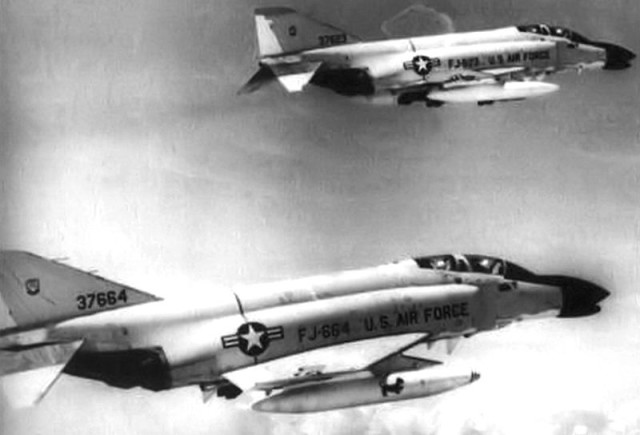 390th Tactical Fighter Squadron F-4Cs flying over Vietnam, late 1965. Both aircraft were later repainted in camouflage. McDonnell F-4C-20-MC Phantom 63-7623 was modified in 1967 as an EF-4C Wild Weasel flak suppression aircraft. McDonnell F-4C-20-MC Phantom 63-7664 was shot down on May 30, 1966 with 555th TFS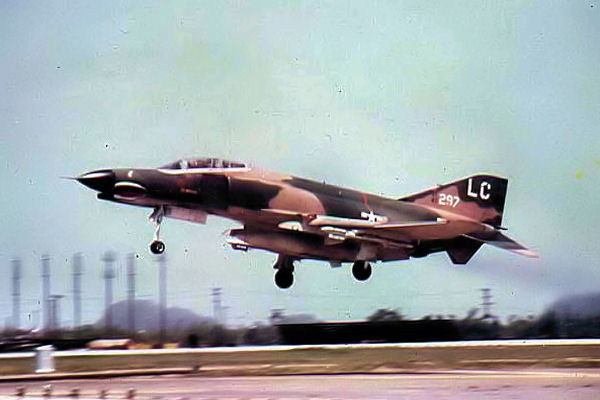 F-4E of the 421st Tactical Fighter Squadron – 1972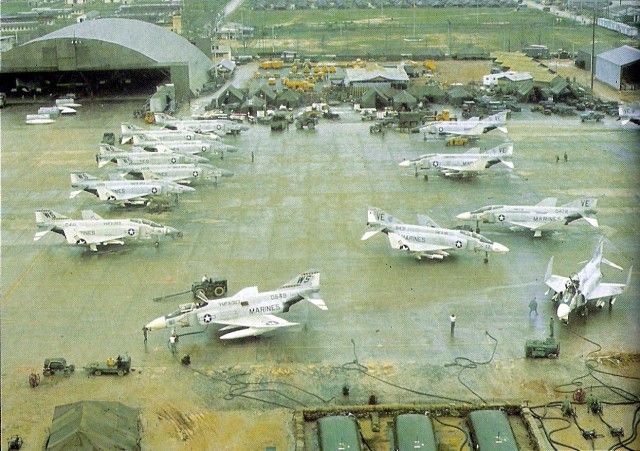 F-4B Phantoms of VMFA-115 and VMFA-323 on the flight-line at Danang in 1966.

35th TFS F-4D Phantom – 66-8709, at Korat RTAFB, Thailand, 1973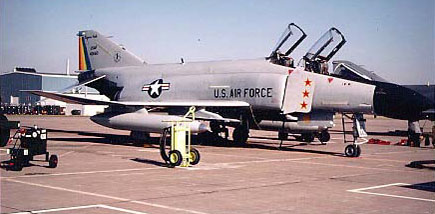 Side view of McDonnell Douglas F-4C-21-MC (S/N 64-660) of the New York Air National Guard. Note that the three victory stars were scored:
May 12, 1966, by Maj. W.R. Dudley (pilot) and 1Lt. I. Kreingelis (WSO) flying for the 390th TFS, 35th TFW using an AIM-9 Sidewinder against a MiG-17;
May 14, 1967, by Maj. J.A. Hargrove (pilot) and 1Lt. S.H. Demuth (WSO) flying for the 480th TFS, 366th TFW using the 20mm cannon against a MiG-17;
June 5, 1967, by Maj. D.K Preister (pilot) and Capt. J.E. Pankhurst (WSO) flying for the 480th TFS, 366th TFW using the 20mm cannon against a MiG-17. (U.S. Air Force photo)
McDonnell F-4D-33-MC Phantom Serial 66-8820 of the 389th Tactical Fighter Squadron.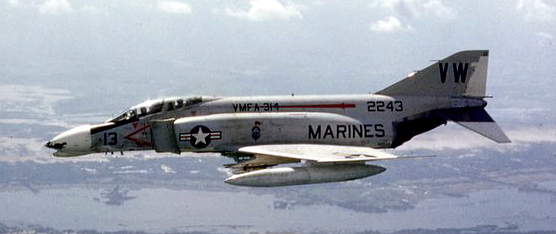 A McDonnell F-4B Phantom II (BuNo. 152243) of Marine fighter-bomber squadron VMFA-314 Black Knights returns to Chu Lai airbase, South Vietnam, in September 1968.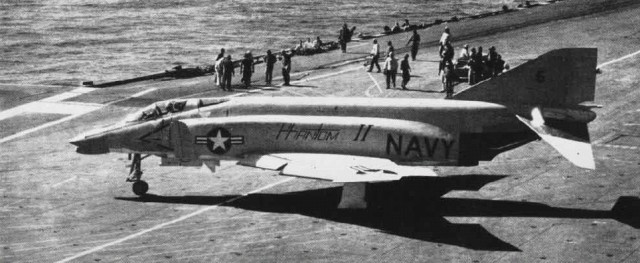 An F4H-1F aboard the Aircraft Carrier USS Independence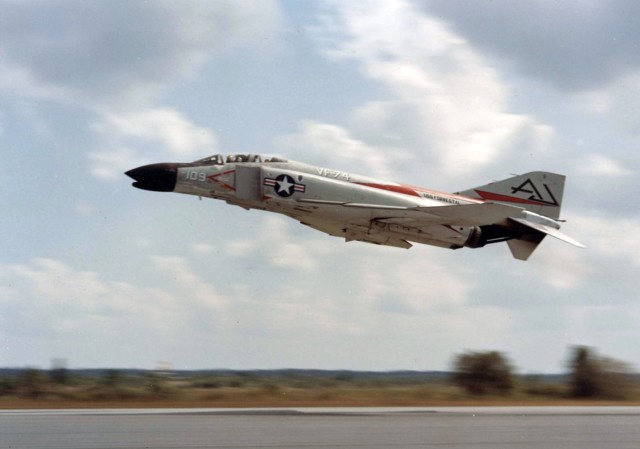 VF-74 was the first operational U.S. Navy Phantom squadron in 1961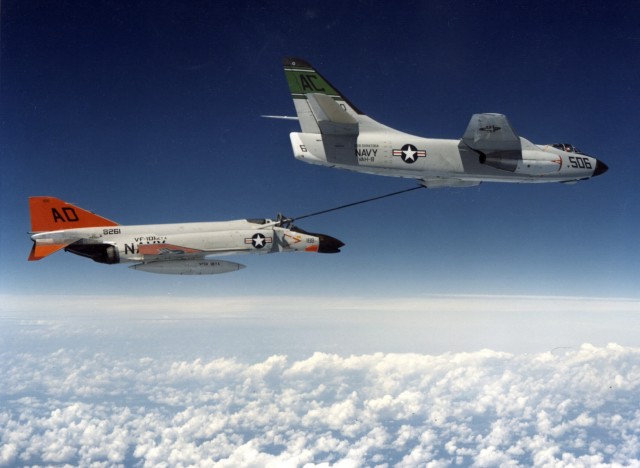 A3D-2 Refueling A F-4 During transcontinental "Operation LANA" in 1961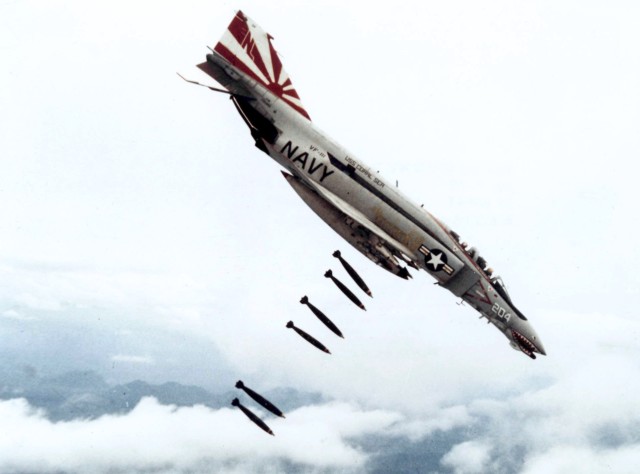 A U.S. Navy F-4B from VF-111 dropping bombs over Vietnam, 1971

The Blue Angels flew the F-4J, 1969–74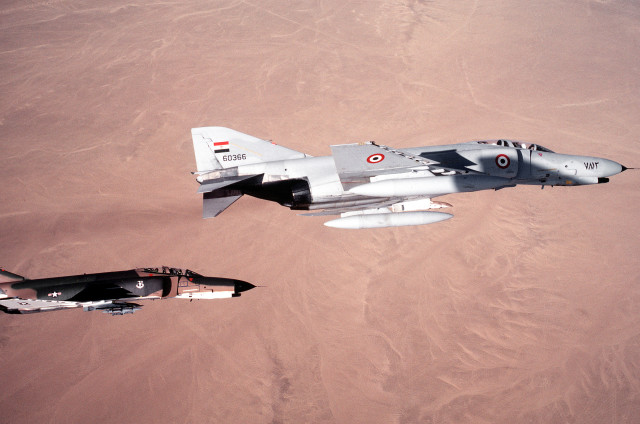 Egyptian Air Force F-4E Phantom IIs of the 222nd Tactical Fighter Brigade in formation with a U.S Air force 347th Tactical Fighter Wing F-4E Phantom II during exercise Proud Phantom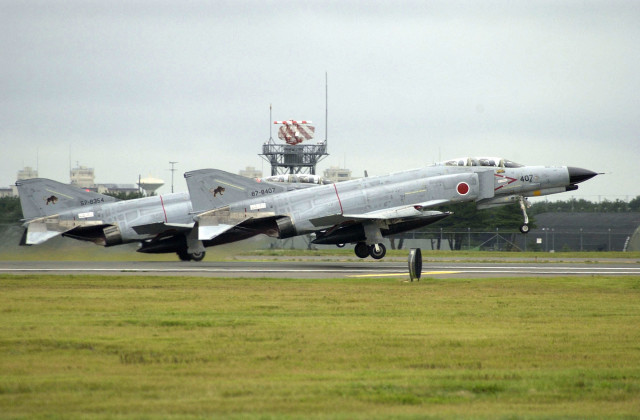 Naval Air Facility Misawa, Japan (Sep. 8, 2002) — A pair of Japanese Air Self Defense Force (JASDF) F-4 Phantoms take off from one of the runways on the Misawa Air Base during their annual Air Festival. U.S. Navy photo by Photographer's Mate 2nd Class John Collins. (RELEASED)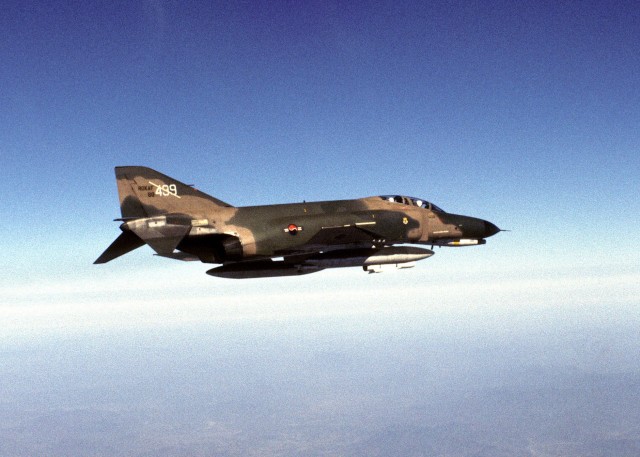 A South Korean F-4E, armed with an AGM-65 Maverick air-to-ground missile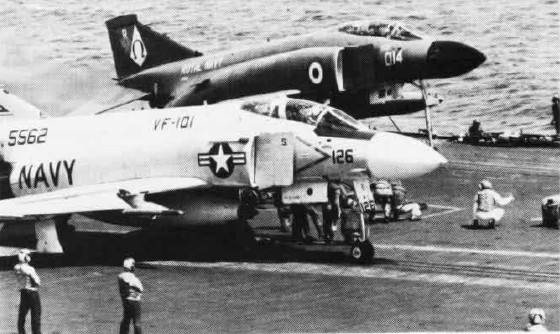 An F-4J of the U.S. Navy (foreground) alongside an F-4K of the Fleet Air Arm (background) wait to be catapulted from the USS Independence; one of the major differences can be seen by the British aircraft's extendable nose wheel. Both variants were eventually used by the RAF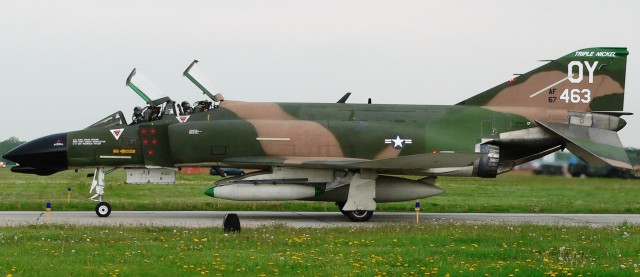 The Collings Foundation F-4D Phantom II, with Vietnam-era "Ritchie/DeBellevue" markings, taxis at Selfridge ANGB, May 2005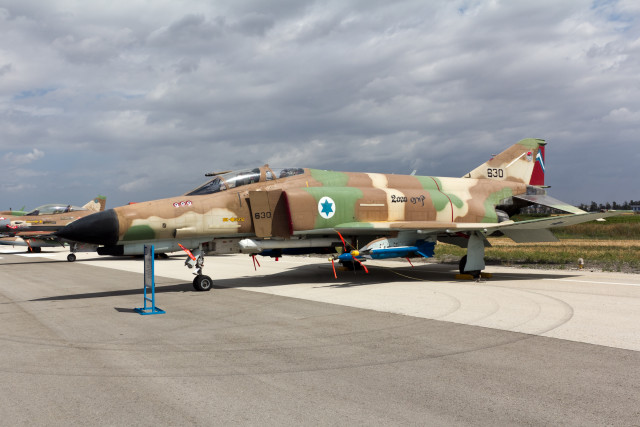 Israeli Air Force 201 Squadron F-4E Phantom II at Tel Nof, Independence Day 2013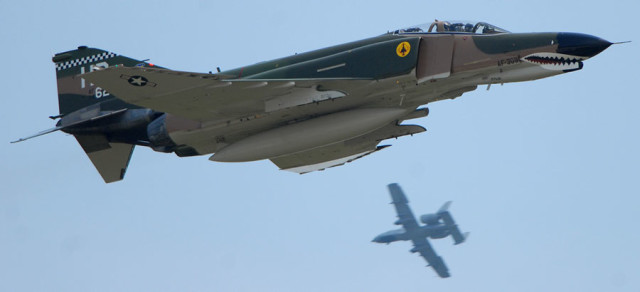 QF-4E AF Serial No. 74-1626 at McGuire AFB in May 2007 with an A-10 in the background.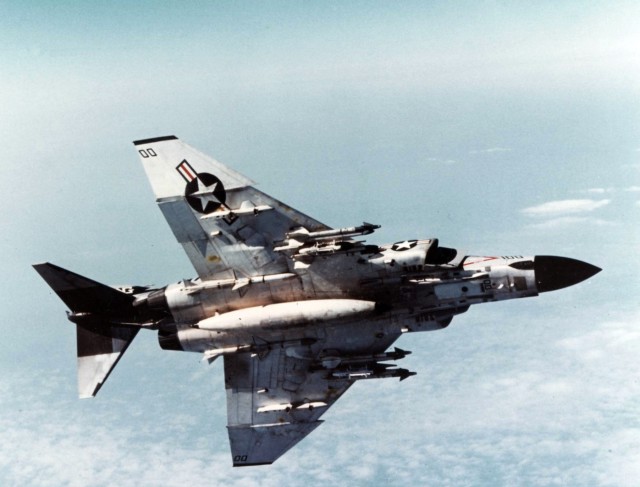 VF-96 F-4J "Showtime 100" armed with Sidewinder and Sparrow missiles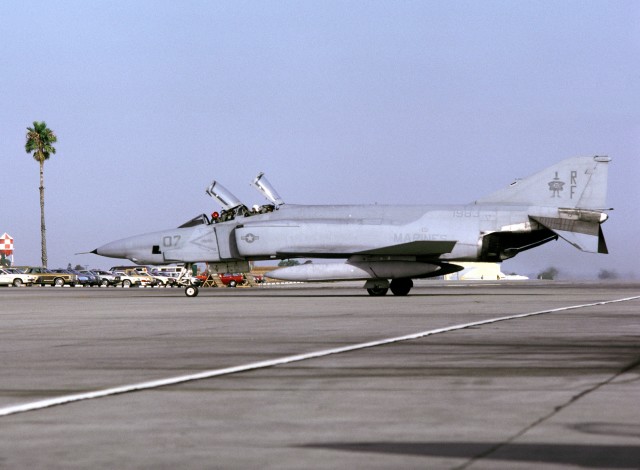 A U.S. Marine Corps RF-4B in September 1982
Image and text source: Wikipedia