The death of Osama bin Laden is one of the biggest moments in history, and one name stands out among the heroes who were involved in the mission. Cairo was the only non-human to join the raid in 2011, but he was more than just a dog, he was a US Navy SEAL.
Cairo's handler and fellow SEAL, Will Chesney, wrote a book about the dog's service and personal life, titled No Ordinary Dog: My Partner from the SEAL Teams to the Bin Laden Raid, which describes how extraordinary a canine Cairo was and serves as a tribute to a friend who had a lasting impact on his life.
Will Chesney and Cairo weren't an immediate match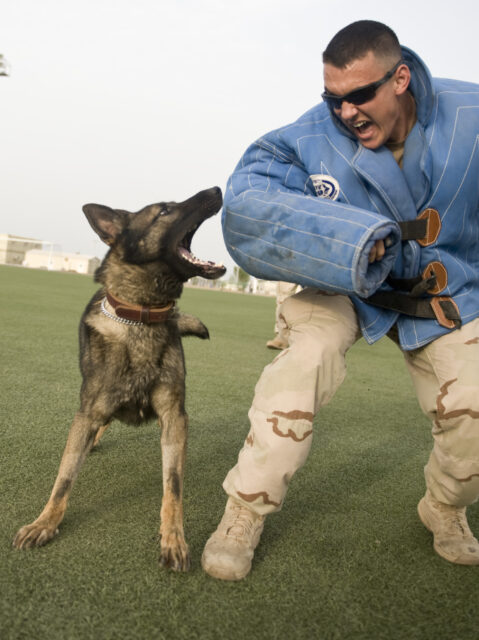 Will Chesney joined the US Navy in 2002, but it wasn't until '08 that he made the decision to become a dog handler. One of the first things these individuals are told when new recruits are brought in is that these dogs aren't pets and shouldn't be treated as such. Instead, they're lethal weapons.
"A military working dog must be a fighter first and foremost," Chesney explained to We Are The Mighty. "We have a saying, 'Dogs have a switch on or off mode,' [so when you] put their vest on, they know they're working, turn it off, they're playful."
Those who decide to become dog handlers are, naturally, dog people, so bonds are difficult not to make. That being said, Chesney admitted that Cairo was never his first choice. He wanted to be paired with another dog in the program named Bronco, who was friendly and more playful, while Cairo was more reserved and all about work.
Despite his personal preference, Chesney's program director told him Cairo was the dog for him and they were paired together. The two spent the next two weeks training. This was when Chesney realized Cairo was a very special dog. It would be at a seven-week training camp in California that they'd forge a strong bond with one another.
Chesney wrote, "By the second night, we were sharing a bed, though I do recall pushing him off in the middle of the night for being such an aggressive snuggler and blanket hog."
At the camp, Cairo learned invaluable skills for the battlefield, including how to attack, bite and release on command; how to sniff out weapons and improved explosive devices; how to skydive; and how to quietly and efficiently move across rough terrain. After the training had been completed, Chesney said, "I couldn't wait to see him in action."
Cairo was shot during a mission
This is Cairo. He's an elite combat operator and member of SEAL Team Six. He was part of "Operation Neptune Spear," the raid that killed Bin Laden. Trump has reportedly said that dogs are "low class," I'm positive this hero would disagree. FWIW, Cairo enjoyed meeting Pres. Obama. pic.twitter.com/O4vUAts81t

— altNOAA (@altNOAA) August 16, 2018
On June 30, 2009, US Navy SEALs were engaged in combat against insurgents who'd fled into a ridge while heavily-armed. While the rebels had achieved a sizeable distance between themselves and the SEAL team, Cairo could still pick up their scent, leading Will Chesney to unhook his leash and let him run after them. Cairo gave chase, clearing a four-foot stone wall like it was a curb and disappearing into the trees that lined the ridge.
Unable to see what was going on, all Chesney heard were gunshots.
Chesney began calling for Cairo, but was met with silence. He began calling more forcefully. Cairo appeared and slumped his way toward his handler. The dog was bleeding badly and was struggling to breathe, as he'd been shot in the chest and a front leg. His wounds prevented him from being able to jump down from the stone wall, meaning he had to walk around it to return to Chesney.
As soon as he saw Cairo, Chesney ran toward him. "FWIA" was called out on the radio, indicating "friendly wounded in action," which has no distinction between human and canine. As Cairo was considered a Navy SEAL, the distinction didn't matter.
"I remember seeing him drop and I thought he was dead," Chesney told We Are The Mighty. "I was devastated, but we had to continue the mission. I got to him, I was able to go and check on him fairly quickly. A lot of dogs don't make it when they get shot, unfortunately. I got to him and carried him, as I was getting Cairo's medical kit out, a medic came over."
The medic did their best to reduce the bleeding, and Cairo was swiftly transported to the nearest medical facility to undergo life-saving emergency surgery. It was a team of combat surgeons, not veterinarians, that operated on him, and they successfully saved him.
Chesney never left his side, and, the next day, Cairo licked his face, telling him he was going to be okay.
Operation Neptune Spear
CAIRO and the kevlar vest he wore during OP Neptune Spear. The CAD (combat assault dog) went together with DEVGRU during the raid on Bin Laden's compound, on May 2, 2011. #K9 #SEALTeamSix pic.twitter.com/03xo1xzkjM

— julio⚡️Caronte (@jmscaronte) May 2, 2022
Three years later, Cairo was just about ready to be retired. Will Chesney was bracing himself for their separation when he got the order that SEAL Team Six were going after Osama bin Laden. This took retirement off the table for Cairo, who joined the rest in training at a full-scale replica of bin Laden's compound in North Carolina.
On May 2, 2011, Cairo was seated between Chesney's legs, wearing a Kevlar vest and night-vision goggles, as the Sikorsky UH-60 Black Hawk carrying the team made its way to Abbottabad, Pakistan. Another flying in tandem suffered a crash landing, but the one Chesney and Cairo were on landed without a hitch.
As soon as they touched down, Cairo was let off leash to circle the perimeter for bombs and escape tunnels. Two laps meant they had the go ahead, and Chesney and Cairo entered the main house. The two quickly cleared the first and second floors and were making their way up to the third when another US Navy SEAL passed them on his way back down saying, "I don't think they need the dog. It's over."
Even though the main goal of the mission had been completed, it wasn't really over. The noise caused by the downed Black Hawk had caused a lot of commotion, as did the gunfight between the SEALs and the insurgents. To continue grabbing whatever intel they could find at the compound, Cairo was sent outside to keep the crowd at bay.
Chesney explained that, despite the importance of this mission, the team had to treat it as though it were any other.
"For us, it was business as usual," he said to We Are The Mighty. "We conducted a little more training than normal, we're always conducting training, being prepared for anything. We knew that the stakes were higher and there was definitely a lot more energy, because of who we were going after. A lot of good people put in a lot of hard work, they were pretty confident.
"Cairo always fed off everybody's energy," he continued. "Your emotions run up and down the leash. If you're mad, the energy is going to run down that leash. For Cairo, it was just another day at work."
Cairo was never awarded for his service – because he was a canine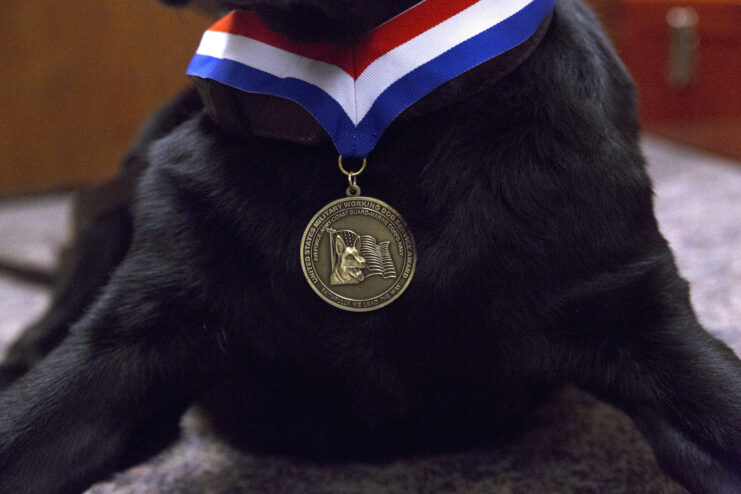 After all was said and done, the SEAL Team Six returned to the US after just 36 hours. Upon their arrival, they met with then-President Barack Obama, who'd never heard of Cairo up until that point. When he learned of him and his impact on the mission, the president said, "I want to meet this dog."
That evening, the only name released to the public about which heroes were involved in the raid was "Cairo, Belgian Malinois."
Every member of the SEAL team was awarded the Silver Star for their involvement in taking out Osama bin Laden – everyone but Cairo. At the time, service dogs were unable to receive military decorations, which is the only reason why he didn't receive one. This is also the reason why he wasn't given a trident pin. "It was a disappointment to me," Chesney told The New York Post. "He was every bit as important to the mission as anyone else. He risked just as much."
Cairo was awarded the prestigious Times' Animal of the Year award in 2011.
When Cairo retired, Will Chesney adopted him
On this day 11 years ago, Navy Seal Team 6 dog handler Will Chesney and his MWD Cairo, took part in operationneptunespear to take out the world's most wanted terrorist, Osama bin Laden. pic.twitter.com/l9duMBS1iQ

— 🐾Wiltzie the Wonder Dog 🐾 (@WiltzieCotton) May 8, 2022
Cairo's involvement in the mission made his so famous that rumors began to spread that he might never leave the base. Will Chesney, on the other hand, had be redeployed without his companion, and being separated took its toll. He began to show signs of post-traumatic stress disorder and began to drink quite heavily. Prescription medication wasn't working, and it seemed the only to do so was visiting with Cairo.
"I felt like he needed me," Chesney wrote, "and I sure needed him."
When Chesney heard Cairo was set to retire in 2013, he knew he wanted to adopt him. However, two other men did, as well. After a year of filling out paperwork and waiting to hear back, Chesney received the call that his long-time companion was finally his.
The two shared wonderful memories together in civilian life, but Cairo was old and tired. His service wounds had affected his body, and he began to decline. Sadly, on April 2, 2015, Cairo was put down after an inoperable cancer was detected in his body.
Chesney had the dog cremated and keeps his ashes in a canister. He also kept the blood-stained harness Cairo was wearing the night he was shot. The US Navy SEAL had an impenetrable connection to Cairo, more than that of owner and dog. "Cairo was my dog. And I was his dad. I don't use that term euphemistically. The relationship between a handler and a canine SEAL is profound and intimate. It goes well beyond friendship and the usual ties that bind man to dog," he explained.
More from us: Iraq War Timeline: Looking Back At the Conflict 20 Years Later
"If you step back and think about it, the night Cairo got shot, he saved guys' lives," Chesney continued. "And then I got out and he saved my life. And now I'm using his stories to save more lives. If Cairo can help someone in some way, that could be great and by using the platform to talk about some of the issues I went through, [I'm] hopeful it would inspire others to reach out."