To mark Armed Forces weekend the British Army will be attending Tankfest at The Tank Museum, Bovington, England, on 25-26 June. They will be showing off their latest armour in an exhilarating raid-style arena demonstration.
Soldiers from the Armoured Trials and Development Unit (ATDU) and the Army's Centre of Excellence (ARMCEN) will be demonstrating 11 of the British Army's latest armoured fighting vehicles, including the types of vehicles that have seen action in recent conflict zones such as Iraq and Afghanistan.
ATDU, who are stationed in Bovington use a range of currently serving vehicles to work on the latest developments in armoured warfare while ARMCEN delivers individual and crew training for soldiers working with both tracked and wheeled armoured vehicles.
The Armour Centre Commander, Col Gordon Judd, said "The Army's involvement in Tankfest is an excellent opportunity for the public to see first-hand the types of equipment and training employed by the British Army today.  It also offers people the chance to meet and talk to the soldiers themselves."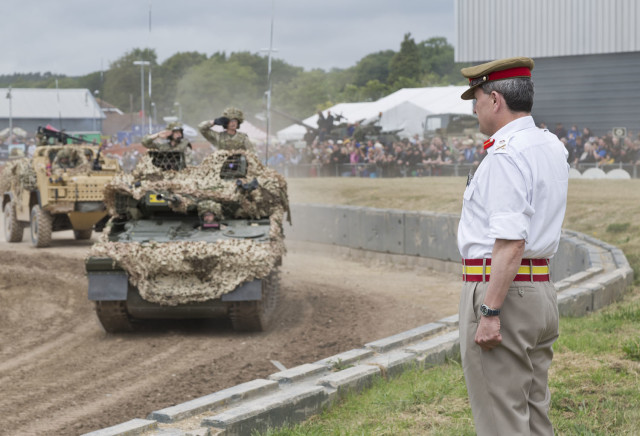 The Army's current Main Battle Tank, Challenger 2, will roar around the arena accompanied by other recognisable vehicles like the Scimitar and Jackal. All of the vehicles will then be on static display in the Tank Park at Tankfest, where visitors can take a closer look and talk to the soldiers who crew them.
Tankfest, 25-26 June, is the biggest display of historic moving armour in the World. Tickets for Saturday are sold out but there is still availability for Sunday.
Buy online and save 10%: http://tankmuseum.org/whats-on/events/bovevt53277
A message from the Tank Museum:
"Please Support Us: As a charity, we rely on public support for all our activities. Our work is funded entirely by people like you. With your support, we can continue to create content. With the right support we might be able to do it more regularly – and can be even more ambitious. Please Click on the Banner Below"