When a British soldier receives The George Cross decoration, you know he's done something outstanding. This highly honored decoration was created in 1940 by King George VI, the man who took the throne of the British Empire after his brother abdicated to marry the divorced American Wallis Simpson.
Beginning in September 1940, the Nazi Germany "Blitz" relentlessly pounded England with bombing raids and King George felt the gallant bravery ordinary citizens demonstrated against a distant, and hidden enemy demanded a reward. The George Cross warrant, as published in The London Gazette on January 30, 1941, states:
"The Cross is intended primarily for civilians and award in Our military services is to be confined to actions for which purely military Honours are not normally granted."
Thus, when Warrant Officer Kim Hughes responded to a dangerous situation near a Taliban stronghold in Afghanistan involving buried bombs, the George Cross became the appropriate decoration for his actions. Arguably, facing a booby trap bomb is quite hazardous, though technically not facing the enemy in combat, it can kill you all the same.
It should be noted; this award is ranked next to the Victoria Cross, which is the highest military honor given "in the face of the enemy." To civilian and soldier alike, the George Cross is a big deal.
Kim, in his mid-thirties, a married man and father seems to get his kicks disarming Improvised Explosive Devices (IEDs). In modern day guerilla and terrorist type warfare, explosive devices can come in many different forms. Minefields may appear just to have trash strewn about, yet in the seemingly scattered discards of mankind lurks a deadly danger.
These Victim Operated IEDs can be made from almost anything and may appear quite innocuous. Most are buried just under the surface of the ground. Major Hughes has the knack of assessing these various devices and quickly, and safely, disarming them.
On August 16, 2009, a fateful day in Afghanistan, a 24-year-old lance corporal stepped on one of these bombs. Two Fusilier squad members rushed in carrying him away, but tripped yet another blast, which killed both of the young infantrymen and wounding three others.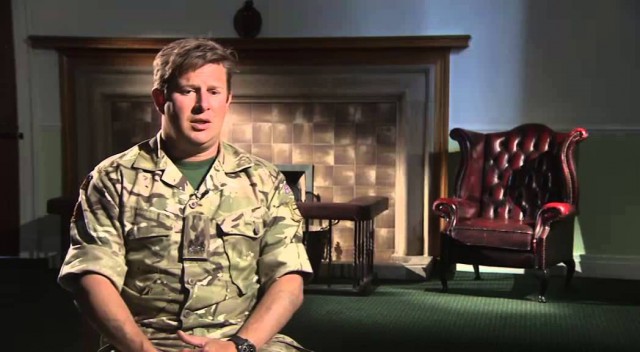 Warrant Officer Hughes answered the call to not only dismantle the remaining booby traps, but allow rescue for the three wounded men, and to retrieve the dead. Insurgent gunfire sporadically burst within hearing, but Hughes rushed in to do his job.
He quickly set about his work, without any safety gear, and neutralized seven daisy-chained IEDs with only a set of wire cutters in his bare hands. He braved the bombs and gunfire and allowed the wounded men to be rescued. The man who first set off the bombs later died, but three lives were saved that day by Hughes' skilled and heroic action.
During his first tour of duty in Afghanistan, Hughes deactivated eighty buried IEDs. Over his military career, he has neutralized over 120 of the deadly devices. The unit has now trained Afghan forces in the techniques and procedures, and those units have taken over the job of Explosive Ordinance Disposal. Warrant Officer One Hughes' older brother, Lee, who said he had no idea such a job existed until his little brother got into it, willingly joined the unit, even at a junior rank.
Kim admitted his feelings toward his older brother, "I loved bossing him around," but also notes he has the highest regard and confidence for Lee and enjoys being together with him in the field. Both men are assigned to the 11 Explosive Ordnance Disposal Regiment attached to the Royal Engineers, which is overseeing the bomb disposal operations in Afghanistan.
By Elaine Fields Smith