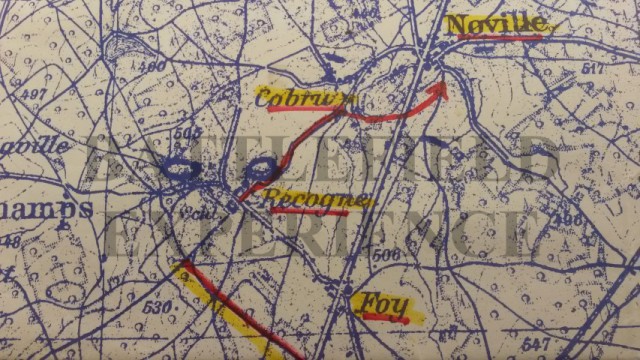 Maj. Richard Winters' notes from his last visit to Bastogne
BASTOGNE – Take it Easy!
Inspired by Dr. Stephen Ambrose's bestselling book and the successful HBO series Band of Brothers, many people have travelled the world following the footsteps of Easy Company, 506th Parachute Infantry Regiment in the European Theatre of Operations. By Reg Jans
Hence, the story of this rifle company has triggered the interest for future generations and motivated people of all ages to learn more about WWII History and the heroes from many other different units, who, seven decades ago, fought for a free world.
However, although Band of Brothers focuses on the men of Easy Company and their actions during World War Two, it does not give the reader/viewer a proper insight into the movements of these men and their actions/positions at the Battle of the Bulge. Because of this, misconceptions and assumptions have become a rule rather than a fact. Despite so much detailed info now in the public domain such as AAR's, Morning Reports, Scrapbooks and the outstanding book 'No Victory in Valhalla' by Ian Gardner, it is still a nightmare for travelers and history buffs alike to retrace the steps of Easy Company and to better understand what really happened to them.
Unintentionally misinformed, many still believe that the last attack on Foy was launched from the Bois Jacques and are therefore unaware as to the numerous other tactical movements that were necessary to defend Bastogne and the subsequent push-back attacks.
Alike the other allied troops that were deployed during the Battle of the Bulge, Easy Company endured the terrible weather conditions. Being short of ammo, warm clothing and decent food, they were all there for the same reason: To hold at all costs!
In the footsteps of the Band of Brothers at Bastogne
On 18 December 1944 at 1530hrs, poorly equipped and short of decent winter clothing the 101st Airborne Division departed France from Camp Mourmelon le Grand, just east of Reims. After a journey of some 115 miles, the four hundred vehicle column split up at Barrière Hinck. Directed to the village of Champs (Bertogne) the badly informed 506th PIR de-trucked shortly after midnight. Passing through Champs and Hemroulle on foot, 1st and 3rd Battalion's advanced to their first positions north of Bastogne while 2nd Bn moved into the hamlet of Luzery.
19 December 1944. At Luzery, Second battalion arrives at the southern edge of the Bois Jacques and forms a stand-by force. Third battalion hold Foy and the Foy-Bizory road while First battalion support Team Desobry (10 Armored Div) at Noville.
20 December 1944. As Team Desobry perform a tactical withdrawal from Noville, the German 78 Reg 26 VGD attacks Foy. Third battalion counterattacks. Second battalion moves north and secures the Foy-Bizory road. Easy-Co digs in on the eastern edge with 1st Platoon (Peacock) and 2nd Platoon (Compton) overlooking Foy. 3rd Platoon (Shames) along the Foy-Bizory road. 501 PIR is covering the 506th right flank from Bizory to Wardin.
2 January 1945. Second battalion leave their lines to clear the section of woods north of the Foy-Bizory road. (During the 1000 Yard Advance – Cpl Hoobler is killed). First battalion takes over the former 2/506 defensive lines.
According to Babe Heffron who was about 8 feet away from Hoobler when he shot himself, the gun was a Belgian 32 with no safety. It was in his pocket and he stood up to shake the snow off of himself. When he started to shake, the gun went off. Hoobler had picked up the pistol off a dead German after the 4-5 October 1944 'Crossroads' battle in the Netherlands. 'Frenchy' Lamoureux was right nearby Hoobler at the moment of the incident.
3 January 1945. Second battalion returns and reoccupies their original defensive line. German artillery builds up. Screaming Meemies (Nebelwerfers) firing from the north, 88mm rounds coming in from Foy.
"On the 2nd of January 1945 "E" Company was sent on a company mission going north into the Bois Jacques woods to determine where the German front lines were. We hit German positions shortly before dark. This was the day Don Hoobler killed himself accidentally. During the night Burr could be heard yelling to German outpost sentry's. Probably taunting them. Late the next morning we returned to our original positions and got the heavy 88 attack that took Bill and Joe's legs plus about 15 other casualties. I do not recall if Burr was one of them." – Don Malarkey
4 January 1945. Second battalion leave their positions and are moved across the Bastogne-Houffalize road (N30). 501 PIR takes over defensive lines in the Bois Jacques. After Lt Peacock is sent home on leave shortly after Christmas and Lt Compton evacuated on 4 January, Easy-Co undergoes some restructuring: 1st Pltn under Lt Jack Foley, 2nd Pltn under Sgt Carwood Lipton, 3rd Pltn Lt Ed Shames.
Jack Foley was initially assigned to 2nd Platoon as Buck Compton's assistant platoon leader, but when Peacock returned to the States on a furlough and Ernest Mann suffered a mental breakdown, Foley was transferred to 1st Platoon where he served out the remainder of the war.
5-9 January 1945. Easy-Co in reserve. Transition Period.
9-10 January 1945. The entire 506 PIR attacks through the Fazone Woods west of Recogne. Hell's Night. Lots of casualties. Muck and Penkala killed. Pushed back. Withdrawal on 10 January 1945.
On 10 January, Heffron and Alex Carrillo were running through the artillery fire when it started. Babe ended up in a hole with Al Vittore. They could see George Luz running as well. He got to within 20-30 feet from Skip and Alex when the shell hit their hole. Luz then crawled toward Babe and Al and they pulled him into their hole. All George could say was, "They're gone. There's nothing left."
10-11-12 January 1945. Back to reserve position. Shelling intensifies.
13 January 1945. Easy-Co attached to third battalion to spearhead attack on Foy.
-0900hrs. Easy company jumps off from here with 1st and 2nd Pltn on the western side of the N30 and 3rd Pltn on the eastern side.
-1000hrs. I-Co (22 men) attack down the road towards the center of Foy.
-1100hrs. H-Co, 2nd Bn HQ, 1st Pltn F-Co and heavy weapons are sent in (Ronald Speirs).
-1530hrs. Foy secured and Easy-Co pulled out after 6 ½ hours of fighting.
-1600hrs-0230hrs. Germans counter attack. Foy still secured. 11th Armored tanks roll in.
-End of the battle at Foy.
After being wounded in the Netherlands, Cpt Ronald Speirs rejoined second battalion as an unassigned officer.
"At Foy, he was the first officer I saw when I turned around. It could have been anybody, but it was Speirs. I didn't ask, "OK, would you mind taking over?" No, I just turned around, saw him and said take over. It was just a roll of the dice that he was standing there when I needed someone." – Dick Winters
As 1st Sgt. Carwood Lipton remembered Speirs' dash, "…he just kept on running right through the German line, came out the other side, conferred with the I Company C.O., and ran back. Damn, that was impressive." – Carwood Lipton
"On the 13th we continued our attack on Foy. The town was full of snipers. One of them had what was left of the 3rd Platoon pinned down pretty good. He shot and killed Frank Mellet right in front of me. Finally, Shifty Powers got the sniper with a shot right between the eyes. Even after we took the town, though, it was still dangerous. At one point we were in the town when all of a sudden an 88 round came crashing in. It landed in the snow and was a dud- thank goodness, as it landed between a couple of us who had no place to go. If it had been live, I wouldn't have made it. It scared the hell out of us." – James Alley
14 January 1945. Easy-Co and 1st Pltn F-Co move north towards Noville and spend the night in old stone quarries on Hill 470 south-west of Noville.
15 January 1945. First and Second battalions 506 PIR attack Noville. Tank Destroyer and Air support.
During the attack on Noville, Ed Joint got wounded. He was hit by mortar fire (It was actually the same screaming meemie attack that wounded Brad Freeman) and his arm was a mess. Ed was evacuated and after a little while in a field hospital he got transferred to a good army hospital in Cherbourg.
15 January 1945. Easy-Co move north-east to clear the village of Rachamps. Air and TD Support. Easy-Co remains at Rachamps until 18 January when it is moved out along with the Division to Alsace-Lorraine.
I remember the last town we were in was Rachamps. It was the last place we took, and they shelled us the whole night before we left. Finally, they pulled us back out to some buildings, and we were given a chance to rest in what was left of a couple of them. Even though we were all crammed into these two buildings, being off the line felt damn good." – James Alley