Andrew Bundermann had to tap into everything he knew about battle when the Taliban led a 400-man attack against his position at COP Keating in 2009. His methodical approach to re-establishing communication and re-allocating soldiers allowed his troop to maintain their position at the outpost, despite being largely outnumbered.
COP Keating was closed just three days after the engagement. Bundermann's actions earned him the Silver Star, which was later upgraded to the Distinguished Service Cross.
Andrew Bundermann knew he wanted a career in the US Army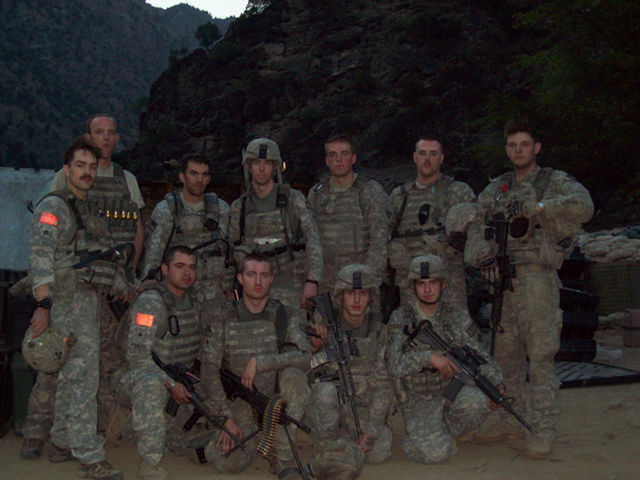 Andrew Bundermann knew from a young age that he wanted a career in the US Army. However, he also wanted the conventional college experience. To accommodate both, he enrolled in the Reserve's Officer Training Corps (ROTC) while a student at the University of Minnesota.
After he graduated in 2007, Bundermann became a first lieutenant with Bravo Troop, 3rd Squadron, 61st Cavalry Regiment, 4th Brigade Combat Team, 4th Infantry Division. As part of the War In Afghanistan, they were deployed to Combat Outpost (COP) Keating, located in Kamdesh.
On October 3, 2009, they experienced a major attack by Taliban soldiers.
The problem with COP Keating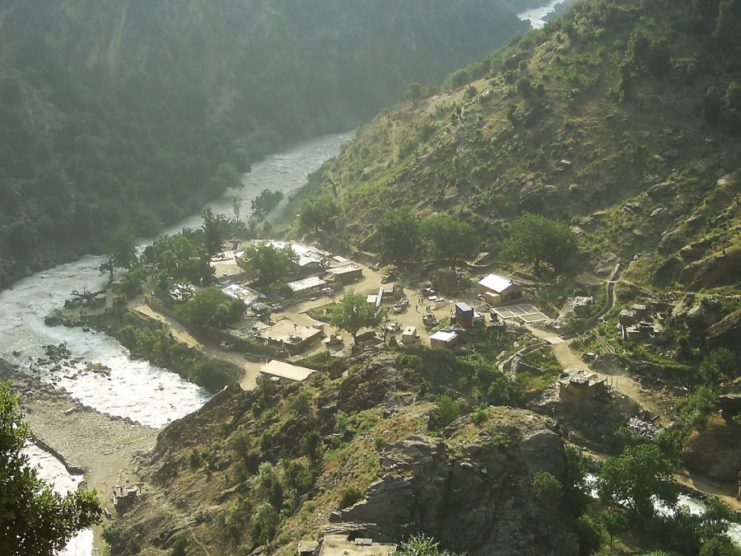 COP Keating was established in 2006, deep in Afghanistan's mountainous Nuristan province – a terrible location for a US Army base. At the bottom of the valley, it was vulnerable to fire from various overhead positions. The road that led to the outpost was also problematic in that it was constantly under the threat of ambush and flooding.
The purpose of COP Keating was to stop the flow of insurgents and munitions coming in from Pakistan and provide support for counterinsurgency (COIN) efforts in the surrounding area. It was located on a major trade route and was part of a larger COIN strategy meant to build positive relationships with locals.
An Afghan National Police station was located adjacent from COP Keating in a nearby village and fitted with anywhere from five to 15 officers, depending on the day. When the base was first set up, the local police presence was strong, but, as time carried on, it began to deteriorate. By the time the Battle of Kamdesh occurred, it was no longer reliable.
The US Army had planned to shut down COP Keating in August 2009, but the heavy-lifting equipment necessary to break down the outpost was occupied elsewhere. As such, the base remained operational. Unfortunately, it stayed that way long enough for the Taliban to execute their attack.
Andrew Bundermann describes life at COP Keating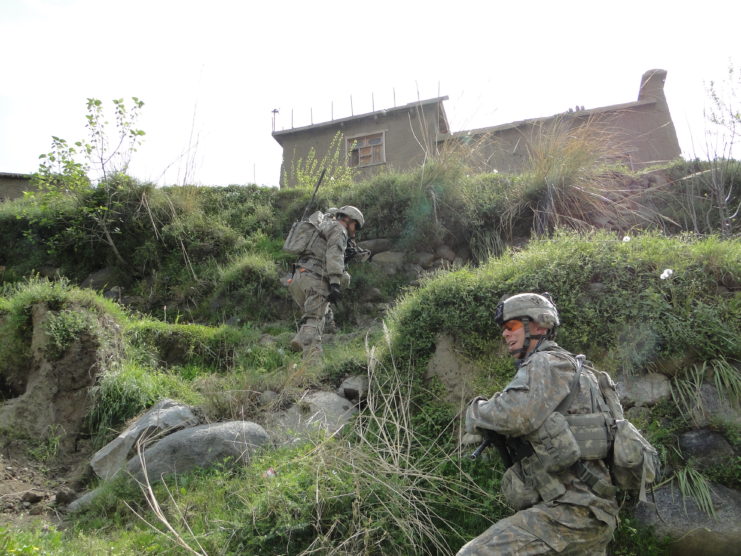 Andrew Bundermann arrived at COP Keating in May 2009 as the acting commander of Troop B. He was briefed beforehand that the area was quite hostile; the base was his first deployment, and he arrived knowing it was going to be a kinetic battlefield.
Bundermann felt the 2008-09 period was when COP Keating experienced its peak violence, and, as such, day-to-day life there was a mix of forced protection or patrolling.
"Going out doing overwatch missions, ambushes, counter movements, multiple different types of overwatch, varying force protection and projection out there," he later said. "There was some interaction with local leaders of the population in order to try to facilitate infrastructure and other opportunities we were trying to leverage at the time."
"Then there was the force protection angle, which was generally what it sounds like, which is essentially managing protection of the local area so that you have some ability and freedom of maneuver."
Battle of Kamdesh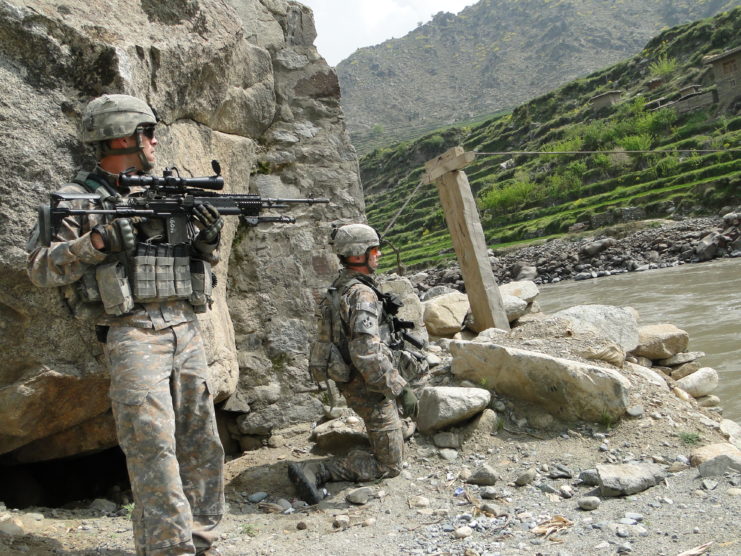 On October 3, 2009, at around 6:00 AM, COP Keating came under attack by a force of 400 Taliban militants, led by Abdul Rahman. They were equipped with B-19 recoilless rifles, DShK heavy machine guns, rocket-propelled grenades (RPGs) and mortar fire.
When Andrew Bundermann realized an attack was underway, he thought, "It's really happening it's not a joke, it's not training, it's not a movie, it's not fake. This is actually happening." As he was the acting commander at the time, he immediately began to re-establish communication networks that had been disrupted by the Taliban, as they were integral to coordinating air support and aiding in casualty evacuation.
Once the networks were fixed, Bundermann's approach included three tactics: shoot, move and communicate. "Do those three things really, really well so that you can regain the freedom of maneuver. Whoever has the ability to maneuver more is generally going to win the day," he later said.
Focusing on the counterattack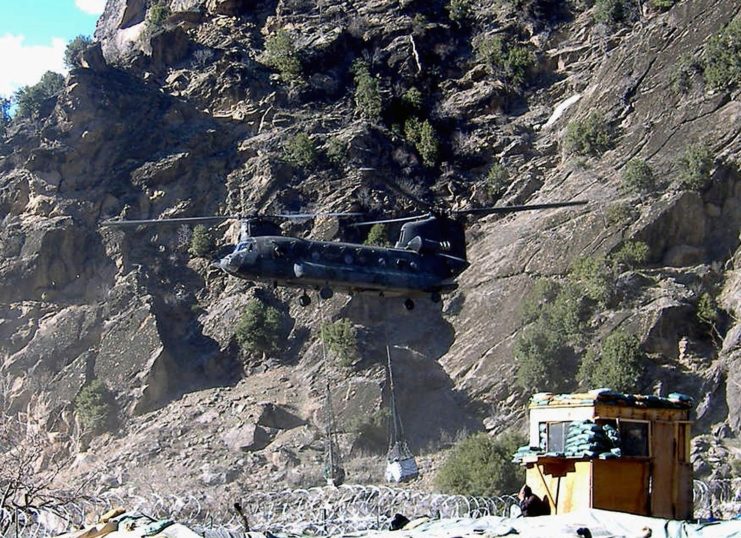 Andrew Bundermann began a counterattack, working with the tactical operations center to call for direct fire support. However, the squadron's artillery was fighting at maximum range and were unable to engage targets sufficiently near Observation Post Fritsche, which had come under attack at the same time as COP Keating. Acting quickly, Bundermann ordered mortar teams to engage those enemies, allowing the squadron's artillery to focus on the insurgents attacking their post.
In the commotion of the battle, Bundermann realized the Afghan National Police station had been overrun by the Taliban forces. In response, he directed troops and air support fire to the village, where they successfully neutralized the position. With soldiers too far extended in positions beyond COP Keating, however, the fighters gained control of various areas within. Bundermann ordered soldiers to come back and engage them inside the perimeter to regain full control of COP Keating.
The battle was waged for 13 long hours, with eight of the less than 60 Troop B soldiers losing their lives. There was an estimated 150-200 Taliban casualties. In the end, it was Bundermann's strategic and flexible counterattack that ultimately defended the outpost and allowed the remaining American forces to successfully flee.
Andrew Bundermann reflects on the Battle of Kamdesh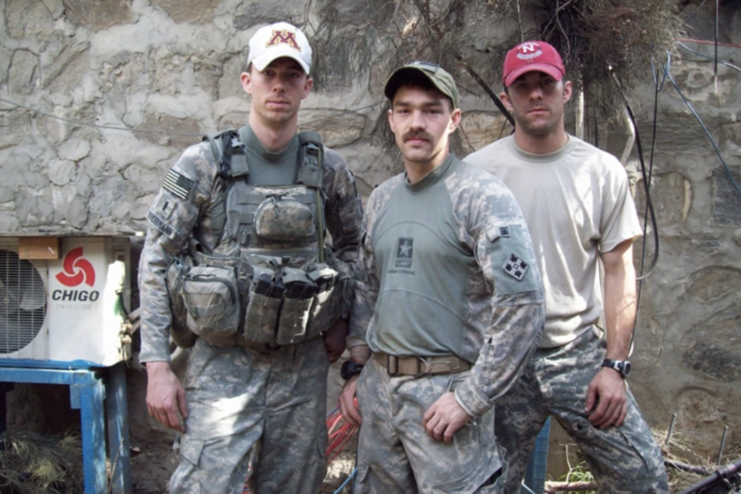 Long after the Battle of Kamdesh was waged, Andrew Bundermann reflected on his experience in an interview with the Penn Political Review. When asked if he believed the Taliban had studied their position at COP Keating, he explained, "It would be naive to think that they hadn't paid attention to what we do and learned from it and came up with the strategy. Give them credit where credit is due. I would say they did that, and did it well. They marshalled a large number of resources and worked at it."
Having to act and react rapidly during the engagement, Bundermann said his priority at the time "was to have a way to gain fire superiority, communicate with all of our soldiers, our airframes, as well as our superiors, and then maneuver soldiers so they could be successful."
When it came to executing a successful and organized counterattack, he explained that his approach was to "take it one step at a time. Take one building back at a time. Do a little bit at a time. Segment out what you can do at one minute, and do the next thing the next minute. Put a resource here, put a resource there. Use a fixed wing (attack aircraft) here, a rotary wing over there. Start stacking resources. Put one foot in front of the other, take it really methodically."
Upgrading the Silver Star to the Distinguished Service Cross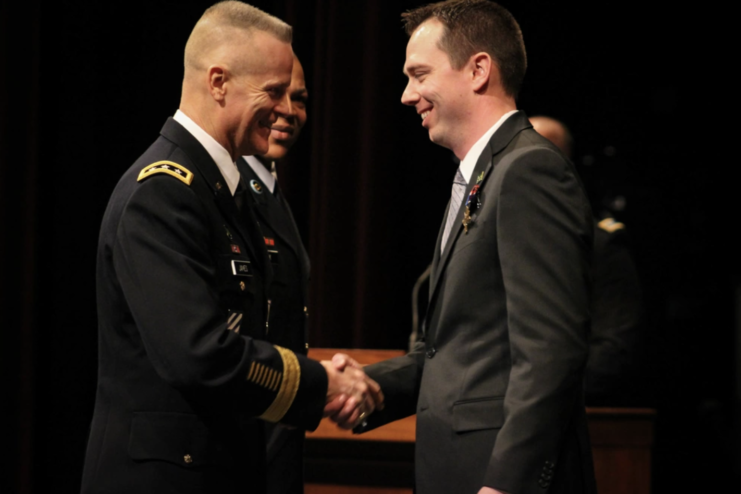 Andrew Bundermann was award the Silver Star for his leadership and bravery during the Battle of Kamdesh. Following a review of commendations for heroism in Iraq and Afghanistan, the honor was upgraded to the Distinguished Service Cross. "He was absolutely indispensable," said Maj. Stoney Portis, the commander of the B Troop at the time. "His performance was central to the success of the entire troop, the entire battle."
Upon accepting the honor, Bundermann said, "It's theirs more than it is mine. I just happen to be the person who's standing here to get it."
More from us: The US Army Attempted to Cover Up the True Nature of Pat Tillman's Death In Afghanistan
When asked if his time in Afghanistan changed his perception of war, Bundermann responded, "Yeah, I think you don't know what combat experience is. You might think you do, but you don't," adding that it changed his perspective on life. "I tend to focus on the positive side of things I had an opportunity to see and experience rather than the negative," he shared.