Good news from Oxford where Casemate UK are distributing books created by Ampersand in Florida. It is really good to be able to catch up with something from this energetic brand we have been following with interest for a while.
Allied-Axis are a regular series of publications offering a compendium of images showing an eclectic range of World War II era vehicles. This edition has chapters on the Sexton self-propelled gun, Horsch 108, the Quick-Way crane and Coleman Tractor and, most attractively of all; the Char B and Somua S35.
These publications are often called bookazines where I do my day job, coming in a useful format that offers the potential for huge variety while also being affordable. This range seems to be aimed heavily at model makers and people with a strong interest in the details of vehicles and in this respect I am reminded of the Tiger book I reviewed just recently.
There is a mix of archive and shots of restored vehicles put together in a no frills style that is crisp and really quite attractive. The books owe much to the huge experience of David Doyle, a name that should be familiar to most inhabitants of the historic military vehicle galaxy.
We have never met, but I have seen his work over a period of many years. He must surely be at a point where I very much doubt he bothers reading reviews like this one.
Moving on…
All the images are in black and white save the cover. It is obvious that several have been de-saturated to maintain a uniform style with the superb archive photos on view. In fact, the product has strong echoes of the late lamented Wheels & Tracks. My brother-in-law has a full set, and I have used them on several occasions.
I have developed an insatiable appetite for photographic archive books, and this one is most welcome. All the subjects are covered with care, but it was the French tanks that attracted me most, and the book does not disappoint.
Once again, the ghosts of the Aberdeen Proving Ground make honourable appearances and they are always welcome.
The French stuff, showing tanks in all manner of situations, is really well presented. The Quick-Way crane is one of those bits of kit I have never previously considered and I am happy to have been introduced to it.
The Sexton is a lifelong favourite. I have chased one across a big field, my son driving my MUTT while I leaned out to snap it on the move. Good times. The last one I saw was back in June in the Firepower Museum at Woolwich in London that, sadly, has just closed as the famous old Arsenal site is redeveloped. The Horsch is a purposeful bit of German hardware by which it is difficult not to be impressed.
This is all very pretty, but what about these books? I am really impressed. They are unfussy and well made, and this is a style I really favour.
There is no clutter. The publishers make doing this look easy when it really isn't. How the collections are selected is something that interests me, but clearly the people in Florida are looking for variety and consistency in equal measure. This has been achieved with ease.
Ok, we are late to this particular party, but perhaps you have mooted buying some of the Ampersand books and not been too sure whether to flex your friend or not. One of the jobs of a review is to help you decide how to spend your cash, and I think I can help encourage you to do so with a degree of confidence.
This range has clearly grown into something really quite impressive, and there is no sign of an end of days.
Model makers, photo collectors and casual lovers of armour or trucks will be content. The best books reach out to many corners, and this one seems to have them all covered. More, please.
Reviewed by Mark Barnes for War History Online.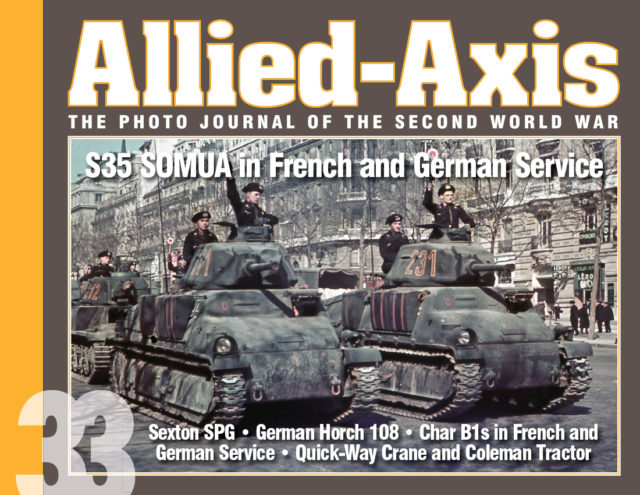 ALLIED-AXIS
The Photo Journal of the Second World War
No 33
Compiled by David Doyle
The Ampersand Publishing Group
ISBN: 978 1 944367 30 5