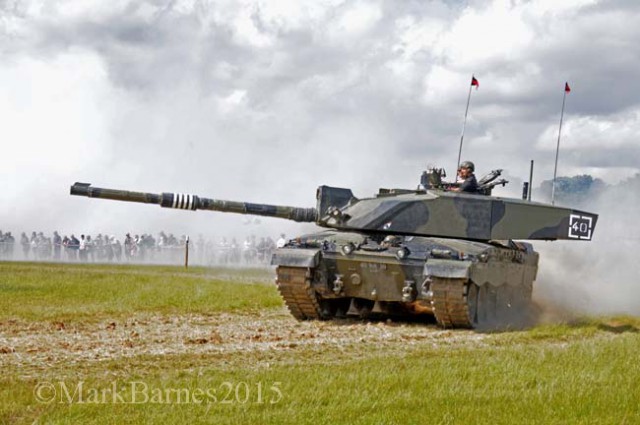 This Challenger 2 operated by a crew from the 1st Royal Tank Regiment was a big hit with
everyone.
Everything ends. The War & Peace Revival is over for another year and it moves on in new hands now that Rex Cadman and Barbara Shea have stepped down from running the event. The new owner is John Allison, a man with a strong interest in military vehicles and a lot of experience operating large events. All we can do is wish him and his team well. War & Peace is a vast event that is Marmite to some, but those who love it, and there are a many; will be pleased if some of the old magic can be brought back to an event that has been a little flat since the move from Beltring to Westenhanger in 2013.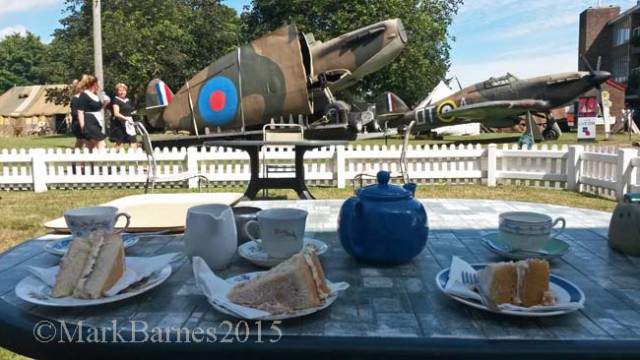 This is England: A classic memory of a summer's afternoon in Kent.
The state of the economy is just one reason impacting on the willingness of people to display their vehicles, especially anything particularly thirsty like armour and there have been times at recent W&Ps when the large arena has seemed empty compared to days at the Hop Farm when vehicles would be queuing up to have a run round for the public. I heard some people cite the additional distance of driving down the M20 as a reason not to attend.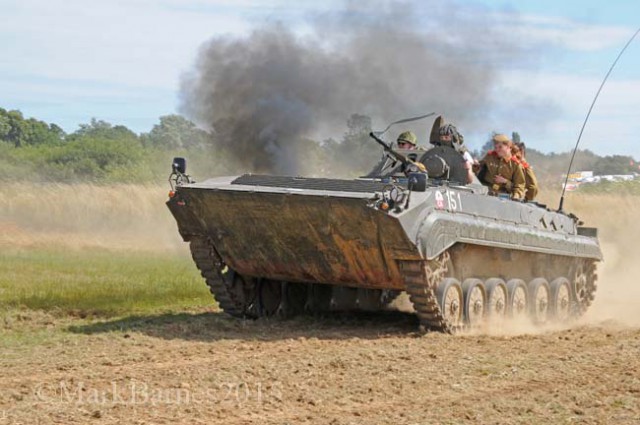 One of two OT90s guaranteed to create smoke, noise and dust.
I enjoyed this year's event much more than the last two and really made efforts to get around the site as often as possible. It is quite easy for snappers to plonk themselves down in the arena or traverse a bit of the living history area and not get out there. My colleague Scott used a pedometer to record his movements and found he was walking an average twelve miles a day. All the event teams are busy at the show and I can tell you my working day started around 0600 and ended at around 2300 if I was lucky.
Blackhawk Down…again! The superb display by 360 History was one of the highlights of this year's show.
I have been finding things a lot harder as I stagger through my fifties and have started limiting the number of days I do. This year I stayed from Tuesday until Friday, some family events calling me home. The days of being on site from Monday through to Sunday are long gone. I have gone a bit soft and prefer finding a local hotel or B & B rather than camping. Although this has proven to be a bit hit and miss. My colleague Scott and I arrived at a hotel in Folkestone to be met by an unimpressed French guest who rolled her eyes and said "Welcome to ze Fawlty Towers!" We couldn't get an internet connection on the top floor and there was one daft moment while we stood on a landing waving our laptops above our heads trying to get a signal while an eastern European gentleman ran up and down various stair cases and corridors lugging a mattress "Is no problem, no problem" he said disappearing in several directions before we finally lost sight of him. It was Fawlty Towers updated; something like being in an MC Escher woodcut.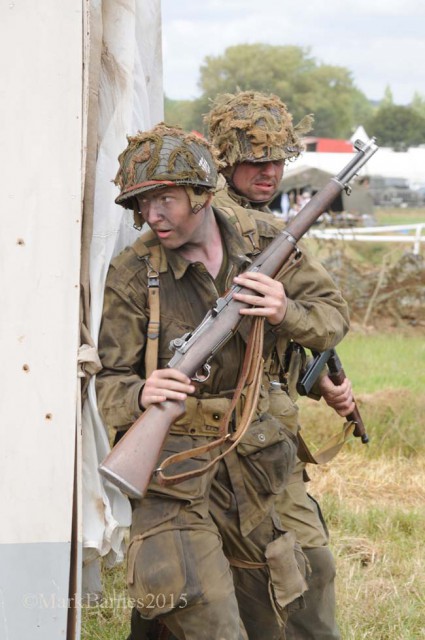 This group portraying the 101st Airborne are always a photographer's dream.
The show itself was great for weather until the Friday when the rain came. But by then I was in a chip shop in Hythe contemplating my drive back to Essex. I missed the quagmire. For me the arena was hot and dusty and this made photography and camera care the challenge we have come to expect from Westenhanger. There was plenty to look at and I was able to meet up with many old friends and newer acquaintances. At one point a schoolteacher with class in tow stopped and asked "What time is the noon day gun?" Er…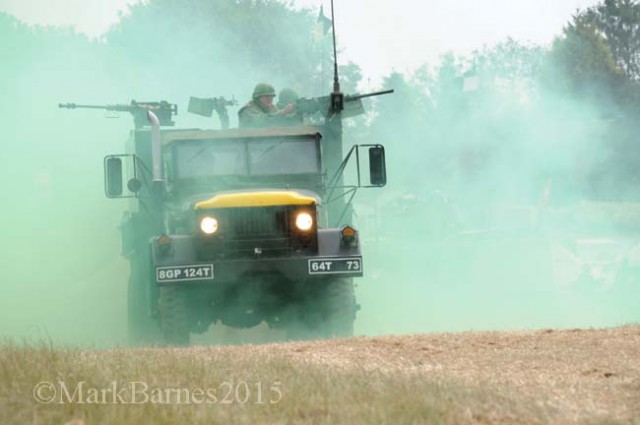 Rolling Thunder provided all their own atmosphere!
Some friends had left their big vehicles at home for the reasons mentioned earlier. The cost of getting them there and doing arena runs is prohibitive for many. Even the army turned up with a Challenger 2 tank that only had a limited amount of petrol. Modern times.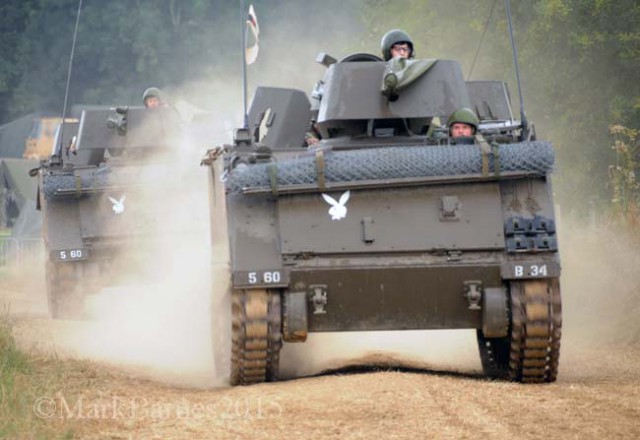 This pair of M113 armoured personnel carriers were Mark's stand out vehicles this time round.
The vehicular highlights for me, this year were, the Chally 2, a pair of stunning M113s and a Cromwell tank that went like stink. I finally managed to get some decent pix of it. The Warsaw Pact guys with their OT90s are always a blast and Rolling Thunder consistently brilliant as always. The Second Battle Group continue to bring along some amazing kit and the pioneer equipped Sd.Kfz 251 is a case in point. For me, the best living history pitch was the Black Hawk Down display by Three Sixty History. My photos of them aren't too bad.
This is one of a superb range of vehicles operated by Second Battle Group. The chance to photograph it off piste was not to be missed.
I had a good time catching up with our friends from Axis Track Services and I caught up with Pat Ware for the first time in a few years. He got me started in this business and I owe him a lot. But the standout thing from this year's show happened days after when I got an email from a gent who asked me to photograph his partner in her camouflaged wheelchair and wrote to tell me what it meant to her. The nicest things we can hope for in whatever we do are the responses of the people we take a little time for. This is a forgotten side of War & Peace.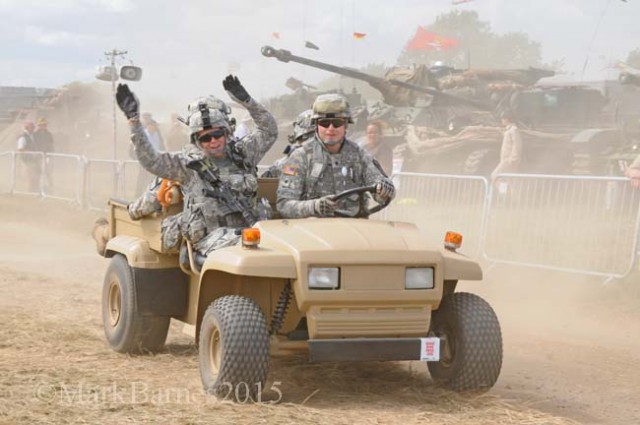 There is always room for fun at W&P.
On the Thursday morning I made the decision to take a phone snap of Rex Cadman leading one of his last team meetings on the grass in front of the bunkhouse. Some of the usual suspects and a ubiquitous dog can be seen around Rex as he goes through his notes. These events are serious but are always littered with heckling and humour – some of it almost funny. Fire, medical and security guys have their say and the usual issues of an event of this size are aired. The atmosphere is always a little charged in advance of another busy day ahead, and there are plenty of hangovers being suffered. Despite making no pretence to knowing him well, I've always had a cordial relationship with Rex and wish him and Barbara well now they have let go the reins. Cheers!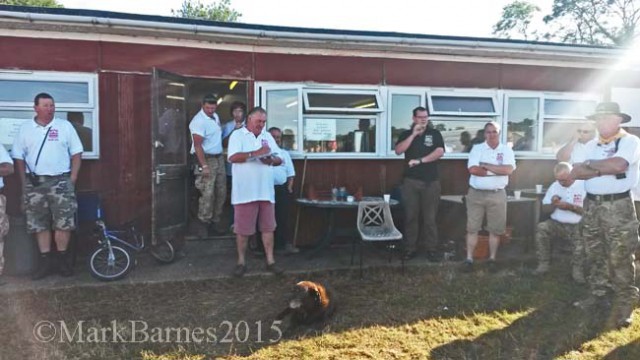 Rex Cadman leads the Thursday morning team meeting.
I love photography and I have enjoyed some great moments at the show and feel lucky to have a vast archive of film and digital memories from events like WP. I've been fortunate to work with some superb people and we have had our moments out in the dust or mud beset by dirt, wasps, broken kit and terrible jokes. My hearing has got worse standing too close to people firing AK47s and the damage I've done to my body is too long a list to share. We drink a lot of tea.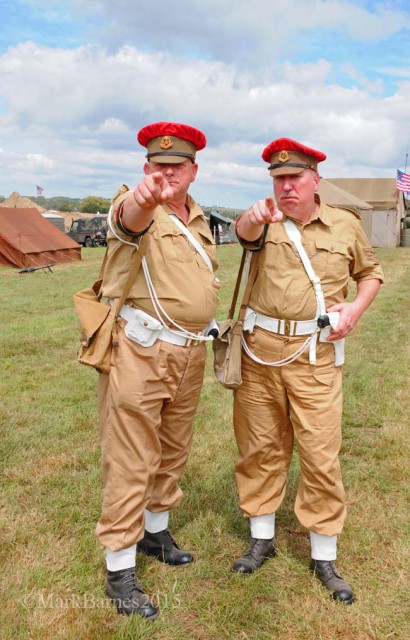 Cheeky monkeys! These two redcaps did a sterling job patrolling the living history area.
War & Peace has been a fixture of my last eighteen summers and there have been times and places at the show when I have enjoyed some of the happiest moments of my life. For my son and I it was our special time and thinking of him running about with toy guns as a little kid and then growing into the young man I would go for beers with and share driving my jeep around is something that stays with me forever. War & Peace did this. Despite all its less charming aspects, we came to love the Hop Farm and the moment we turned onto Seven Mile Land at the start of the week was always special.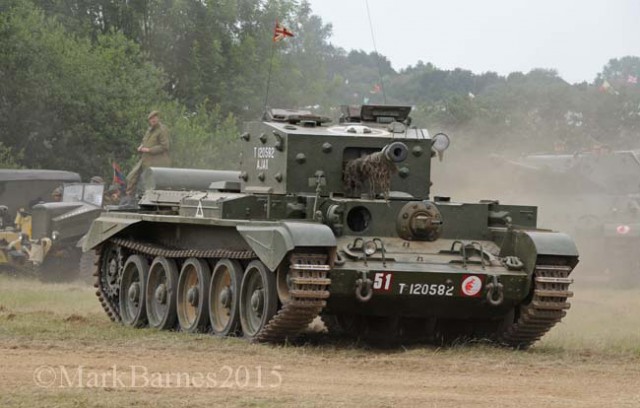 A decent snap of this stunning Cromwell had eluded Mark until this year.
The move to Westenhanger changed so many things, not least the absence of my son as he got on with his life and I have been sorely tempted to call it a day. But with the change of regime comes a new challenge and I hope I am invited back to meet it.