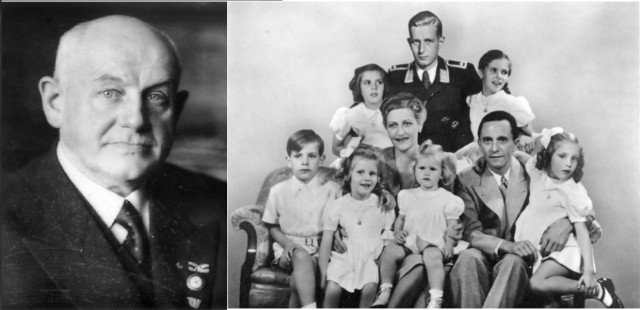 Luftwaffe Lieutenant Harald Quandt was fortunate to be in a British prisoner of war camp in the Libyan port city of Benghazi at the end of World War II. He was lucky that the bullet which ended his participation in the war did not end his life.
He was blessed not to share the fate of his six young step-siblings, drugged and then fed cyanide capsules in the Führerbunker a day after Adolf Hitler took his own life there.
By the time then 18-year-old Harald Quandt left home for the military in 1939, he had spent roughly half of his life among the most powerful people in Nazi Germany. Quandt's parents divorced in 1929, and two years later his mother married Paul Joseph Goebbels.
Two years after that, the best man at Joseph and Magda Goebbels' wedding would be elected Chancellor of Germany and deem himself "Führer."
Harald Quandt's step-father had been instrumental in Adolf Hitler's rise to power and was perhaps more personally and ideologically aligned with the Führer than any of the Nazi leadership. Appointed as Reich Minister for Public Enlightenment and Propaganda, Joseph Goebbels used his talent for mass persuasion with the dedicated zeal of a true believer.
Even seventy years after the end of the war, Goebbels' name continues to evoke images of book burnings and anti-Semitic vitriol. With the end of the war imminent, Joseph and Magda Goebbels saw death as the only honorable alternative for their children and themselves. Before she took her life (or it was taken by her husband), Magda Goebbels wrote a letter to her son, Harald, and poisoned her six young children.
In her letter, which Harald received in that Benghazi POW camp, Magda Goebbels informed him of her resolution to die along with her children and she urged him to be loyal to self and country.
Guenther Quandt, Harald's biological father, was not a member of Hitler's inner circle, but the munitions produced in his factories were critical to the German war effort, and he was eventually appointed a "Wehrwirtschaftsführer," or "Leader of the Armament Economy." Guenther Quandt's main loyalty was to his business, and his membership in the Nazi Party came only after the party had risen to power and likely had more to do with business opportunity than with adherence to Nazi ideology.
He certainly had no qualms about profiting from war; having used money earned manufacturing Army uniforms during World War I to build an industrial empire. Between the wars, Quandt bought Accumulatoren-Fabrik AG (AFA), a battery manufacturing company and Berlin-Karlsruher Industriewerken AG (BKIW), a weapons-producing company that had been retooled to make sewing machines and silverware.
During World War II, AFA produced batteries for German U-Boats, and V-2 rocket launchers and BKIW produced Mauser firearms, ammunition, and anti-aircraft shells. Herbert Quandt, Guenther's eldest son and Harald's half-brother, was also involved in the wartime economy, running a subsidiary of AFA and acting as Director of Personnel for the company.
After the war, Harald Quandt returned home to work alongside his step-brother in the family business. Shortly after that, Guenther Quandt was found to be not directly involved with Nazi crimes and was released from internment camp without further consequences. He soon set about diversifying his holdings, so that when he died in 1954, he left his two sons with stakes in potash mining company Wintershall AG and automaker Daimler-Benz.
Harald and Herbert divided management duties and increased their stake in Daimler. In 1960, Herbert Quandt acquired a large block of shares of BMW, effectively saving the company.  In the company's 2014 Annual Report, the only investors reported as having a greater than ten percent voting share in the company were Herbert's third wife, Johanna Quandt (now deceased) and their two children, Stefan Quandt and Susanne Klatten.  As of 2011, they owned approximately 46% of BMW.
Harald Quandt was fortunate to have a successful father and a step-brother with whom he could continue to build upon his financial fortune. He also found love and was married to Inge Bandekow. Together, they had five daughters born between 1951 and 1967. But Harald Quandt's good fortune ran out in September of 1967 when the plane he was riding in crashed near Turin, Italy.
He was 45 years old at the time of his death. Three years later, his widow, Inge, and Herbert Quandt settled the estate by splitting assets.  Chief among the assets Inge received was an 11.2 percent share in Daimler, which she sold to the Kuwait Investment Authority for approximately 1 billion Deutsche marks in 1974.
Harald's financial fortune passed to his daughters when Inge Quandt died on Christmas Eve, 1978, but there was much in all of their lives that would not seem so fortunate.  In a 2011 interview with Die Zeit, Gabriele Quandt, the second of Harald and Inge's five daughters, asserted that Harald Quandt was very fond of the six step-siblings murdered by his mother in the Führerbunker.  "And when, like me, you have something like this in your family history, you think: It can't be any worse," she said in the interview.
It was not good when Inge's second husband, Hans-Hilman von Halem, shot himself in the head two days after Inge died. It was tragic when the youngest daughter, Patricia Halterman, died just short of her 38th birthday in 2005. But the "any worse" Gabriele Quandt referred to in the interview was the thing that tied the Quandt financial fortune to the suffering of others during World War II.
A 2007 German television documentary, "The Silence of the Quandt's," revealed that the Quandt business empire flourished during World War II at least partly on the backs of forced laborers and concentration camp slaves.  Working conditions in the factories were horrid, particularly in the AFA battery plants, where men handled toxic heavy metals without the benefit of protective gear.
The Hanover AFA plant had its own satellite concentration camp, including a gallows and an area for executions. The AFA subsidiary run by Herbert Quandt used female slave laborers, some of whom were transferred from Auschwitz.
Following the release of the documentary, the Quandt family commissioned an investigation which was completed in 2011 and which confirmed that Quandt factories had employed over 50,000 forced laborers during the war.  The Quandt family has remained relatively quiet on the issue, and the four remaining daughters of Harald and Inge Quandt have maintained an especially low profile. They share an estimated $6 billion net worth amongst themselves and Patricia Halterman's children, making each of the sisters worth approximately $1.2 billion dollars.
The sisters' wealth and their rather un-public lives prompted a 2013 Bloomberg Business article which declared that "Nazi Goebbels' Step-Grandchildren Are Hidden Billionaires," but it is not the loose association with Goebbels or the horrors committed in the Führerbunker that warrant an examination of conscience.
That soul-searching would be better focused on a financial fortune built partly on the misfortune and suffering of others.