The test subject was a researcher for the CIA, Dr. Frank Olson. Olson was unknowingly given a dose of LSD that was slipped into his drink by a senior scientist.
The CIA has been subject to much scrutiny since its establishment in 1947. Scrutiny increased after the end of the Cold War and many documents relating to its activities were declassified under the freedom of information act.
From revelations of the CIA's covert association with ring-wing groups in Latin America, its desperate attempts to assassinate Fidel Castro, or its unpleasant dealings in the Middle East mean that much of this scrutiny is clearly justified.
What can be added to this list are the CIA's attempts to improve interrogation effectiveness during the height of the Cold War, codenamed Project MKUltra. The project, established in 1953 by President Dwight Eisenhower's CIA Director Allen Dulles, was a major undertaking and accounted for 6% of the CIA's budget in 1953 alone.
In its battle with Soviet intelligence, the CIA sought to investigate the feasibility of mind control techniques to obtain the truth from detainees using a variety of strange methods, ranging from hypnosis to administering psychedelic drugs such as LSD.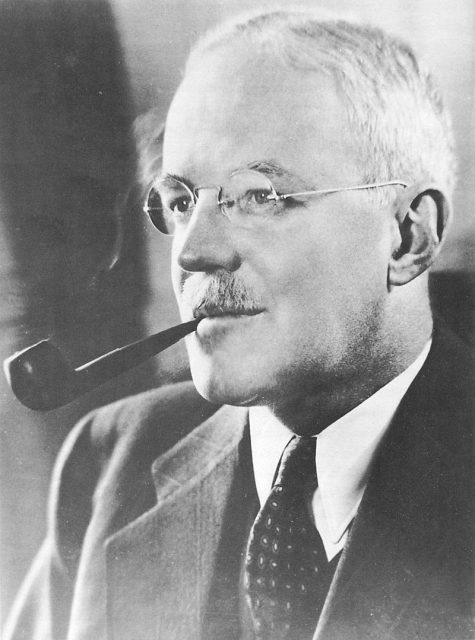 The project lasted into the 1960's and included over 140 sub-projects relating to mind control and interrogation. A total of 44 colleges, 12 hospitals, and 3 penal institutions provided research for the project and human test subjects.
Considering the strict secrecy that surrounded MKUltra, it is difficult to gather a broad and extensive knowledge of the project's activities and their results.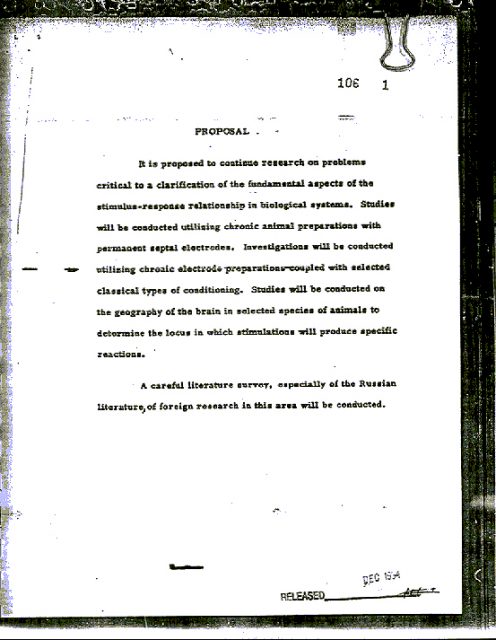 When the project was established very few people were aware of the project. The project bypassed Congress and was kept confidential among its small circle of protagonists. Over time, however, the true nature and extent of the project gradually leaked out from this small circle and it eventually came under the scrutiny of Congress and public opinion.
Nonetheless, the project operated discreetly for many years before knowledge of its existence permeated the top ranks of Washington. As stated by one CIA inspector, the project's secrecy was fundamental to its operation as it was "considered by many authorities in medicine and related fields to be professionally unethical" and the final testing placed "the rights and interests of US citizens in jeopardy."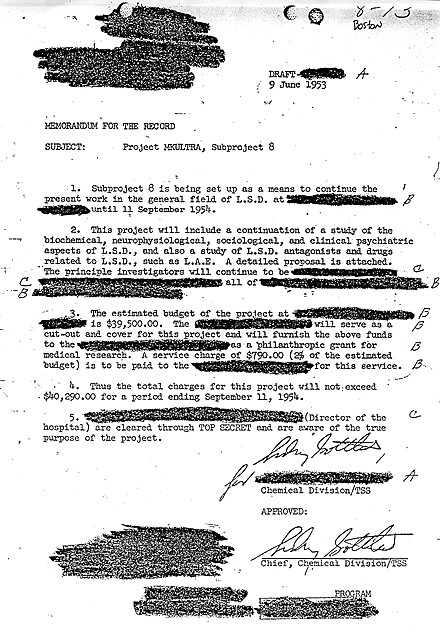 In its early years, the project primarily focused on experimenting with psychedelic drugs, particularly LSD. Although many test subjects were obtained voluntarily through the project's associated hospitals and penal institutions, many others were tested without their knowledge, adding to the projects' illegal and unethical nature.
One tragic event occurred early in the history of Project MKUltra due to discreetly administering LSD to an unsuspecting test subject. The test subject was a researcher for the CIA, Dr. Frank Olson. Olson was unknowingly given a dose of LSD that was slipped into his drink by a senior scientist involved in the project at an unofficial meeting on November 19, 1953.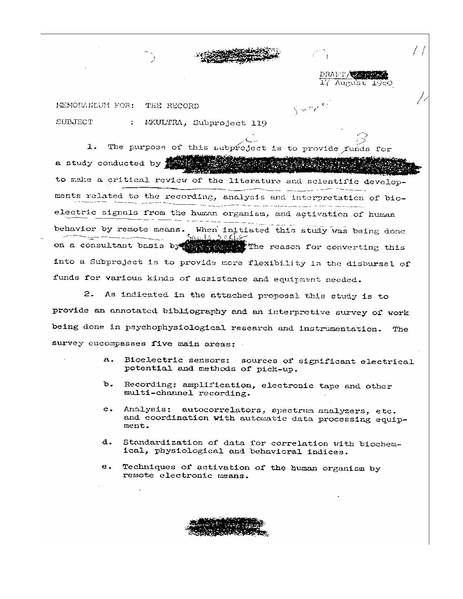 While colleagues described Olson as being on a "bad trip," he survived the initial high but suffered from severe depression and paranoia over the following days, leading Olson to commit suicide by leaping from the balcony of his 10th story New York hotel room. Yet this tragedy did not stop the CIA from continuing this line of research.
While psychedelic drugs such as LSD provided inconsistent results in terms of its mind and behavioral alterations, it had potential scope for use as an interrogation tool as it could transform detainee character and allow for either information gathering or alter the detainee's future behavior. It, therefore, had promise to be helpful in creating double-agents.
In 1955, the project's focus on psychedelic drugs was extended. The base for the operation then shifted to San Francisco where the sub-project 'Operation Midnight Climax' was undertaken.
Local prostitutes were tendered to solicit men and bring them to a safe house in the city where they would be served drinks laced with various drugs and then observed through two way mirrors installed in the safe house.
It has been argued that this practice continued for almost a decade, running from 1955 to 1963 when the experiments had to be abandoned due to its revelation by an internal audit and the sub-project faced subsequent funding cuts.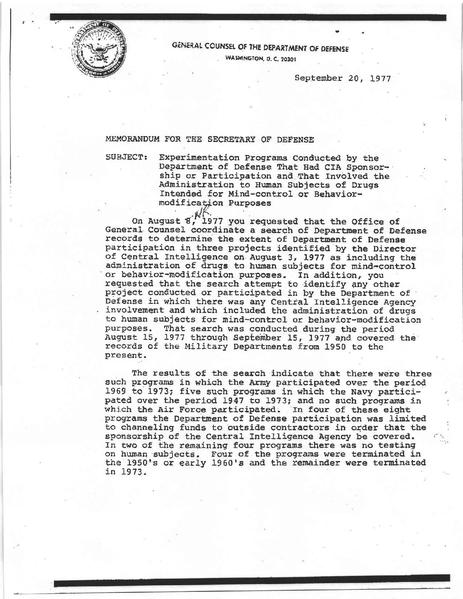 Furthermore, a leading figure of the project, Sidney Gottlieb, destroyed many boxes of evidence and research findings, fearing a congressional inquest after suspicions were raised about the CIA's covert activities. Consequently, there are very few published records revealing the extent of the project's experimental research findings.
In addition to LSD and other psychedelic drugs, the CIA simultaneously explored the avenue of electroshock treatment during interrogations. In 1957 the project hired Dr. Ewan Cameron (a former member of the Nuremburg tribunal) who was interested in the potential of electroshock treatment.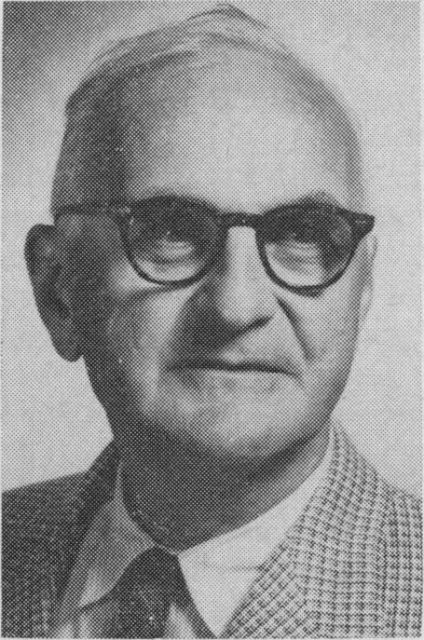 Utilizing the CIA's funding, Dr. Cameron came up with four steps to successfully diminish the will of a detainee: 1) Intensive electroshocks; 2) intensive repetition of a verbal signal, 16 hours a day for up to 1 week; 3) keep the detainee in sensory isolation; 4) following the verbal signaling period, the detainee is to be put into a drug induced coma for 7 to 10 days.
Dr. Cameron is believed to have tested this method on over 1,000 people. The testing began in 1957 but funding was cut in the early to mid-1960's due to fears of the project being discovered.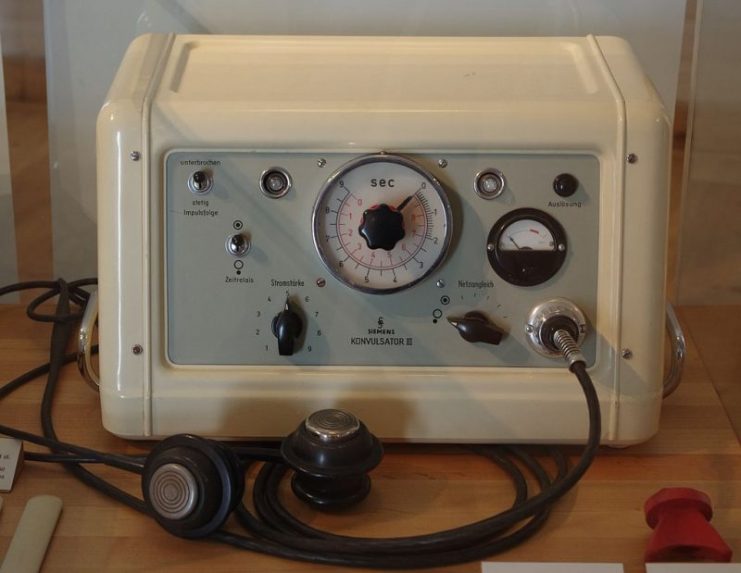 Read another story from us: Don't Poop at 70,000 Feet: CIA Wrote a Manual for U-2 Pilots on How Not To
Disappointingly, the majority of files and evidence relating to this illegal activity were destroyed from the 1960's onward, particularly in the aftermath of the 1972 Watergate scandal. The lack of evidence has made it difficult for relevant US authorities to conduct a full investigation into the project.
Although we do not know the full extent of the activities due to the limitations of what has been published, we do know that thousand's of people were affected by Project MKUltra, despite Sidney Gottlieb describing the project as "useless."
We hope you enjoy our content. We think it's important to keep war history alive. If you do too, please consider becoming a supporter. Thanks.
Become a Supporter