By Jeremy P. Amick
Throughout the last several years, the Silver Star Families of America (SSFOA) has strived to honor veterans by sharing the many stories of sacrifice made by those who have committed of their time—and occasionally their health—to serve in the nation's armed forces.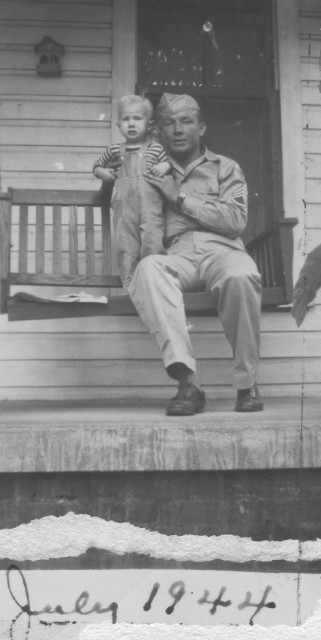 Recently, however, a plastic container with the personal effects of a prisoner of war (POW) from World War II was acquired by the SSFOA, triggering a request for assistance to help fill in some of the gaps from the veteran's past.
According to the local resident from whom it was obtained, the container was found at an auction in Fortuna, Mo., but there is no indication as to how such a historical treasure made its way to Central Missouri from what appears to be origins in Alabama.
"I am so weak I can make it no farther. I hope that they kill me," scribbled Army infantryman James Walker Bass on January 15, 1945, in a small notebook found among the collection of items.
Describing his time spent in German captivity, Bass' diary speaks of the harsh conditions he and fellow POWs endured, beginning with his first entry on December 19, 1944—three days after the start of the famed Battle of the Bulge.
The final entry in the diary, dated March 30, 1945, concludes: "The happiest day of my life. We were liberated today. We will be going home as soon as we can eat rich food again."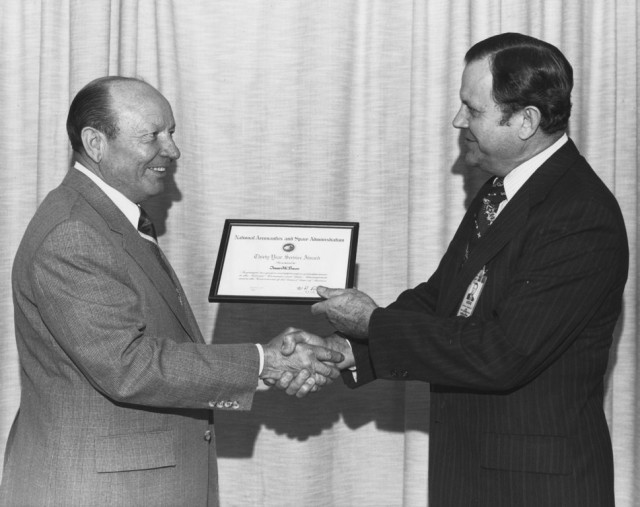 This small notebook is a single item among scores of historical documents and photographs chronicling the life of the veteran and his family—both during and following his military service—yet several aspects of the his life remain a mystery.
Western Union telegrams inform Bass' wife, Sybil (who was residing in Navoo, Ala., at the time), that her husband was reported as "missing in action," though later communications update his situation to that of a "prisoner of war of the German government."
POW records accessed from the National Archives Records Administration website confirm Bass—who enlisted in the Army in Georgia in 1939 and was serving with Company G, 422 Infantry Regiment—was captured by German forces on December 16, 1944 while serving as an infantryman.
Newspaper accounts, military orders and memos help establish that Staff Sgt. Bass was among 110 Georgia men liberated from German POW camps by the U.S. 6th Armored Division.
Additional documents and photographs in the container highlight a career spanning more than three decades with the National Aeronautics and Space Administration (NASA) at the George C. Marshall Flight Center in Huntsville, Ala., following the veteran's discharge.
Certificates note that Bass participated in many important milestones in the space race to include the first Saturn V launch on November 9, 1967, the Apollo 11 moon landing on July 20, 1969 and his "contribution to the success of the First Manned Orbital Flight of the Space Shuttle."
In a twist of irony (considering his time spent as a POW), the certificate denoting Bass' support of the Saturn V project is signed by Wernher von Braun, then-director of the Marshall Flight Center. (Braun was a German scientist who helped develop rocket technology for Nazi-controlled Germany and later helped the U.S. progress its burgeoning space program. )
Records located through the Find a Grave website note that Bass passed away in 1995 at the age of 75. He is buried in the cemetery of a Baptist church in Poplar Springs, Ala., next to his wife who passed away in 2010.
Ambiguity also abounds with regard to the Bass' two children—their son, James Howard Bass; and daughter, Barbara Brant. Both children, according to their mother's obituary, were deceased by the time of their mother's passing.
Family photographs indicate that Bass' son had been a member of the United States Air Force though no other information regarding his past was located.
Bass' story is one that cycles between that of elation and sorrow, reflecting the excitement abounding in post-World War II America. It is a tale that incorporates a member of the "Greatest Generation" who went on to serve with NASA during the formative years of the country's pursuit to access the new frontiers of space.
In an effort to preserve this patriotic narrative and to share his experiences in a lengthier format, the SSFOA is seeking any assistance in acquiring background information on the Bass family, most notably James Bass' connection to central Missouri, if any.
Anyone with information regarding James Walker Bass, please contact Jeremy Amick via email at metaphysicsandcoffee@gmail.com.
Jeremy P. Ämick writes on behalf of the Silver Star Families of America.
Jeremy P. Ämick
Public Affairs Officer
Silver Star Families of America
www.silverstarfamilies.org http://www.silverstarfamilies.org Cell: (573) 230-7456