By Jeremy P. Ämick
Growing up on a farm in Taos, Mo., Norbert Bernskoetter rarely traveled any farther from home than an occasional trip to the state capital. Yet in 1944, with the war raging in the Pacific, he received a fierce introduction to the horrors of combat on a journey that carried him thousands of miles from home.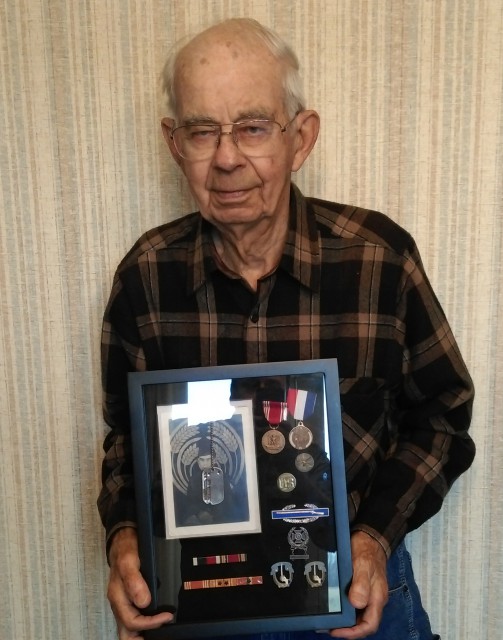 While working for his father in the early 1940s, Bernskoetter was twice able to secure a deferment to continue his work on the family farm, but in fall of 1944, the U.S. Army mandated his services.
"My draft notice came when I was 19 years old and they sent me to Ft. Riley, Kan., to train with the cavalry," said Bernskoetter, 89, Wardsville.
As Bernskoetter explained, he and his fellow trainees learned to serve their country not only as soldiers … but on horseback.
"During the training we had to get the horses up to a gallop as fast as they could run and then jump off," he said.
"Oh, and it was so cold there," he added, "that one night when we were on bivouac, I got turned around and twisted in my sleeping bag after it got frozen to the ground."
Completing his training in the spring of 1945, Bernskoetter received orders for deployment and traveled by train to San Diego, where he boarded a ship bound for operations in the Pacific Theater.
Weeks later, the untested soldier was in Manila, Philippines, assigned to Troop A, 7th Calvary regiment, with whom his previous training as a cavalry trooper was modified to that of a ground-based rifleman.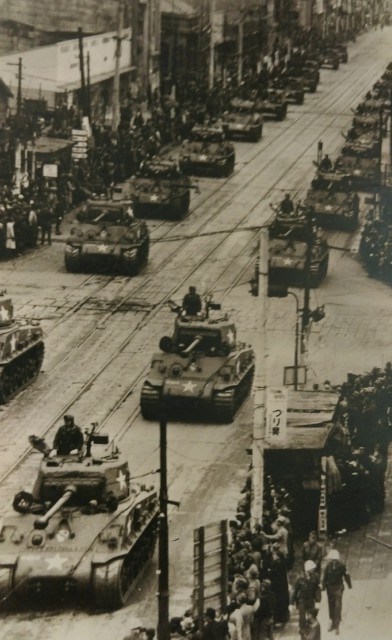 His new duties soon had him on the "front lines" heavily engaged in combat with Japanese forces. On more than one occasion, said Bernskoetter, he gained an unwanted familiarity with the volatility of warfare.
"Six of us went up an embankment—it was a hilly area with a lot of bluffs—trying to circle around where some Japanese soldiers were concealed," Bernskoetter said.
"Four (soldiers) went ahead, me and another guy were behind them. The Japanese opened up on us and killed the four guys in front, but luckily me and the other guy were able to escape."
As the former soldier explained, P-38s (heavy fighter aircraft) were summoned to provide relief by striking the protected Japanese position with a well-placed bomb, thereby allowing the soldiers to return to the site and retrieve the bodies of their fallen comrades.
During a separate occurrence, Bernskoetter, while spending an evening "on watch" in a foxhole, came face-to-face with a Japanese soldier prepared to deliver a deadly surprise to the American forces.
"He raised his hand to throw a grenade and I opened up on him (firing his rifle)," Bernskoetter recalled. "He fell forward like he was frozen and was still clutching his grenade. Had it gone off, it could have wounded or killed me."
In early August 14, 1945, the veteran was participating in amphibious assault training when he witnessed American sailors jumping off the sides of a large ship.
"We wondered what was going on," he said. "It wasn't until we got back to shore that we learned that Japan had surrendered."
Bernskoetter noted that on September 2, 1945, shortly after the signing of the peace treaty between the United States and Japan, the 7th Calvary Regiment entered Japan as part of the occupational forces.
"At first, nobody knew where we were supposed to go or what we were supposed to be doing," he said. "That first night we just stayed in part of an old warehouse right there along the shore."
While there, he and his company served as an honor guard for General Douglas MacArthur and performed various guard and security details, until returning to the states in September 1946.
Following his discharge, Bernskoetter returned to Missouri. In 1950, he was engaged to his fiancée Nadine and they married the following year. The couple later relocated to Wardsville where they raised four children.
He briefly returned to farm work after the war, but was later hired by Delong's Inc. in Jefferson City, with whom he was employed until his retirement in 1991.
Like so many veterans who have witnessed the unforgiving circumstances of war, the former soldier noted it has taken the passage of many years before he was ever willing to share with others his own military experiences.
"When the Korea and Vietnam Wars were happening, I never watched it on television; I basically turned the other way and never followed anything that was going on with it … I'd had enough of war," Bernskoetter said.
"But after the bombing that happened during Desert Storm, that's when it triggered something and I started talking about the war and everything that I had gone through in the Pacific.
"Most of the kids nowadays don't know what we went through fighting the Japanese and it is a part of the war that I don't believe they would really understand."
Jeremy P. Ämick writes on behalf of the Silver Star Families of America.
Jeremy P. Ämick
Public Affairs Officer
Silver Star Families of America
www.silverstarfamilies.org
Cell: (573) 230-7456