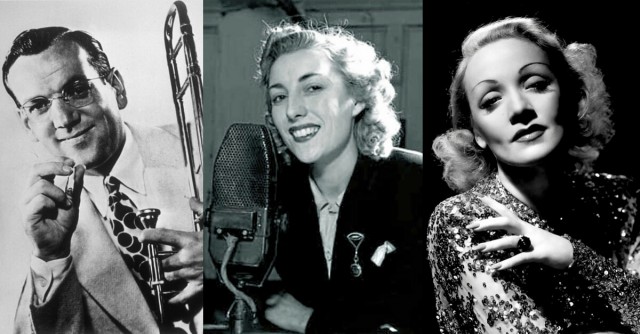 Since the days of the ram's horn, music has been a part of war. During WWII, the Office of War Information urged musicians to create music to uplift the soldiers with patriotic songs, and at home, female musicians sang to the hearts of the ladies left stateside.
Those songs still stir patriotism in the Allied nations, and with yearning and hope pull our heart strings almost as much now as they did then.
This list does not encompass the whole body of music created during the war, but it does remember when.
The Instrumentals:
1. Symphony No. 7 – Dmitri Shostakovich
Russia enlisted Shostakovich as a composer rather than as a soldier, knowing that he would better serve the Red Army by moving the troops through music. His symphony is a representation of the Nazi advance, the battles of the war, and ultimately, the Allied victories told in notes and crescendos. Recordings of it on microfilm made a harrowing top secret journey through enemy territories to make it to the United States where it was well received by American audiences.
2. V for Victory!
Anyone who knows Morse code knows that dit dit dit dah is the code for V. Allied forces made great and rousing use of the opening of Beethoven's Symphony No. 5, that starts with the famous Morse V. The BBC started the trend, and soon troops and civilians in war torn Europe were shouting V for Victory. Even train conductors across Europe blew the notes with their horns in support of the Allies.
3. American Patrol – Glen Miller
Glen Miller was already a successful musician before the war began. He chose to serve his country by joining the armed forces and creating the Army Airforce Band to bring music and morale to his fellow soldiers. Through performances both live and broadcast, his band's music became a soundtrack for the war.
American Patrol was actually written in the 19th century by Frank White Meacham and was meant to sound like an army approaching and then passing by. Miller put a swing spin on it to spiff it up for the modern soldier's ear.
Of the Jitterbugging' Variety:
4. Boogie Woogie Bugle Boy – The Andrews Sisters
Often dressed up as WAACS or WAVS, The Andrews Sisters wagged their fingers as they sang the songs that added light to the darkness of the war.
Originally written by Don Raye and Hughie Prince, this jump blues tune tells the story of a street musician as his talent wanes and waxes during his Army service.
5. GI Jive – Johnny Mercer
GI Jive was also recorded by Louis Jordan, but Mercer is its author and original recorder, and his recording made it to the top of the Harlem Hit Parade.
Soldiers could certainly relate to this one, as it told the story of the day to day of the soldier's life.
Continues on Page 2