War History online proudly presents this Guest Piece from Jeremy P. Ämick, who is a military historian and writes on behalf of the Silver Star Families of America. For more information on the Central Missouri Honor Flight program, please visit their website at https://centralmissourihonorflight.com.
While serving in North Africa and Italy during World War II, Fay Holt did not believe his service to the country to be of any lasting significance. Decades later, he explained during a recent interview, when programs such as the Central Missouri Honor Flight began recognizing the service of local veterans, he was awestruck by their efforts to commemorate his contributions.
"I didn't think that what I did was all that important, but I got a bunch of letters of appreciation on the (honor) flight from some big shot politicians that said that it was," the veteran grinned.
Born in 1920 in the nearly forgotten Callaway County, Mo., community of Dixie, Holt finished the eighth grade at a local schoolhouse and then went to work on the farm of a local family until receiving his draft notice in 1942.
"The family that I was working for tried to get me a deferment because they needed me to work on the farm." Chuckling, he added, "But I guess Uncle Sam needed me a lot more than they did."
Inducted into the U.S. Army at Jefferson Barracks, Mo., on July 24, 1942, the draftee was sent to Ft. Riley, Kan., and completed his boot camp at a training site known as "Camp Whitside." From there, he received an assignment to Company A, 743rd Military Police Battalion—an all-black unit that had been formed only weeks earlier.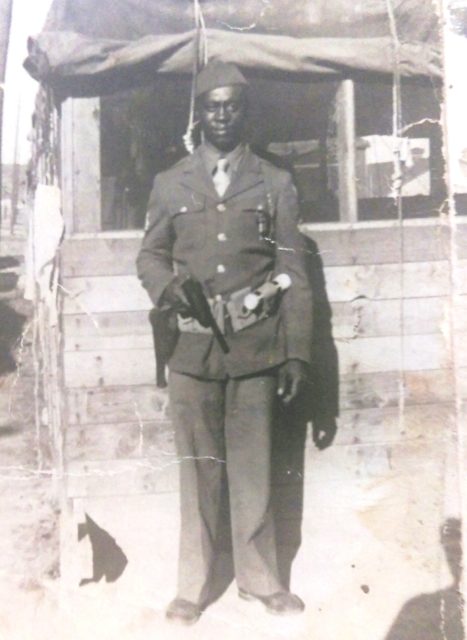 The young soldier remained at the camp for the next several months, learning how to function as a military policeman and performing guard duty around the post. However, in August 1943, the battalion received orders for overseas service and took a train to the East Coast, where they boarded a troop ship that brought them to their new duty station in Algeria.
"It was pretty much just guard duty as usual (in North Africa)," said Holt. "I was lucky because I never had to shoot anyone."
As the veteran explained, after several months in Algeria and later at a site in Tunisia, the battalion again boarded another troop transport and sailed for Naples, Italy.
"I can remember it still being pretty hot when we got to Italy, with mortars and such exploding nearby," Holt affirmed. "The one thing that sticks out in my mind was us running off the ship with our shotguns and having to take cover," he said.