Some of the forts were sold off to private companies and became discos, underground mushroom farms, and museums.
In the 1920s France was still reeling from the effects of World War I. Germany was seen as the main potential enemy and there were heated debates on the best way to protect against another German attack. The solution finally agreed upon was to build a line of gigantic forts on the Franco-German border that would be so powerful that they could withstand any assault.
This line of forts, which were named after Minister of War André Maginot and became known as the Maginot Line, looked like something out of a science fiction movie. Whole hills were hollowed out to create giant defensive structures inside which soldiers were provided with living space and even amenities like cinemas. Some of the forts were so large that railways were built inside to move troops from one part of the fort to another.
A total of fifty large forts (Ouvrages) were built on the German frontier. All were equipped with heavy artillery in hydraulically powered retractable turrets which could cover the next fort in the chain and all the ground between. The surface of each fort was covered in over ten feet of steel-reinforced concrete and liberally sprinkled with dome-shaped observation and machine gun turrets constructed of 1-1½ inch thick steel.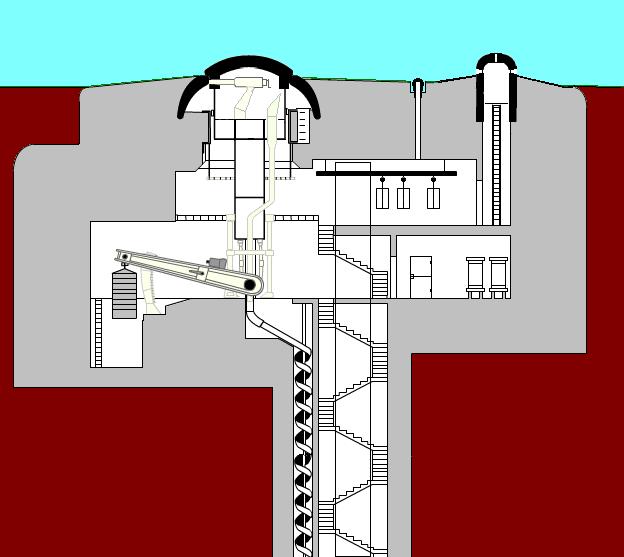 The line of forts ran from the vicinity of Metz in the north to Mulhouse in the south and continued southwest along the Franco-Italian border. However, the line had a fatal flaw: it covered only the border between France and Germany and it ended before the Belgian border in the north. Politically, it would have been difficult for France to justify building a defensive line on the border with one of their allies.
https://youtu.be/gqybE7Ot5yc
On paper, the Maginot Line was an astounding technical achievement which looked impregnable. It was also a complete failure. When the German army attacked France in 1940, it simply bypassed the Maginot Line by attacking to the north, through Luxembourg and Belgium. None of the massive forts were attacked by the Germans – they were occupied by German troops when France capitulated in June 1940.
Ironically, the only time the forts of the Maginot Line saw combat was in 1944 when they were used by German troops opposing the Allied advance from France into Germany. The German army used the forts as strong-points during heavy fighting around the city of Metz and in Alsace in late 1944.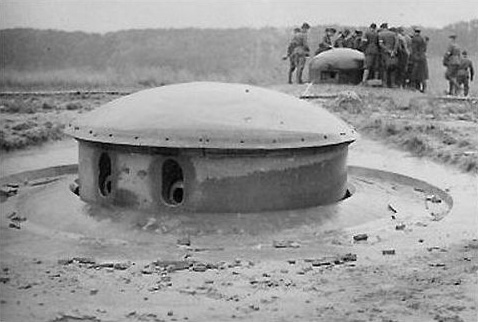 After the war, the line of forts was kept in service by the French Army and some were converted to nuclear bunkers until the whole line was abandoned in 1969. Some of the forts were sold off to private companies and became discos, underground mushroom farms, and museums.
However, most were simply left to decay in the rolling hills and forests of Alsace. They are still there and some of them have become a focal point for visitors to this region.
I visited the area of the Maginot Line in the vicinity of the city of Thionville a couple of years back, and I recommend it as worth a visit for anyone with an interest in military history. I was on a motorcycle and this region, part of the Natural Park of the North Vosges, is a delightful place to explore. Stay off motorways, keep to the back roads close to the German border, and you will come across lots of sites associated with World War II.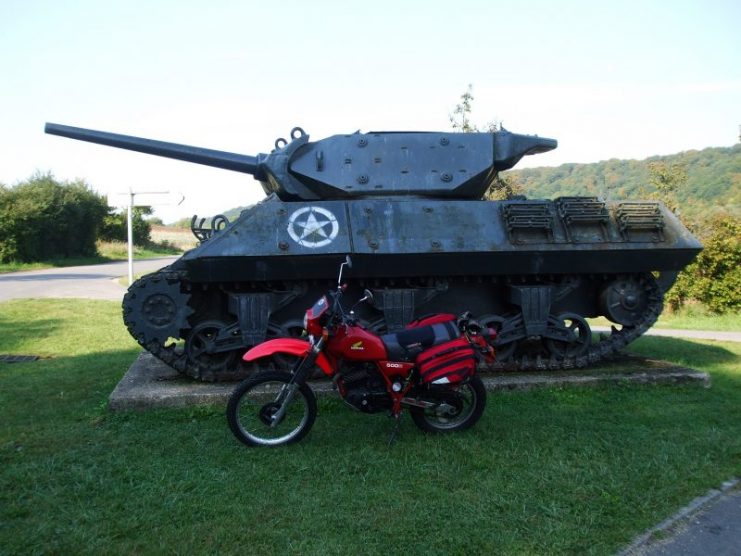 Some are large and formal, while others are unexpected and unexplained, like this US M36 Tank Destroyer sitting on a concrete plinth near the road towards Ouvrage Hackenberg. I have no idea why it's there, but it is not uncommon to come across fairly random pieces of WWII hardware in this area.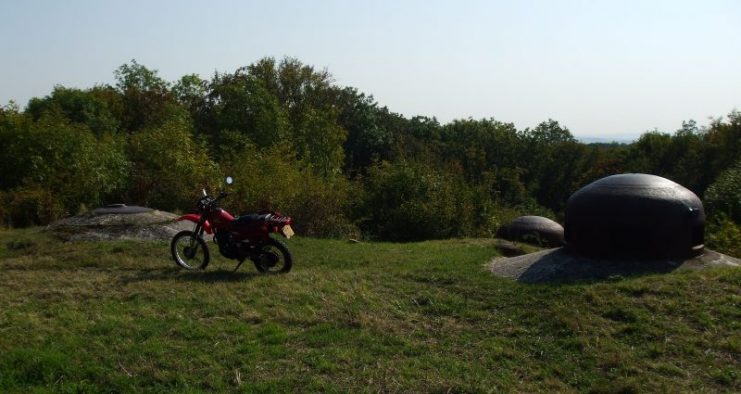 The forts of the Maginot Line are everywhere. As you drive, you can't miss the turrets which erupt like rusting carbuncles over many of the small hills. Most of the forts are now abandoned and closed to visitors but you'll see many tracks leading into the forest with signs reading "Domaine Militaire." These are clearly well used and it is obvious that local people don't seem to take too much notice of the fact that entry to these sites is technically forbidden.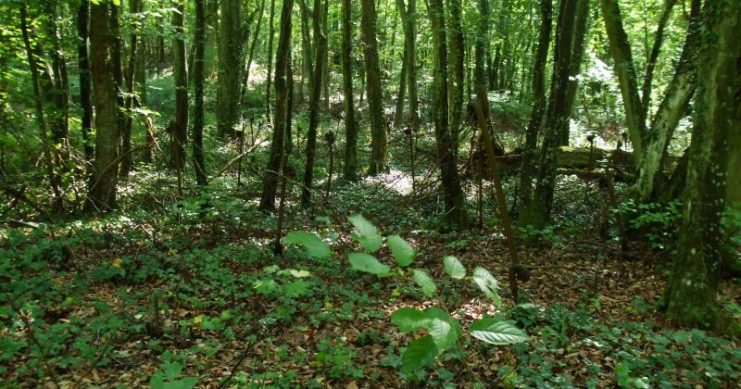 However, there are so many different forts and bunkers that not all are in inaccessible or forbidden areas. Some are right next to minor roads, making it easy to wander round and examine the exterior of these forbidding and rather melancholy structures.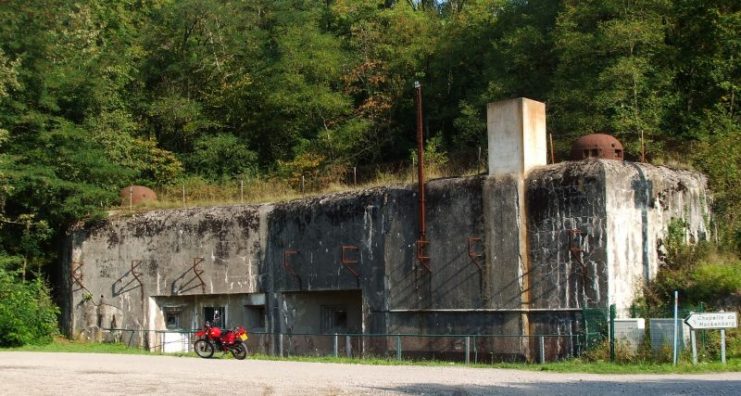 Entry into these abandoned forts is forbidden, and understandably so – inside each is a maze of tunnels and galleries stretching for several kilometers in which it would be very easy to become lost. However, fortunately, one or two of the main forts have been preserved and are open to visitors.
I visited Gros Ouvrage Hackenberg, one of the largest of the Maginot Line forts, which is located 12 miles (20 km) east of the beautiful city of Thionville. The original fort incorporated over 6 miles (10 km) of tunnels served by a narrow-gauge electric railway. Parts of the fort have been restored by volunteers, and visitors can join guided tours which involve traveling on the small and rather rattly electric train.
Many parts of the fort have been carefully restored to their pre-WWII condition and one of the main hydraulically operated artillery turrets is working and is demonstrated to visitors. Walking trails outside allow the exterior of the fort to be explored and, among many other things, you will see bomb damage caused by American Thunderbolt fighter-bombers in 1944.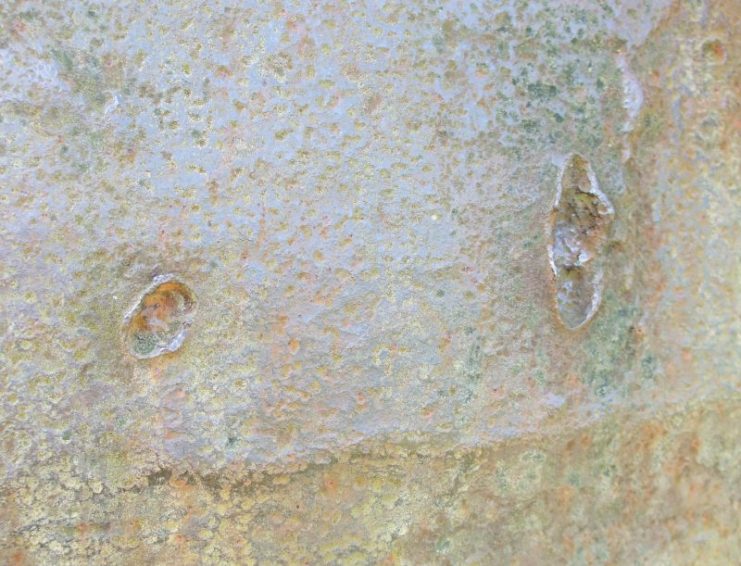 Visiting Ouvrage Hackenberg is fascinating for anyone with an interest in military history, but one thing worth noting is that inside the fort is cold and damp regardless of what the weather outside may be. A few meters into the tunnels, the temperature drops to 17°C and it remains at that temperature all year round.
I visited on a very warm day in May, and within a few minutes of entering, I was glad I was wearing my motorcycle gear. The tour lasts two hours so, unless you want to get really chilled, take warm clothing with you.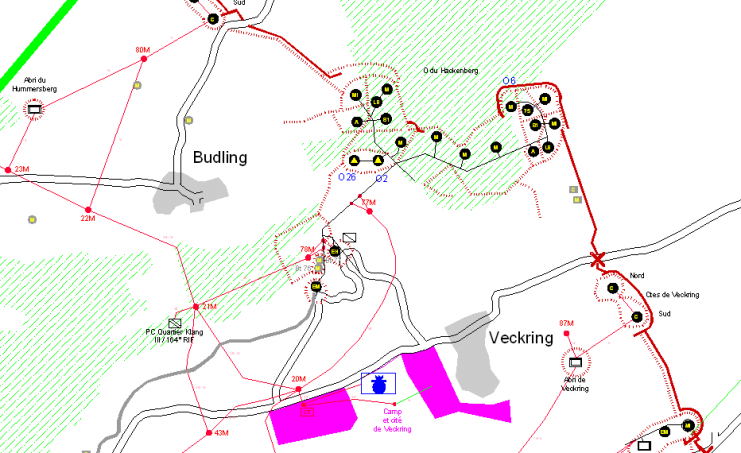 The fort is staffed by knowledgeable and helpful volunteers, though not all of them speak English so at least a working knowledge of French is an advantage if you want to get the most out of your visit. Opening hours are variable and it's best to check the website maintained by the Moselle Tourism agency for details before you plan your visit.
There is no shortage of accommodation in the area if you want to spend some time here. I camped in the municipal camp site in the city of Thionville, a superb site located in the center of the city in the Parc Napoleon, next to the Moselle River. There are also a wide range of hotels and guest houses to suit every budget.
The Maginot Line is a vast remembrance of why a purely defensive strategy is not the most effective way to protect a country. The landscape of the Moselle region is truly beautiful and everywhere you will find abandoned, rusting reminders of what was once the most formidable line of forts ever constructed.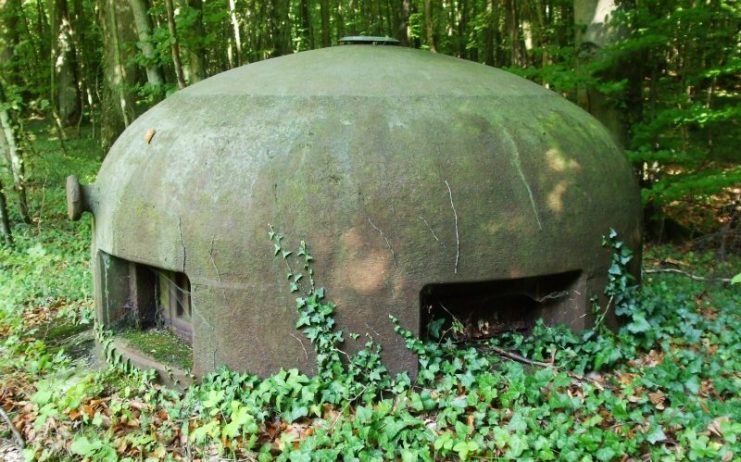 Read another story from us: The Maginot Line Mostly Worked the Way it was Expected to & Great Footage in Here Too
Some, like Ouvrage Hackenberg, are well-maintained tourist destinations, but others you will stumble across as you ramble through the wooded hills of the region. Whether you stick to the main visitor sites or find your own way to those that have been abandoned, I don't think you will be disappointed.
Photo courtesy of Steve MacGregor.