Guest Blog By Hans Weisman!
In this DAKOTA HUNTER BLOG, you will read about another lifetime passion of mine: the Harley Davidson Motorcycle. As a prelude, I describe the "íncident" how a Harley rolled into my life and made an impact on me that lasts until today.
I grew up in post-war Indonesia that was recovering from the devastation that had engulfed its hundreds of Paradise Islands during the Pacific War. The Dutch Ruler may have thought that the reconstruction of the Archipelago as a Colony could make a peaceful start after September 1945. Not so, the Japanese Army that occupied the islands had surrendered, but there were no Allied troops in Indonesia to take over the control of the tons of weapons and ammunition. In the ensuing power vacuum, many of the Japanese weapons came in hands of the Indonesian "Freedom Fighters", who sought immediate Independence for a "Free Republic of Indonesia". In the 5 years that followed, there were revolts, "Politionele Acties" from the Dutch Army against the "Terrorist/ Guerilla assaults" and lots of atrocities from both sides took place that left scars for decades. By the 1st of January 1950, Indonesia was an independent nation, but even that fact did not bring all hostilities to an end.
The feature photo shows a stunning 1944 Harley Davidson Model UA with sidecar. Its engine is a Flathead V-Twin of 74 ci./1200 cc which is rare and an auction showpiece by now. This one saw service in the Philippines during the war. Now restored in the markings of the US Navy Shore Patrol for Naval Ordnance Test Station, China Lake. CA. Restored and photo courtesy by Francis G. Blake from Fullerton, Ca. USA.
It was a most turbulent time and right after that guerilla war, in 1950, my father arrived from Trinidad with his family, my Ma and 4 toddlers. The mission was to restart Shell's oil wells and drilling installations, derricks, and pipelines for making the money flow again from the crude oil that was abundantly found in Eastern Borneo. For the next 7 years, I was immersed in a violent world but for me , it was a Kid's Paradise, full of left-behind/ surplus transports from that Pacific War. My Dad rode in a Willys Jeep, we flew around the Archipelago in the Douglas DC-3/ C-47/ Dakota and in the PBY-5A Catalina. The Army had taken over all 4-wheel drive GMC Trucks and Dodge Command Cars that were simply left behind on the Invasion Beaches of Balikpapan, which had taken place only 6 weeks before Nippon's surrender.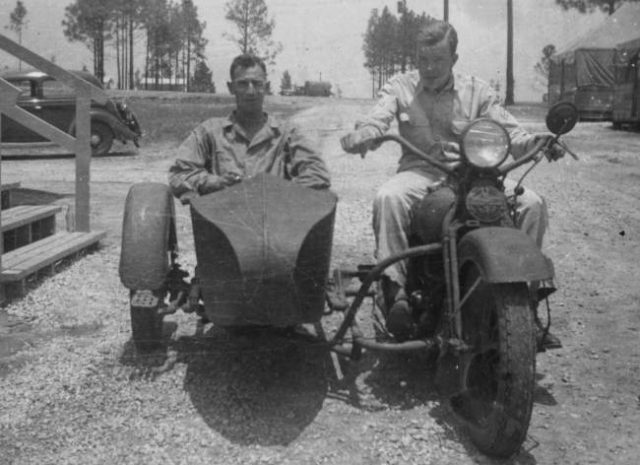 One day, on holiday in Surabaya, Java, I was walking in a busy street with my Dad, I was 6 or 7 years old. I heard a loud sound, I saw a soldier in Military Uniform approaching us on a huge motorcycle with a sidecar. Holy crap, never seen such awesome appearance in our primitive Jungle settlement in Borneo! I stepped back, intimidated by the sound and the speed. My dad said, "Look, that is a Harley Davidson motorcycle". Believe me, I was electrified as if hit by a thunderbolt, never forgot this experience. Another 6 years later, I was living in Holland and saw again a massive Harley Davidson, owned by my friend Bally's elder brother. That was more thrill than this young boy could handle and it probably was that pivoting point in which he decided to buy such motorcycle one day in the near future.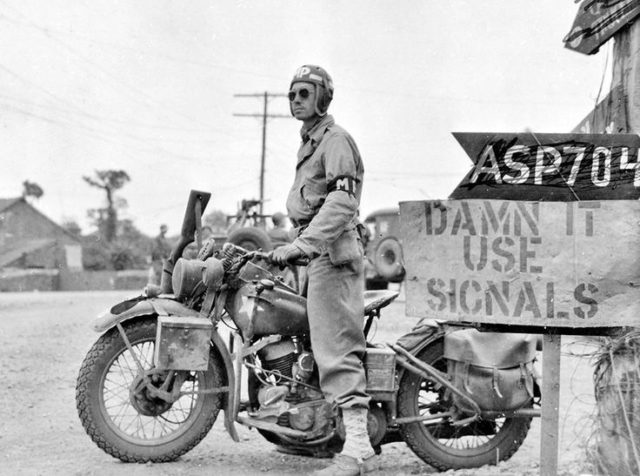 They mostly ended in the overseas War Theaters of Europe and the Pacific in a variety of duties, both in the Army, with the Navy and with the Marines (USMC). For the MP it was an ideal transport, that could carry a rifle in a leather sheath at the right-hand side of the springer front fork and an ammo box on the left-hand side. The WLA and the WLC version had the same engine 750 cc/45 ci. side-valve V-Twin but minor differences in accessories and their positions existed. Saddle bags were mounted for provisions, tools, documents and medicaments. The Harley WL-A as shown in the photo above had its headlamp in a lowered position, while the WL-C had the lamp mounted much higher, just above the handlebars.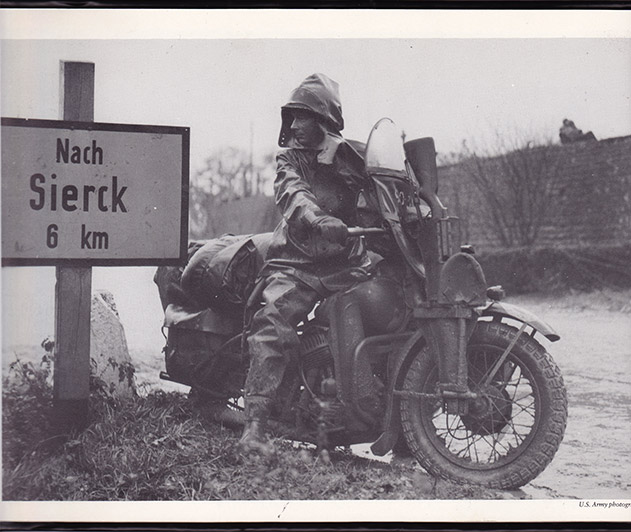 We see a muddy scene, probably in Luxembourg? The Harley WL-A is equipped with leg guards (against the cold, rain and mud), with a shovel and a windshield . The off-road capacity of this Harley was limited, though they had moderate knobby tires for sand/mud tracks and a guard plate under the engine for the protection of the crankcase against debris and cobbles.
Most of the WLAs that the U.S. Army acquired and sent to Europe during the war ended up in vast dumps of discarded U.S. military equipment. However, instead of being shipped back to the USA, enormous quantities of (often worn-out but sometimes new) vehicles, aircraft, and other equipment were destroyed in place. The photo below shows WLAs in one small part of a huge Military vehicle dump at Mourmelon-le-Grand, France, near Reims, in February 1946. Some Harley WLAs and also discarded Canadian Army Harley WLCs ended up in the rebuilding process of Armies of countries in postwar Europe, Greece being a large user. Many motorcycles were rescued from destruction by civilians in France, Belgium, Holland, and other countries, in desperate need of vehicles after six years of wartime deprivation. These discarded military motorcycles helped to get North-Western Europe mobile again after the war.( Information from Joris te Lindert, Thanks, Joris!)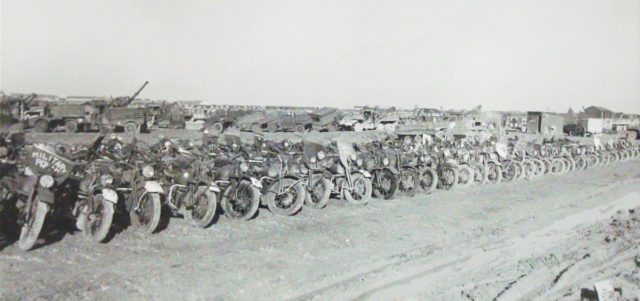 Literally, thousands of those motorbikes were bought by private surplus traders and came later back in the civil market as cheap & cool "Old School" scoots, much wanted by the more adventurous and rowdy young boys of my generation.
Allegedly, you could buy in Antwerp for DFL 800,-(US $250,= ) a WLA 750 cc in the original wooden Army crate with zero miles! I never saw such crated bike, and believe me, I have been looking around. I still believe it was a BS story, never even seen a photo, it is a myth. But, Military surplus Harleys were cheaply for sale in the 1950-60's and for a poor student like me, it was a God Gift.
This blog is about my search for the Military Surplus Harley, named "Willy and the Poor Boys" riding low-budget Harleys. On the day that I turned 18 years of age and all my friends went looking for buying a jalopy /cheap car, I went in search of a cheap Harley, fulfilling a dream that existed since years in my stubborn head. The seed was planted in Indonesia, it was about time to reap now, after those many years of waiting.
In my search, I ran into Harley Motorcycles as you can see here in this blog. They ranged from well-restored WWII Harleys UA and WL for fair prices, all the way down to very cheap Rat Bikes. Those were often damaged, stripped but running OK. We called them the Harley model WTFand "Projects Unlimited". (See photo below, courtesy of Francis G. Blake).
With no/low money, we did all servicing by ourselves. The good side is that most of us became "simple wrench jocks" and were able to keep the bikes going for years. In contrast, we nowadays meet riders who barely know where the battery is located. One hot day in Sturgis, I met a dude on a brand new Harley Road King (hired, I guess) in short pants (?). He was complaining that his uncovered calves were being BBQ'ed by the heat from the cylinders. No wonder, riding slowly in a jam-packed Mainstreet. I replied with my most innocent face: "Why then don't you put the Airco on?". "Airco?, Jesus, where is that switch located?" I pointed downwards with my index finger, to my ballroom.
But the first Harley that I bought was a 1947 WL 750 cc V-twin side-valve (Flathead) for an amount of US $ 250,= , which I earned as a student, working in the Rotterdam Seaport in the night shift with unloading Cargo ships. Within 4 weeks I had the money saved and became XXL Proud Owner of a Harley, without a license but including a Harley Cap! (The bike is not with me anymore, it was stolen, but exactly that same model can be found in the photo below with the Catalina).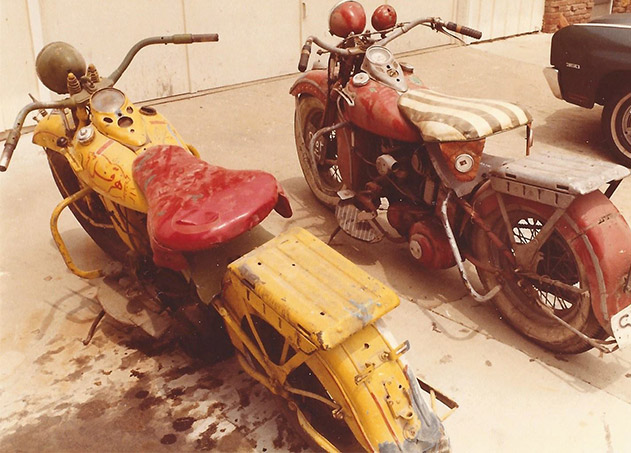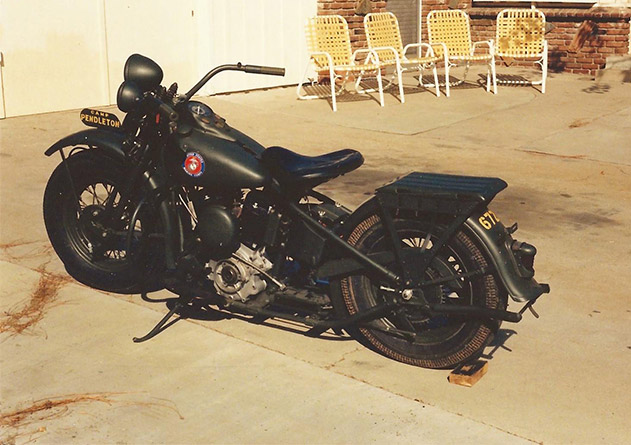 Many 1200 cc model UA's ended in RSA as being the major customer for this model. In Europe, most models were WLA / WLC types,with the less powerful V-twin 45 ci. side valve engine. Note, the gearbox, clutch and primary case/ chain have been removed for repair (Photo and restoration by Francis G. Blake).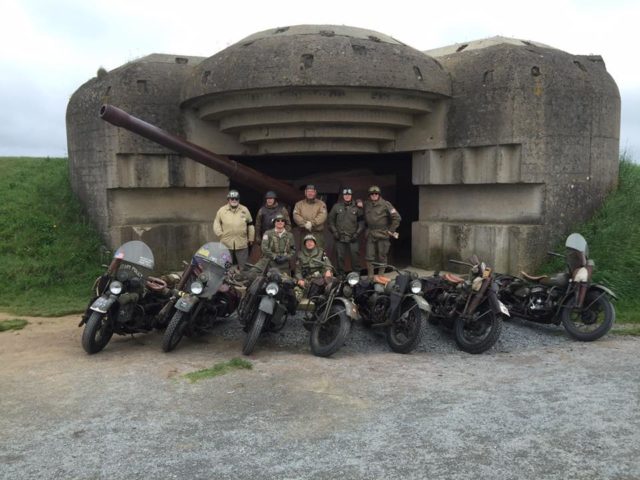 With this Old Timer Harley Club from Holland, we make a yearly pilgrimage tour to the Invasion Beaches since 2004! The Harley WLC/ WLA s depicted have reached the status of "Icons of Eternal Glory". Wherever they show up at Battle Commemorations or Military Veterans Days/ Meetings, spectators gaze and applaud for the "Rolling Thunder" that their vintage Harleys create with that typical grumbling sound. Their authentic military attire adds to the experience of a serious reenactment that they perform over a dozen times per annum with those Harleys. See also my Blog about our trip in June 2016 to Normandy with Old Timer Harleys. Note: those Harleys are in near original state and the time that they could be bought for low prices is forever over, hélas! (Photo courtesy Gijs Goudkamp)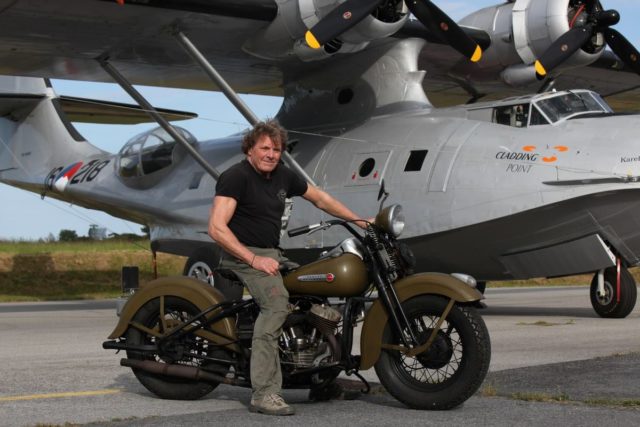 At the end of the War, all contracts with Factories as Harley and Douglas were canceled overnight. Huge inventories filled the depots of the manufacturers. They had no other choice than to continue their assembly lines on a lower scale, trying to sell out their overstock with civil versions of their ex-Military Legends. That counted both for Harley and for Douglas with its C-47/ DC-3 type, and both found only limited success in their efforts, as the markets were now flooded by the cheap surplus transports. The awesome Harley on the photo above comes in original color and sports the post-war tank emblem, modified fenders and yes, the Headlamp is back where it belongs, above the handlebars. The 16 in wheels make the motorcycle markedly beefier. The Consolidated PBY-5A Catalina in the backdrop is an immaculate flying Amphibian from Holland, that flew in 2014 to Normandy for the D-Day commemorations. ( Photo courtesy Onno Wieringa) The Harley is owned by my old friend Bally Nienhuis, who came, like me, from Indonesia around 1957 to The Hague.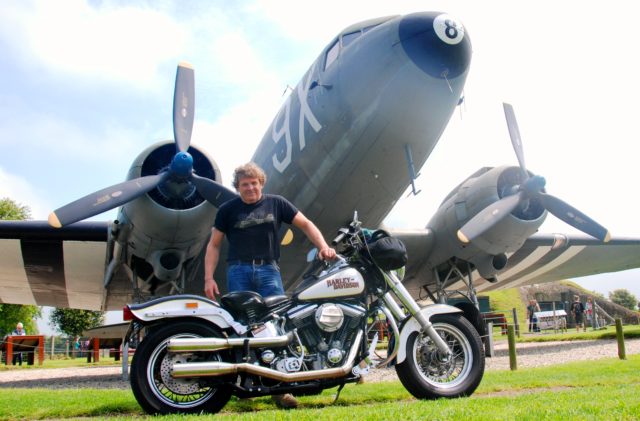 Only in the pre- series (late 1984), the factory assembled the combo of the EVO block with the last of the original Shovel type 4- gear boxes with long Kickstarter and chain-driven rear wheel! 2700 of this type were made, rare model! Moreover, this motorcycle that you see here has brought me all over Europe, USA, and Canada. It made over 100.000 miles since 1985 and the lower end of the engine has NEVER been taken apart, still running with original Mahle pistons and SKF ball bearings! Dry engine, no oil burner, as dependable as the two aero engines that you see dangling overhead in this photo. They are the Pratt & Whitney R-1830 Radial 14 cylinder piston engines, considered being (one of) the best radial aero engines ever made! The C-47 depicted is the legendary 'Snafu Special" displayed in the Museum Batteries de Merville, Normandy, France. (photo courtesy Rob Lambij).
Allegedly, the introduction of the EVO engine combined with the Softail frame design that you see on this Harley above saved the factory from an imminent bankruptcy. These big twin motorcycles capitalize on Harley's strong value on tradition. With the rear-wheel suspension hidden under the transmission, they are visually similar to the "hardtail" Military WWII motorcycles that in their primeval models were designed in the early 1930's. Their tradition became a successful part of the Factory's business model. With a critically low number of 60.000 motorcycles made in 1983, the factory recovered remarkably well in the late 1980's and 1990's. They are now back to around 270.000 bikes per annum.
By coincidence or not, the two legendary aircraft DC-3/ C-47 and PBY Catalina that you see in the backdrop of the photos were designed in their earliest models in exactly that same era. Was it the influence of the prevailing Art Deco style in Architecture and Industrial Design? Whatever, God bless the day that such genius engines and timeless beauties could be created. With hundreds of thousands of enthusiast, we still admire them, we ride them and some even fly them. You may have guessed it right: I have a profound passion for those transports and their pre-war engine technology since my early youth years.
I ride my Harleys almost every day in the summertime, the bike has become so much part of my life and travels over the World: The Harley brought me from Albania to Vancouver Island and from Russia to Death Valley and beyond. More to come and to travel, stay tuned.
ABOUT THE BOOK AND THE AUTHOR
Commercial section: Selected from my lifetime adventures and encounters with vintage aircraft as DC-3/ C-47, the Curtiss Commando C-46, and the Catalina PBY-5A, I have collected the best stories in my book of 320 pages, engagingly written and illustrated with 250 unique photos. Meet the pilots, the remote communities, and the planes. Twenty years of expeditions, in search of the legendary DC-3/C-47. I found them in the High Andes, The Yukon, Alaska, Honduras, Madagascar and the Jungles of the Amazon, where the Dakota still reigns as the only transport to bring you in and out of the dense forests of the Green Hell. The very last Frontiers of this world are out there, in Colombia, Honduras, Guatemala, Venezuela and Bolivia.
For ordering this book, you can go directly to the Amazon page by clicking here at Ordering at Amazon The Dakota Hunter Book, in the print version or as an e-book. For 5-star reviews of my book, scroll down on that Amazon page. More Previews and an array of my earlier Dakota Hunter Blogs are to be found at dc3dakotahunter.com