In 1931, a young, ambitious architect named Albert Speer attended a Nazi rally in Berlin. Perhaps he was truly captivated by the message of the National Socialist German Workers Party or maybe the 25-year-old saw an avenue to make a name for himself. History seems to suggest the latter, but either way, this German and Nazi official rose to the peaks of power under Adolf Hitler with a common dream of building a New Germania.
1. This close friend of Hitler rose very quickly in the Nazi Party and government
Just over one year after attending his first Nazi rally and joining the Party, Speer, then 27, returned to Berlin to help the Party. While there, his name was mentioned to Joseph Goebbels as someone who could aid in the renovation of the Nazi's Berlin headquarters. Speer did help and his name began to rise.
When Speer was asked to submit plans for the Nazi's 1933 Nürnberg rally, he was sent, along with his submission, to Hitler who not only approved of the plans but found in Speer a "kindred spirit."
The following year, Speer was put in charge of Germany's Chief Office of Construction. Before the age of 30, Speer already held an impressive position of power. He and Hitler together drew up the plans for their vision of New Germania and the most ambitious dreams of architectural wonder.
2. Before World War II, Speer helped propel the Nazi vision of grandeur and superiority
Speer believed his greatest work, the one that would truly stand the test of time was the Zeppelinfeld in Nürnberg, which held up to 340,000 people, and the Cathedral of Lights he orchestrated for nighttime Nazi rallies with 130 anti-aircraft searchlights placed around it.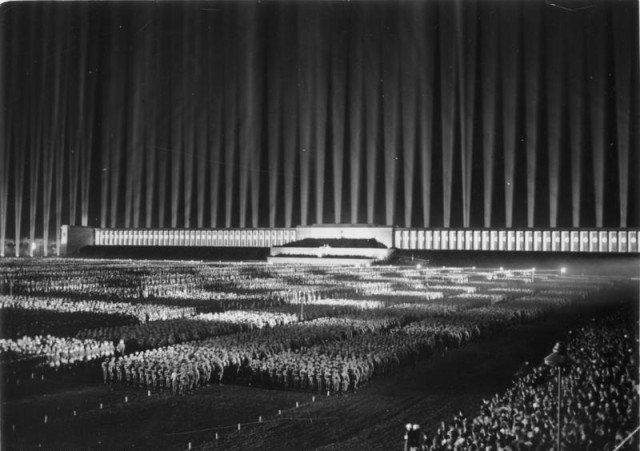 When Hitler complained that Werner March's Olympic Stadium design was too modern, Speer added the outer stone structures which completed it by the 1936 Olympics.
Upon learning that the Russians planned a large stone structure with two imposing figures for their pavilion at the 1937 World's Fair in Paris, Hitler had Speer update his plans for the German pavilion opposite it. Speer designed an even bigger stone structure with a great eagle gazing down at the Russian figures.
3. Speer and Hitler had monumental plans for the Nazi Party rally grounds in Nürnberg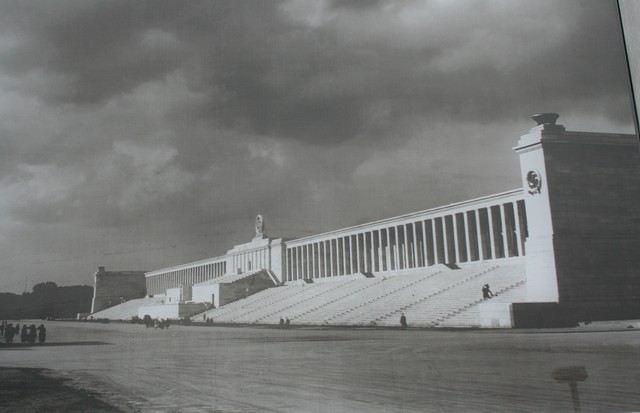 A few buildings were constructed here including the Kongresshalle, which now houses museums, and Speer's Zeppelinfeld, but the grandest of them all had hardly started before the end of the War and the fall of the Nazis: The German Stadium. It was to be the largest stadium in the world and able to seat 400,000 people in its stands.
4. Speer built Hitler's new chancellery in just eight months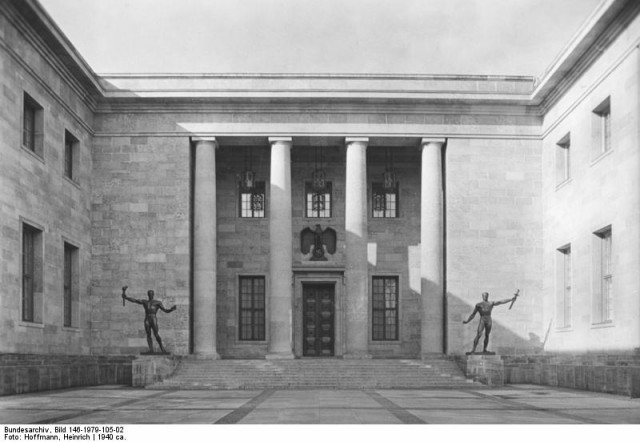 In January 1938, Hitler wanted a new Reich Chancellery built in time for a new year's reception for foreign diplomats the following January. Speer broke ground in April and finished the project, furnishings and all, two days early.To accomplish this, he had up to 8,000 workers on site at a time in two shifts.
5. Speer and Hitler dreamed of turning Berlin into Welthauptstadt Germania (World Capital Germania)
The plans for the reconstructed Berlin included a huge North-South street with a giant triumphal arch at one end which would have been big enough to fit Paris's Arc De Triomphe underneath. At the other end of the street would be governmental buildings, among them the Volkshalle, a fantastically large building with a 700 ft dome under which 180,000 people could stand.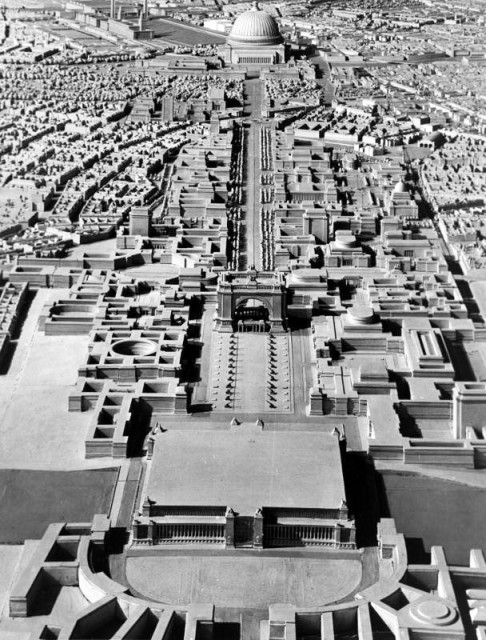 6. As World War II waged on, Hitler put Speer's grand buildings and designs on hold and appointed him Minister of Munitions and War Production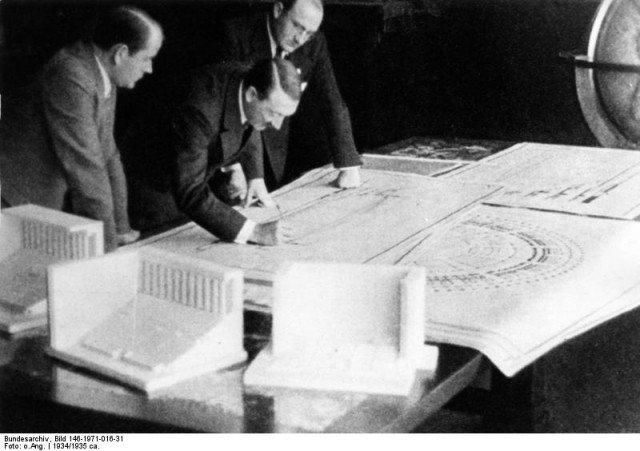 At his new post in 1942, Speer quickly consolidated all war-related industry and factories, which were under the jurisdiction of several agencies, into his command. Within two years, he not only nearly doubled tank production and reduced the building time of submarines from one year to two months, he also had the German war machine producing enough equipment to supply almost double the military divisions the German's possessed.
7. As Germany was collapsing under the advance of Allied forces, Speer had visions for the future
Upon losing Upper Silesia and the vast amounts of coal it provided to the German war effort, Speer knew the war was lost and indeed tried to convince Hitler of the same. Hitler would have none of it.
As the allies pushed closer and closer to the German heartland, Hitler issued the Nero Decree which outlined an aggressive scorched-earth policy. Speer convinced Hitler to let him oversee the implementation of this plan and used his power to convince others to circumnavigate Hitler's orders and make sure people about to be occupied by Allied forces had enough food and supplies and that factories and industry were preserved.
8. At the Nürnberg Trials, Speer escaped the death penalty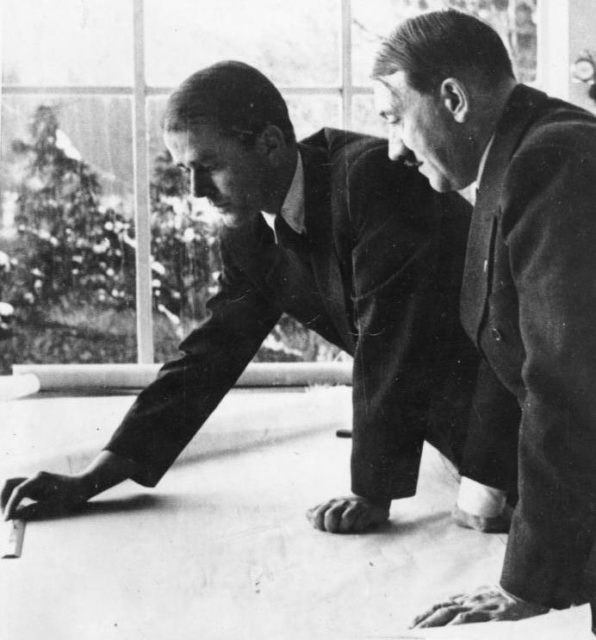 Throughout the trials of Nazi officials, officers, and others involved in the German war machine and Holocaust, Speer insisted that he didn't know about the horrors and brutality committed by Nazi Germany. He also impressed the judges and others by appearing very forthright and honest and not shying away from responsibility as an important and powerful figure in the Nazi government. He cultivated the image of a "good Nazi" who was both not directly responsible for war atrocities and crimes against humanity but also accepted "moral responsibility" and expressed remorse. Nevertheless, he served 20 years in prison.
9. Though Speer claimed to be unaware of the atrocities of the Holocaust at the Nürnberg trials and in his memoirs, history shows otherwise
One aspect of accomplishing such increased production of war supplies was increasing the number of shifts at the factories. Speer initially suggested bringing more German women into the labor force, but Hitler was convinced to bring in people from the occupied territories and concentration camps. It was slave labor and conditions were inhumane, brutal, and thousands perished.
Aside from this, there is ample evidence that Speer oversaw the eviction of Jewish residents in preparation for building the new chancellery and also that he was present for a speech by Heinrich Himmler in 1943 in which Himmler outlined quite clearly the Nazi's plans for exterminating an entire people.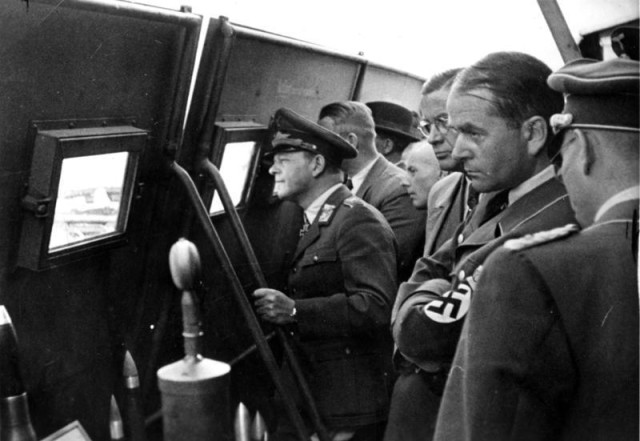 10. Speer was either just another Nazi ideologue and conspirator or an ambitious man who saw something more
This was a man who controlled both German industry and construction, second in power only to Hitler and at one time tipped as a possible successor. He saw the end of the war and tried to preserve something of the German economy even in defiance of Hitler. He knew how to "work the room" at the Nürnberg trials to achieve the best possible outcome for himself. All along, Speer seemed to be thinking well ahead of his colleagues and opposition. Where did he see his rise in power ending?