Local authorities in Kent, England, have been made aware that a WWII bomber crash site is vulnerable to looting, with evidence suggesting this may have already taken place. The aircraft in question is a WWII Boeing B-17 Flying Fortress that crashed on Sandwich Bay in Kent in 1943. It was subsequently covered by the sand on the flats until 1990, when substantial looting took place.
Now it is uncovered once again, and authorities and heritage organizations are concerned for the aircraft's future.
The B-17 is one of the most famous aircraft from WWII. It was developed in the 1930s, where its sleek and aerodynamic design allowed it to outperform many contemporary bombers of the time. It placed a heavy emphasis on defensive armament and survivability, which reduced its overall bomb load but gave its crews great faith in the aircraft, which would often return home with enormous pieces missing.
It was used mostly by the USAAF to bomb cities in Europe, and the B-17 dropped more bombs than any other aircraft during the war.
The Sandwich Bay B-17
The aircraft in Sandwich Bay, B17G 42-31243, was forced to ditch there when it ran out of fuel on its way home from a mission on the 1st of December 1943. Its tanks had been drained of fuel when the aircraft was damaged by flak. Luckily, all of the crew survived the landing and were picked up by British Air Sea Rescue. The aircraft, however, did not survive, and it was left in place.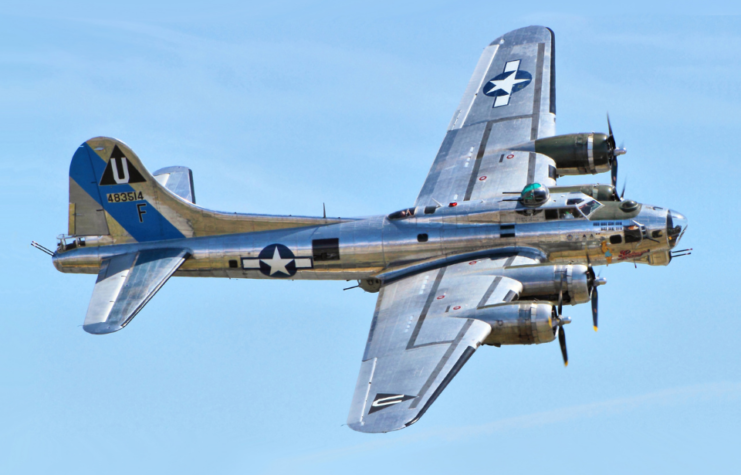 It was covered by sand until the 1990s, when the wreck was revealed and subsequently looted. Because of this, the wreckage was excavated to document its condition.
In 2016, the B-17 was uncovered again. Today, the aircraft's fuselage is missing as well as its engines, but both wings remain as well as a propeller. Inside one of the wings is a Tokyo tank in great condition. Tokyo tanks were self-sealing rubber fuel containers mounted in the outer sections of B-17 wings after 1943, and added 1,080 US gallons of fuel to the standard 1,700, giving it a 40% increase in range.
The tide has distributed pieces around the aircraft, creating a debris field.
Looting at the site
The Sandwich Bay B17 G Group has been monitoring the condition of the wreck and reporting any obvious signs of looting. They also collect pieces of the wreck that are distributed along the shoreline by the tide, and hand them to the RAF Manston History museum after notifying the Receiver of Wreck.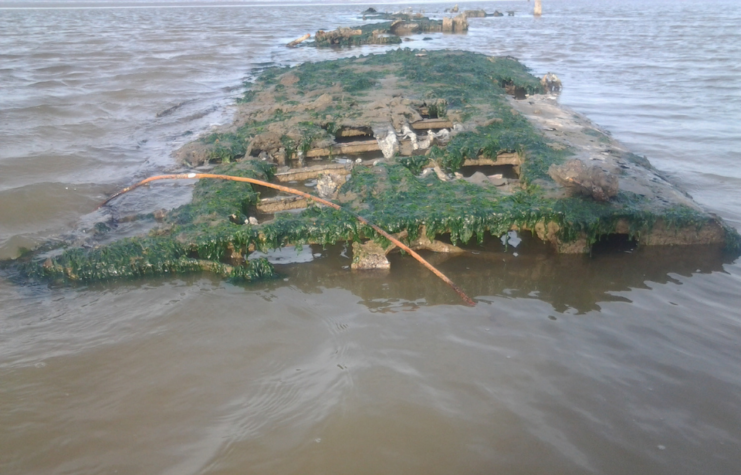 Tony Ovenden from the Sandwich Bay B17 G Group has noticed a significant deterioration of the wreck since he last visited before the COVID-19 lockdowns. Numerous parts like wires, lines, and fuel tanks are now missing from the aircraft.
Ovenden has even seen someone (likely a looter) by the aircraft along with a trolley of parts. He said, "I thought he was one of my group, but he was in the water pulling at something in the fuselage area. Nearby was a small four-wheeled trolley. When he saw me he quickly walked away. Looking in his trolley, I could see B17 items and lumps of concretion he had been picking up from the debris field."
Ovenden added, "There is now enough evidence that suggests the site is at risk, not so much from small souvenir hunters but collectors motivated by greed. The site is one of the few remaining B17 sites in western Europe where someone can just walk up to, and basically help themselves to a piece. The profile of this site really needs to be raised and not left to the mercy of the elements and looting."
More from us: Ämari Pilots' Cemetery: An Abandoned Graveyard That Uses Airplanes As Gravestones
The Services Archaeology and Heritage Association have responded to this information with a reminder to any would-be looters: "It is illegal under The Protection of Military Remains Act 1986, which prohibits entering and tampering with wrecked military vessels or aircraft. The designation of protected places includes the remains of any aircraft which crashed while in military service or any vessel which sank or stranded in military service after 4 August 1914 within the UK."