No one would have questioned Cyril Barton had he turned around and headed back for England. He and his crew had just been shot to pieces by a couple of Nazi night-fighters, and the bomber was badly leaking fuel.
Worse yet, the internal intercom was damaged in the fight, and a miscommunication led to three of the seven-man crew bailing out prematurely. But with classic British resolve, Barton shook off any notion of ending the mission early and pressed on to Nuremberg.
Through a hail of anti-aircraft fire and minus his bombardier and navigator, he gave violence back to the enemy. It would be a decision which would cost him his life, but not before he returned what remained of his crew back to England.
On his 19th sortie over Europe, Cyril Barton would earn the Victoria Cross for steely resolve and courage in the face of the enemy.
Born to Fly
Cyril Joe Barton was born on June 5th, 1921 in Suffolk. Coming of age just as war erupted, Barton was certain to do his duty and volunteered for the Royal Air Force Volunteer Reserve in 1941. Initially assigned as part of the aircrew, he would eventually go on to pilot training in the United States through what was known as the Arnold Scheme.
This operational program before America's entry into the war allowed for British pilots to receive training in the US during the war and then return to duty.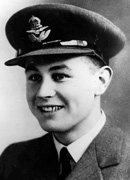 In Georgia, Barton qualified as a Sergeant Pilot in late 1942 and then returned to England for additional instruction. In September of 1943, Barton was commissioned as a Pilot Officer and joined No.78 Squadron along with his crew.
With No.78, he would fly nine sorties throughout the rest of 1943 until he was eventually transferred to the No.578 Squadron at RAF Burn in North Yorkshire.
Barton would see his sortie count rise to 18 as he conducted regular incursions over Europe to include direct action against Berlin itself. He had quickly established a reputation as a proven and tested pilot and had earned the respect of his entire crew with whom he had served over his 18 missions.
However, he knew the odds and had actually written a letter to his mother identifying that he believed the lifespan of an aircrew is twenty operations. This letter would reach his mother after his death as on March 30th, 1944 he took off for his 19th and final mission.
Raid on Nuremberg
By March of 1944, the air campaign against the Third Reich was picking up in intensity and incursions into the skies over Germany were a regular occurrence. Cyril Barton was the pilot of a four-engined Handley Page Halifax bomber and commander of the 7-man crew.
On March 30th, 1944, Barton was headed for Nuremberg on what would be his 19th sortie when his bomber came under intense fire from two German night fighters just 70 miles short of his target.
A German Junkers 88 strafed the fuselage with machine gun fire damaging the intercoms and one of the bomber's engines. At that moment, a Messerschmitt 210 joined the fight and set its sites on Barton's Halifax.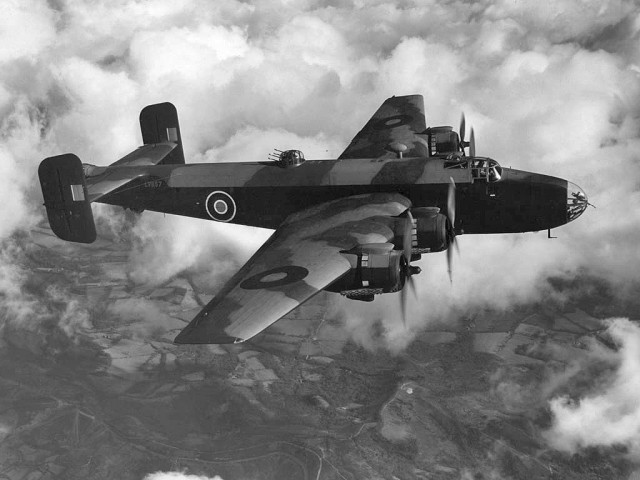 In the confusion of the fight and complicated by the damage done to the intercom system, three of the crew members believed they had been given the signal to bail out. The navigator, bombardier, and wireless operator all parachuted out over Germany.
Barton was now faced with a dilemma. Half his crew was gone, two fuel tanks had been punctured, and both the radio and rear turret were not functional.
Despite the damage and the risk of more when he reached Nuremberg, Cyril Barton decided to press on with the attack. Arriving on target without a navigational team, Barton released the bombs himself and then headed for home.
The four-and-a-half hour journey back to England was easier said than done as he would still face the risk of German attack. One engine was completely down at this point, and his fuel was running out at an alarming rate.
Having no navigational team, Barton avoided the most dangerous routes back to England and crossed the shore just 90 miles north of his base. However, at this point, his fuel ran out, and the port engines completely stopped. Unable to search for a suitable landing spot, Barton's Halifax bomber was coming down now.
A Crash Landing
Descending into the British village of Ryhope, Barton's primary concern was his crew, but the problem in front of him was how to avoid crashing into the houses he was now coasting over. He was too low for a bailout, and he gave direction to his crew to prepare for a crash as he directed the gliding hunk of metal down.
With great effort, he avoided the houses and coal-pit workings below him as the Halifax crashed into the ground.
When the wreckage had finally stopped, one coal miner had in fact been killed from the wreckage and yet Barton and his entire crew were alive. However, while Barton was indeed pulled from the wreckage alive the injuries he sustained during the landing would prove fatal.
On March 31st, 1944 Barton succumbed to his injuries and died. For his actions on March 30th, Cyril Barton would posthumously receive the nation's highest military honor, the Victoria Cross.
The three men who bailed out over Germany would become prisoners of war while the remaining three crew members would forever have Barton to thank for their lives.