I. Born as Omar Nelson Bradley but referred to as "Brad", he was born on February 12, 1893, in Randolph County, which is in rural Missouri.
II. Bradley finished second in the placement exams for West Point at Jefferson Barracks Military Post, which was located in St. Louis. Because the person who placed first couldn't accept his Congressional appointment, Bradley was given the opportunity to take his place.
III. Bradley's focus on sports kept him from academic excellence at West Point. As a baseball star, he frequently played on semi-pro teams without pay so he could continue to represent the Academy on the school team. Bradley played on the 1941 team where every player who stayed in the Army attained the rank of general.
IV. A 1915 graduate of West Point, he was in a class that contained many generals. Historians often refer to that class as "the class that the stars fell on." That graduating class had 59 generals, with Dwight D. Eisenhower and Bradley both becoming Army generals.
V. Despite being in the Army during World War I, Bradley wasn't sent to France, so he didn't see action there.
VI. During World War II, Bradley wasn't given command of the front-line until 1943, which was after Operation Torch.
VII. George S. Patton took control of II Corps following the Battle of Kasserine Pass defeat. Bradley was appointed to be his deputy.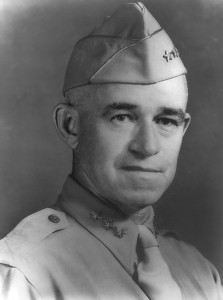 VIII. In March 1943 Bradley was promoted to temporary lieutenant general. Then the next month he was appointed to follow Patton in the role of II Corps head and directed the corps in the final Tunisian battles that occurred in April and May. He continued to command the II Corps as they invaded Sicily.
IX. Bradley had command of all U.S. ground forces that invaded Germany from the west from the Normandy landings until the war ended in Europe. He ended up as the commander of 1.3 million men and 43 divisions, which was the largest number of American soldiers ever to serve under the command of a U.S. field commander.
X. Bradley's former commander, General Patton, served under him and commanded the 3rd Army for the remainder of the war.
XI. Ernie Pyle, who wrote multiple dispatches making references to Bradley as the GI's general gave Bradley the nickname that stayed with him throughout his career.
XII. S.L.A. Marshall, a US Army historian, said that Ernie Pyle played up the "common man" image with Bradley. He said that the GIs didn't really know Bradley and weren't impressed. Instead, Bradley wasn't a flamboyant figure, and didn't interact with the troops often. He wasn't idolized by the soldiers.
XIII. While Patton may be considered the impulsive and intolerant commander, Bradley relieved more senior commanders and generals from their positions during World War II. Patton only dismissed one general, Orlando Ward, from his command.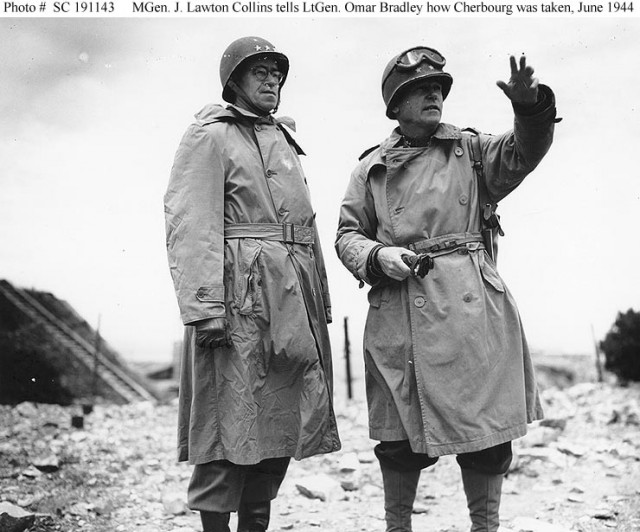 XIV. President Harry Truman appointed Bradley as the Joint Chiefs of Staff first chairman on August 11, 1949.
XV. Bradley was promoted to the General of the Army in September 1950, and was the last of only nine people to have the honor of attaining a five-star rank in the U.S. military.
XVI. He was senior military command during the Korean War onset because he was chair of the Joint Chiefs of Staff. In June 1950 when North Korea invaded South Korea, he had the task of reorganizing and deploying U.S. military forces that were a small segment of their WWII counterpart.
XVII. Bradley didn't admire General Douglas MacArthur, he played a major role in getting Truman to dismiss MacArthur as the commander in the Korean theater. Bradley rebuked MacArthur during his Congressional testimony because of his support of victory in the Korean War at all costs. After Truman relieved MacArthur of command in April of 1951, Bradley said that "Red China is not the powerful nation seeking to dominate the world." He said that MacArthur's strategy would get the U.S. in the wrong war in the wrong place with the wrong enemy at the wrong time.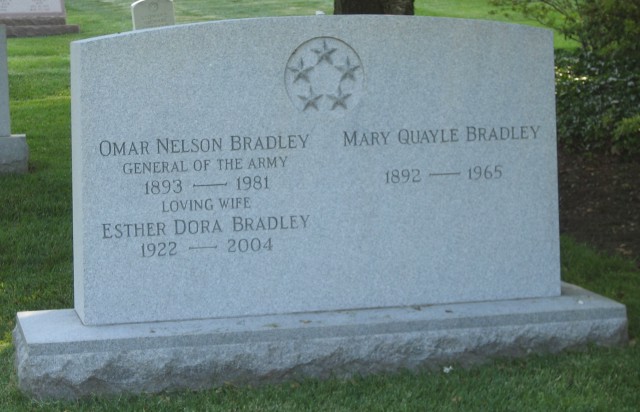 XVIII. Bradley retired from active military duty in August 1953.
XIX. He was the keynote speaker on June 6, 1979, at Point du Hoc, Normandy at the 35th anniversary of D-Day where from a wheelchair he performed open ranks inspections of a representative U.S. Army unit, the 84th Army Band.
XX. On April 8, 1981, Omar Bradley died from cardiac arrhythmia shortly after receiving an award from the National Institute of Social Sciences. His burial was at Arlington National Cemetery next to his two wives.