"Chesty" Puller is the most decorated Marine in United States history. Heroic service in Haiti, Nicaragua, the Second World War, and the Korean War earned him numerous medals and promotions.
Early Years
Born Lewis Burwell Puller on June 26, 1898, he grew up listening to the stories told by veterans about the American Civil War. From an early age, he wanted to be a soldier. In 1916, he asked to sign up to fight in the Border War with Mexico, but his mother would not let him; he was too young to join up without consent.
In 1917, Puller joined the Virginia Military Institute. He left in 1918 to seek action in the First World War and, inspired by stories of Belleau Wood, he enlisted in the United States Marine Corps. Too late to fight in the war, he received officer training and became a second lieutenant in the reserves. However, the Marines were shrinking in peacetime, and he was made inactive in 1919, returning to the rank of corporal.
Haiti and Nicaragua
Puller was sent to Haiti, where US Marines were serving as part of a treaty. He fought in forty engagements against rebels in five years.
In 1924, Puller returned to the US. There he regained his rank of second lieutenant.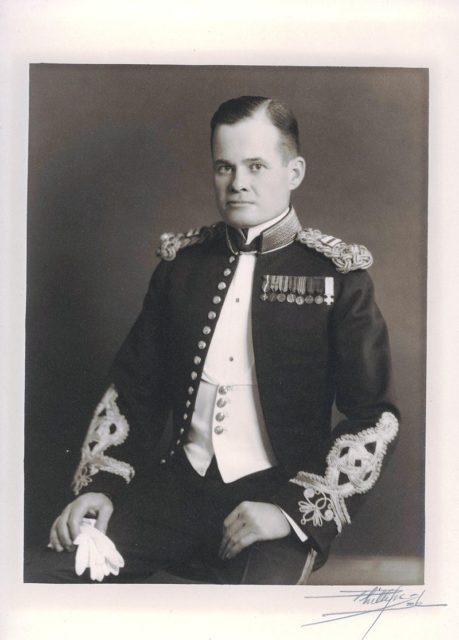 In 1928, Puller was assigned to work with the Nicaraguan National Guard. He spent several years working with them and other American soldiers against bandits and rebels, taking a year away from 1931 to 1932 for officer training in the US.
In Nicaragua, Puller was awarded the Navy Cross twice. The first came in 1930, for leading five successful fights against superior enemy numbers. The second was in 1932, for saving his patrol from a series of ambushes.
China and the Pacific
Over the next few years, Puller served in several different posts. He was stationed with the Marines in China twice. He served on board vessels based in the Pacific. He became an instructor at the Basic School in Philadelphia.
By December 1941, Puller had risen to the rank of Major. Based in North Carolina he was in command of a Marine battalion when Japan attacked Pearl Harbor, and the United States went to war.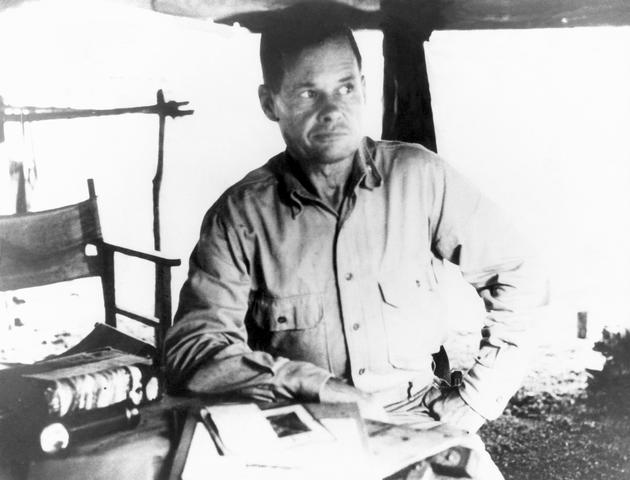 Guadalcanal
Like many other Marines, Puller was sent to fight in the Pacific Campaign against Japan. There he took part in one of the most famous battles in Marine Corps history – Guadalcanal.
Guadalcanal was a grueling fight. Following a seaborne invasion with limited supplies, the Marines found themselves facing determined opponents. Disease, bombardment, and near-suicidal Japanese charges took a heavy toll.
During fighting on the Matikanau River, Puller saved three of his companies from annihilation. Surrounded by the Japanese, they were rescued when Puller ran to the shore and signaled for help from a destroyer.
Henderson Field
Puller earned his third Navy Cross for action at Guadalcanal.
At the time, he was serving at Henderson Field. It was the airbase from which the Americans Cactus Air Force provided air cover to the Marines. It was the target of constant attacks from air, land, and sea.
On the night of October 24, 1942, a firefight broke out between the Americans and vastly superior numbers of Japanese troops. During three hours of fierce fighting, Puller commanded one of the two American units that held the airfield.
Cape Gloucester
After Henderson Field, Puller was made the executive officer of the 7th Marine Regiment. This role took him to Cape Gloucester in New Britain, where he participated in heavy fighting in late 1943 and early 1944. Under heavy fire from the Japanese, he reorganized a battalion and launched a successful attack against a heavily defended Japanese position.
For overall service at Cape Gloucester, he was awarded his fourth Navy Cross. In February 1944, he was made a colonel and given command of the 1st Marine Regiment.
Loss and Change
1944 brought a personal loss for Puller. His younger brother Samuel, also a Marine officer, was killed on Guam in the summer.
In the fall, Puller, led the 1st Marine Regiment as it took part in one of the deadliest battles in Marine history – Peleliu. There, his service again earned him an award – this time the Legion of Merit.
Of 3,000 men serving under Puller at Peleliu, 1,749 died. Puller's frontal assaults against well-entrenched positions contributed to these enormous losses. Eventually, the battered regiment was pulled out of action.
Returning to the United States that November, Puller was made the commanding officer of the Infantry Training Regiment at Camp Lejeune.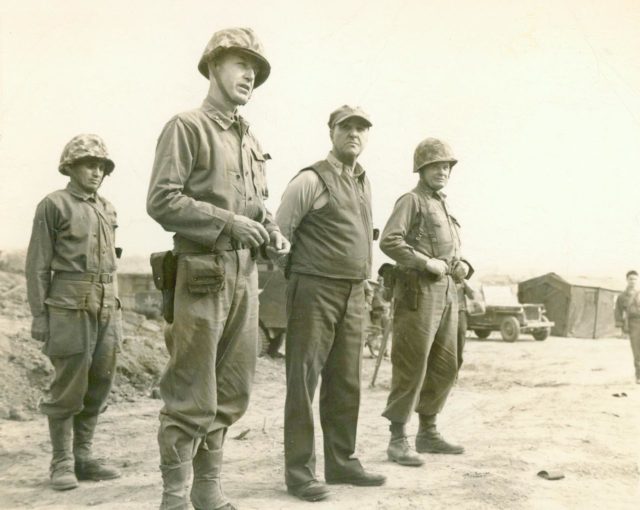 The Korean War
In the Korean War, Puller returned to active service and command of the 1st Marine Regiment. In Korea, he earned four significant awards – the Silver Star Medal for his part in the Inchon landing; a second Legion of Merit for leadership; a Distinguished Service Cross for heroic actions in late 1950; and a fifth Navy Cross for heroism during the Battle of the Chosin Reservoir.
Chosin Reservoir was a tough fight for the Americans. Surrounded by the enemy, they were under constant threat and struggled for supplies. Even in such a desperate moment, Puller retained his resolve, saying: "We've been looking for the enemy for some time now. We've finally found him. We're surrounded. That simplifies things."
In January 1951, Puller was promoted to brigadier general. He temporarily led the 1st Marine Division before returning to the United States.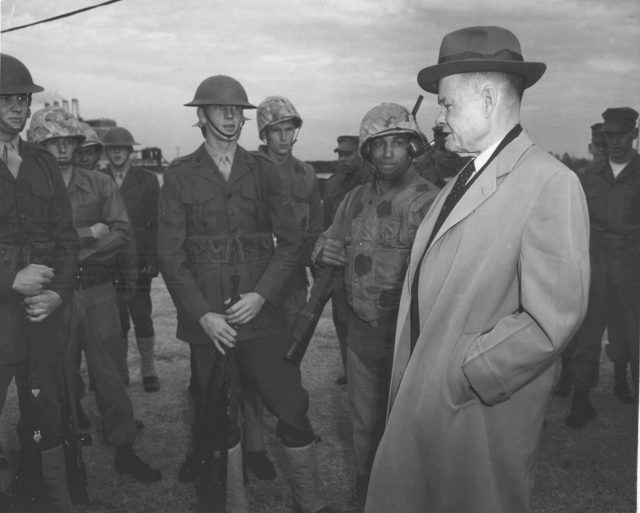 Retirement
For the next four years, Puller stayed in the military, rising to major general. In November 1955, after suffering a stroke, he retired. He lived peacefully for another sixteen years.
Whatever his peacetime accomplishments, he will always be remembered as a highly decorated hero and as a man who could see an advantage even in being surrounded.
Sources:
Nigel Cawthorne (2004), Turning the Tide: Decisive Battles of the Second World War.