As a young American coming of age in the community of Marshall, Missouri, Ray Merrell went to work at a local shoe factory after his graduation from high school in 1941. As the United States' role in WWII expanded and Merrell simultaneously grew tired of his job, he and a few of his friends enlisted in the Marine Corps—a decision that would soon place him in a newly formed amphibious assault group.
"There was three or four of us that thought we'd rather wear the shoes than make them," Merrell jokingly explained. "We all decided to join the Marines because we had been reading what they had been accomplishing [in combat] on Guadalcanal," he added.
A 19-year-old Merrell signed his enlistment papers in November 1942 and was soon on his way to San Diego for several weeks of basic training. Afterward, he received additional infantry training at nearby Camp Elliott, a section of which was referred to as "Green Farm" at the time.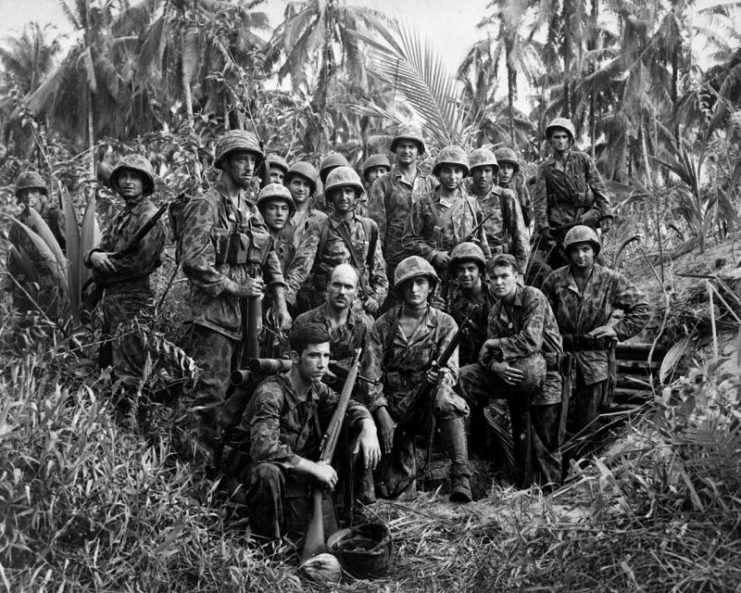 "While we were on patrol at Green Farm, one of our lieutenants began hollering for us to stop while we were crawling down a hillside," the veteran recalled. "There was a rattlesnake in a culvert near one of the Marines and the lieutenant pulled out his pistol and shot it."
The final days of his training were completed in early March 1943. He and a number of his fellow Marines traveled to the harbor in San Diego to board the USS Mount Vernon, a former ocean liner that had been purchased by the Navy to use for troop transport.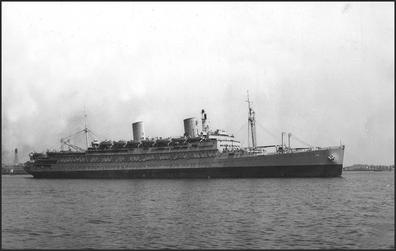 Arriving in New Caledonia, a French territory in the South Pacific, the Marines began practicing amphibious operations. While there, they were approached by a colonel seeking volunteers interested in becoming part of a new group called "Marine Raiders."
Considered the first U.S. special operations forces formed in WWII, the Marine Raiders were to serve as an elite light infantry force that could make amphibious landings behind enemy lines. Merrell volunteered and soon passed the physical required to qualify as a Raider.
"We continued to train for several months in New Caledonia doing night hikes, training in jungle operations, setting up defenses and practicing amphibious assaults," Merrell explained. "When we first started training, I was given a Tommy gun, but before we went into action, I became a BAR [Browning Automatic Rifle] man."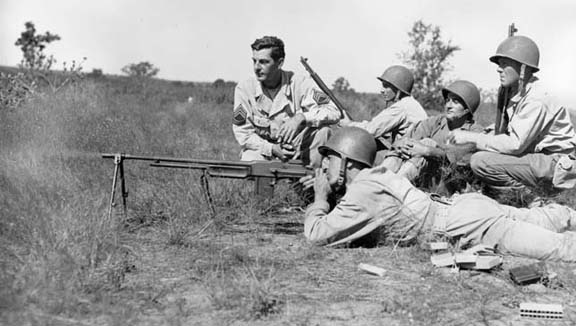 As a member of a 10-man squad, Merrell saw action in early November 1943 while deployed behind enemy lines in Bougainville, the largest of the Solomon Islands. The squad remained there for several weeks, establishing beachheads and relieving troops on the front lines.
Next came Guadalcanal, where the Raiders were disbanded and he was transferred to the 4th Marine Regiment, training as an assistant gunner on a 37mm antitank gun.
In June 1944, Merrell boarded the USS Ormsby for the invasion of Guam. However, because of intense fighting with Japanese forces at nearby Saipan, he remained aboard the ship for 47 days.
Approaching Guam on their landing craft on July 21, 1944, they became stuck on coral reefs and had to drag their 37mm guns to shore through waist-high water.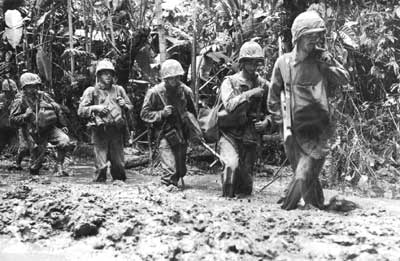 "It was pretty intense fighting there and I ended up in the hospital for three or four days from dysentery," Merrell explained. "When the island was finally secured sometime in August, that's when we were sent [back] to Guadalcanal to train for the invasion of Okinawa."
Arriving at Okinawa on April 1, 1945, Merrell explained that a faked landing was made to the south in an effort to distract the Japanese forces while the actual landing, of which he was part, took place at a location further north.
"We were pretty lucky when we got to Okinawa and landed with little opposition," he said. "However," he grinned, "we stirred up the Japanese over the next day or so."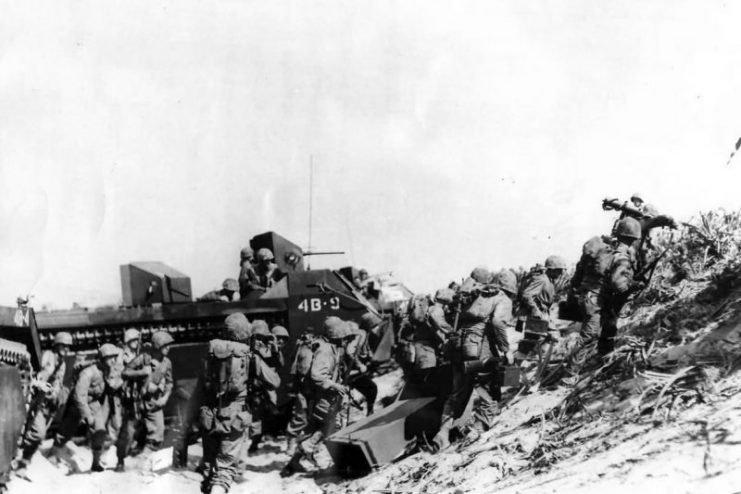 Merrell and his fellow Marines fought to secure the island and then participated in a number of "mopping up" patrols. On July 6, 1945, after three months of fighting and having lost several friends in combat, he boarded a landing craft bound for Guam and additional training.
Boarding the USS Grimes on August 15, Merrell was with a group destined to participate in the invasion of the Japanese mainland. While still on the ship, they learned that the war in the Pacific had ended.
He and many of his fellow Marines were eventually sent to Japan as part of the occupying forces, where he remained until being sent back to the states in November 1945.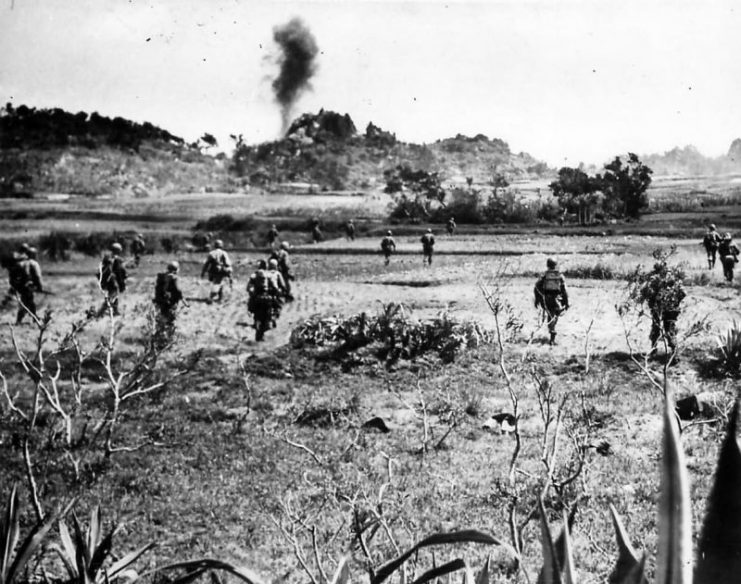 Merrell received his discharge from the Marines on December 11, 1945, after having spent 33 months overseas. He returned to Missouri and the following year married his fiancée, Helen, with whom he had communicated during his entire period of service.
After the war, the combat veteran worked at a local locker plant, was a manager for an MFA location, managed the meat department at a supermarket in Liberty, and sold real estate for a number of years.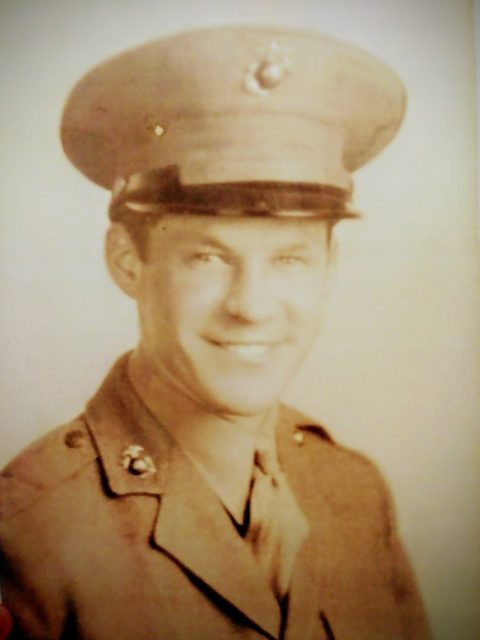 The father of two children, Merrell affirms his service with the Marines was not only a maturing period, but also an opportunity to build a number of enduring friendships.
"I aged and grew up pretty quick after being sent overseas," Merrell said. "For many years, a lot of the guys I served with in the Marine Raiders got together for reunions throughout the country, but I think I am the only one now left from my squad."
Read another story from us: 'A valuable experience' – Missouri Farmer Trained at Camp Crowder & Served in Post-War Japan
With a grin, he concluded, "Helen saved all of the letters I wrote home to her during the war and still has them. The ones she wrote to me are all gone because they got wet when I was huddled in foxholes overseas."
Jeremy P. Ämick writes on behalf of the Silver Star Families of America.