Given that there were 15 other men with him, one might question whether Victor Kandle should be given full credit for the death or capture of 57 Germans. Yet, given that Victor Kandle alone charged across a fire-swept field and smashed through the door of a house hosting 32 well-armed Germans causing, them to instantly surrender, it's obvious some credit is due.
Needless to say the evening of October 9th, 1944, was a big night for young First Lieutenant Kandle. It began with leading his patrol through dense fog en route to a fortified German position. Coming upon a German Major with little warning, it was a quick draw duel between the two with Kandle emerging victorious. Then it was on to the heavily fortified position that held up a battalion of infantry for two days.
Rushing the position with speed and surprise he forced the garrison to surrender. Then it was on to the infamous house where, with violence of action, he smashed through the door causing the Germans to give up without an additional fight. Thankfully for the German Army Victor Kandle decided to call it a night, unknowing that he had just qualified himself for the nation's highest military honor.
From Secretary to the Infantry
Victor Kandle was born in 1921 in Pierce County, Washington. Graduating from Puyallup High School in 1939, he enrolled in Business College before eventually enlisting in the United States Army in 1940. While he was assigned to an infantry regiment it turned out that the General in charge needed a field secretary and due to his college experience, Butler was chosen. With that, one of the most gallant fighters to emerge from World War 2 began his time as a secretary. By 1942 he had applied for Officer Candidate School.
By 1943 Kandle was well on his way to a rendezvous with military history. Becoming commissioned a 2nd Lieutenant in 1943, he was sent to join the 15th Regiment, 3rd Infantry Division. Southern France would be his destination as he participated in the invasion from the South, Operation Dragoon. Continuing to display competence, leadership and resolve, he was promoted to First Lieutenant. In October of 1944, he would find himself near La Forge, France pressing the assault towards Germany.

An Evening to Remember
On October 9th, 1944, First Lieutenant Kandle was placed in charge of a reconnaissance patrol. With only 16 men and a light-machine gun element added he set out towards what was known to be hardened enemy territory. The terrain was mountainous and a heavy fog had set out over the land. Leading the patrol, Kandle would come face to face with a German Major resulting in what could only be described as a wild west duel. Both men raised their guns to fire, but Kandle would prove too quick, instantly killing the German officer. It was here that Kandle would accept the surrender of 5 German troops.
The objective, however, was a fortified quarry used by the Germans. The mountainous terrain had allowed the smaller German force to hold up an entire US Infantry Battalion for two days. Unfortunately for the Germ, ns they were about to be introduced to the speed and violence of one Victor Kandle. Rushing the position, he forced his way into the enemy fortification. Taking out two machine gun positions, the speed and audacity of his approached coaxed the Germans into simply giving up. Yet, his evening was not done.
Continuing on with his patrol he came across a fortified house being occupied by over 30 Germans. Organizing his men to set up a base of fire around the house, Victor Kandle did it again. With fire pouring into the house, Kandle ran across the fire-swept field and barreled through the barricaded door of the house alone. The entire German force in the house surrendered to him.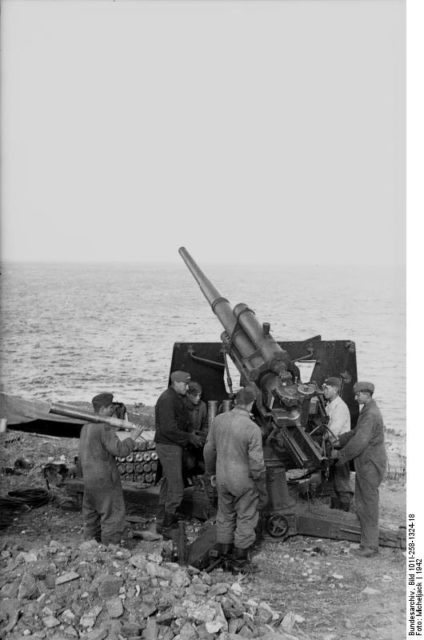 Fighting Till the End
By the time the evening of October 9th, 1944 was over Kandle had led his men to successfully capture the enemy positions and capture or kill three German officers and 54 enlisted men. For his actions that day, Victor Kandle would be awarded the Medal of Honor. Unfortunately, this was a commendation he would never live to see. On the evening of December 31st, 1944, just as the new year was about to come around, Kandle would fall in action. Riding on top of a tank, a German grenade found its mark on this gallant warrior.
He was posthumously awarded the Medal of Honor on May 11th, 1945. The Medal was eventually presented to his wife and young son. His gallant example would continue to be honored as the Army Reserve Center in Tacoma, Washington was named in his honor along with a public park. For the Germans, the evening of October 9th, 1944 would be remembered as a nightmare but for students of history it will be remembered as one of the more remarkable acts of inexplicable gallantry.