'Lancaster Skies' is an upcoming feature film from a small and dedicated group of film makers working under the banner of Tin Hat Productions. The film tells the story of Flight Lieutenant Douglas Miller, a former solitary Spitfire ace and a veteran of the Battle of Britain. After the tragic death of his younger brother, Miller transfers to Bomber Command.
After arriving at his new Squadron, Miller's single minded determination to wage war at any cost puts him into conflict with the bomber crew under his command, who are struggling to come to terms with the death of their much loved skipper on an earlier sortie. In the days leading up to a perilous mission over Berlin, Miller must overcome his past and become the leader that his troubled crew so desperately need.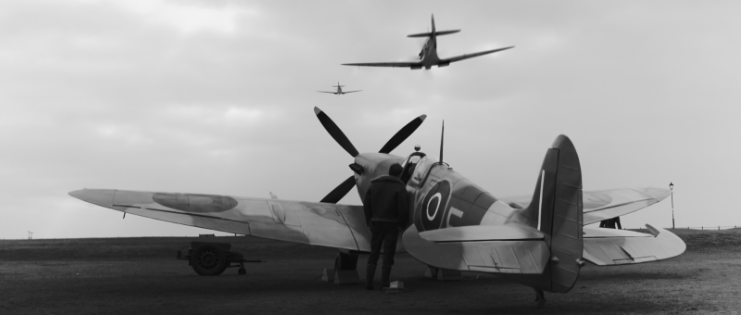 'Lancaster Skies' is the feature film directing debut of MET Film School graduate Callum Burn (26). The production team, which includes Callum's father Andrew Burn (52) and fellow MET Cinematography graduate Sam Parsons (29), set out to produce a film that had the look and feel of the classic British war films of the 1940's and 50's.
The aim of the film is to tell the incredible story of the war time RAF Bomber crews to audiences who currently know little of the ordeals they faced night after night. Of the 125,000 aircrew who flew with Bomber Command during WW2, more than 55,000 lost their lives. Bomber Command was the most dangerous branch of any of the armed forces to serve in combat operations during the war, with a 44% mortality rate.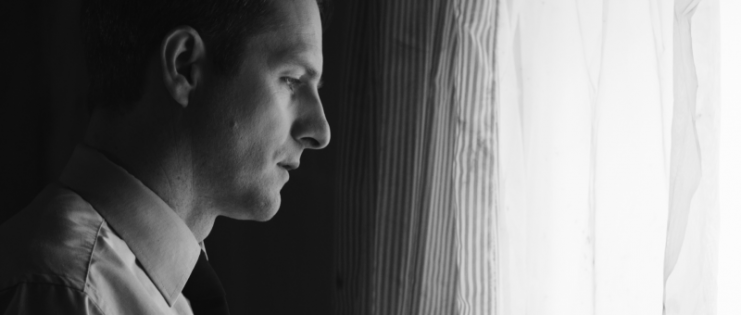 The team at Tin Hat believe that in order to inform it is also vitally important that a film maker sets out to entertain.
'When writing the screenplay we looked at some of the great British war films, such as 'The Dam Busters', 'The Cruel Sea' and 'Battle of Britain'. These films informed a generation of the hardships faced by the war time generation, but they did it with a lightness of touch and an innocence that is often missing in contemporary war films. We wanted to make a film that a family could watch together. What better way to keep the story of the war time aircrews alive for decades to come?'
– Writer/Producer, Andrew Burn.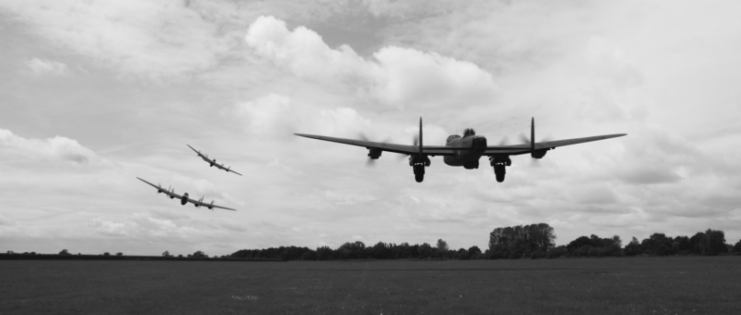 Director, Callum Burn, determined to make a film about Bomber Command after a RAF Hercules transport plane flew low overhead during filming on location for his first war film 'Fusilier' back in 2012.
'We had stopped for a break in filming when a huge RAF Hercules appeared from nowhere. Living in Lincolnshire I was used to aircraft flying over, but this was really low and very loud. It caused a great deal of excitement amongst the cast and crew and one of the actors asked if I had ever considered making a film about the RAF. From that day on I couldn't get the idea out of my head.'
– Writer/Director, Callum Burn
The first draft of the screenplay was penned early in 2013 and underwent multiple rewrites prior to the commencement of pre-production in the Summer of 2014.
With a budget of just £80,000 'Lancaster Skies' was filmed in 5 separate shooting blocks, starting in Feb 2015 and ending in April 2017. The periods between were spent fund raising and building sets and sourcing props and costume.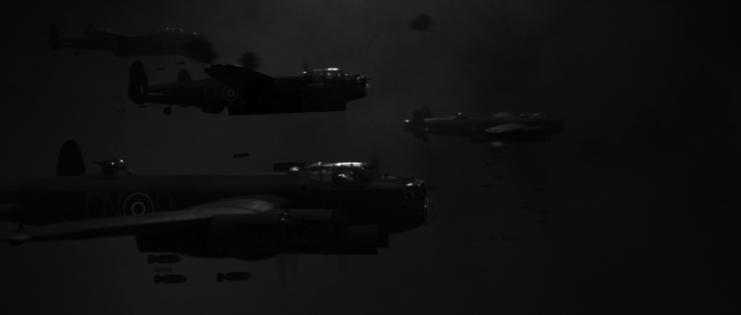 'Technically the film was very difficult to make which, in conjunction with the very limited budget, necessitated a great deal of creative thinking and problem solving. We had to build multiple sets in a disused milking shed near our home in Sleaford. We built an entire pub (nicknamed 'The Dusty Jug' by cast and crew) and all of the corridors and offices on the airbase. We even built a 45 foot internal section of the Lancaster Bomber including the cockpit. We were very fortunate to have a local builders merchant sponsor the build. Costume and kit was very hard to come by to. We managed to acquire one period flying helmet and mask.
From that I was able to form a pattern and make three more. I made the parachute harnesses using photographs sourced online and the flight boots were fashioned from modern rigger boots covered in faux suede. My wife made the 'Mae West' life jackets. Flying jackets and uniforms were purchased just before filming and then sold on. At times it was very challenging indeed.'
– Writer/Producer, Andrew Burn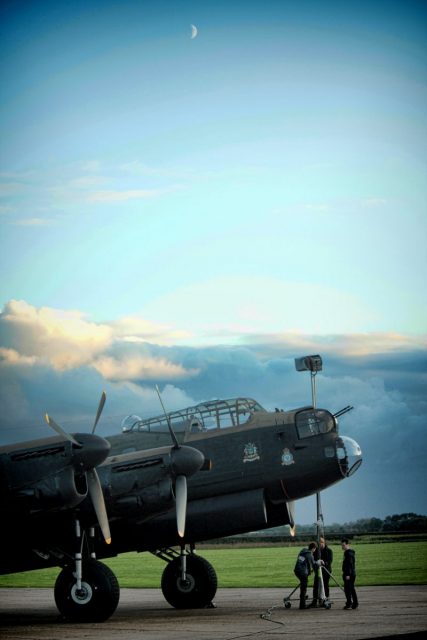 There was also a significant amount of filming on location in Lincolnshire and Cambridgeshire. The longest location shoot took place at East Kirkby Aviation Heritage Centre in October 2016.
The five days we spent at East Kirkby were fantastic. we were really looked after by the team there. We filmed in several of the buildings on site and of course were extremely fortunate to film in and around their prize exhibit 'Just Jane', one of only a handful of Lancaster Bombers that survive today.' – Writer/Producer, Andrew Burn
Post-production took over a year. This was largely due to the large number of visual effects needed for the aerial combat scenes. In the spirit of classic war films of yesteryear the Tin Hat team decided that they wanted to use scale models for these sequences.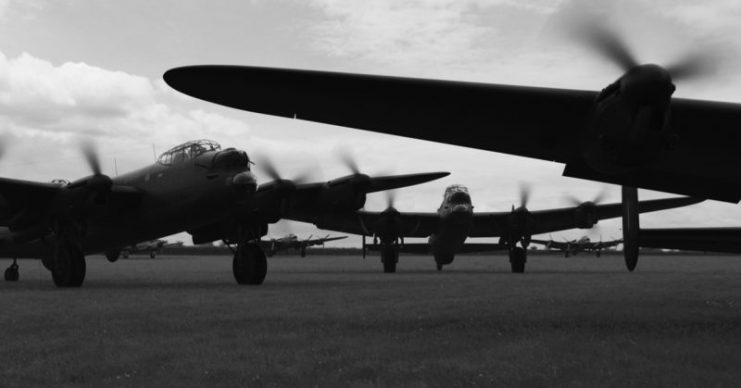 'We had used models before on an earlier project, but not on this scale. We ended up getting in touch with Mike Tucker, a VFX expert who had worked on Jerry Anderson's 'Thunderbirds' as well as several 'Bond' films. He was extremely helpful and gave us some invaluable advice, which ultimately saved us a great deal of time and contributed massively to the quality of the finished product." – Callum Burn, Writer/Director
Tin Hat have just released the theatrical trailer for 'Lancaster Skies' and have submitted the film to a number of film festivals worldwide, including the Toronto International Film Festival and the New Zealand International Film Festival. They hope to premiere 'Lancaster Skies' at the Raindance International Film Festival in London in September. DVD's and online streaming should be available by the end of the year.
Trailer
https://www.youtube.com/watch?v=_Yl8tf1fntg
Behind the scenes