Modern warfare has few comparisons to the terror of World War 2. A soldier steps into battle accepting that he might be on the receiving end of a bullet or bayonet, but he prays a hard charging warrior will not engulf his fighting position in flames. Unfortunately for the Japanese defending Iwo Jima, that was exactly the fate they would be gifted by Marine Medal of Honor recipient Hershel Woodrow Williams.
Fighting the Good Fight
Growing up on a dairy farm in West Virginia, Hershel Williams was originally turned away from joining the military for reportedly being too short. And while Medal of Honor recipients are typically known to be humble characters, this would have been the one case where it was perfectly acceptable to locate the recruiters who rejected him just to watch them salute his medal.
However, determined to fight the good fight, Williams persisted in his attempts to join until he was allowed to enlist in the United States Marine Corps Reserves in 1943.
Shipping out to the Pacific later that year, some of the hardest and most ferocious fighting of the war would await this young man of short stature from West Virginia. While he saw action in Guam, it was the volcanic rock of Iwo Jima that would secure his place in warfighter history.
You see, Williams wasn't just your average grunt charging the beaches with a rifle. He was trained as a demolition man and most notably in the use of the iconic flamethrower. A weapon so feared that it has since been banned for use in combat.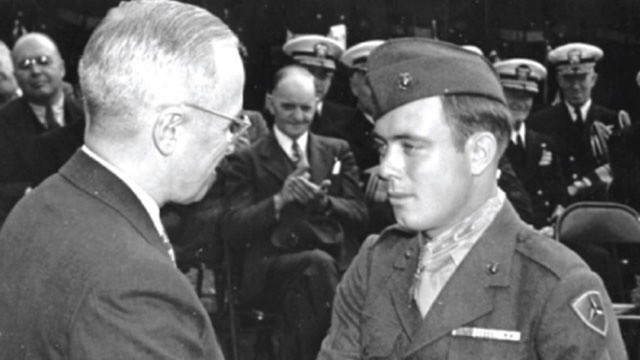 Fire on Iwo Jima
Serving as Demolition Sergeant for 1st Battalion 21st Marines, Williams jumped into action when a group of tanks were trying to open up a lane for the infantry. Utilizing his unique skill set, and perhaps even his small stature, Williams set out alone on multiple occasions to clear reinforced pillboxes with his flamethrower.
Returning back to the line time and time again to set demolition charges and pick up a serviceable flamethrower, Williams continued to go back out into the fray and gift heat to the Japanese enemy.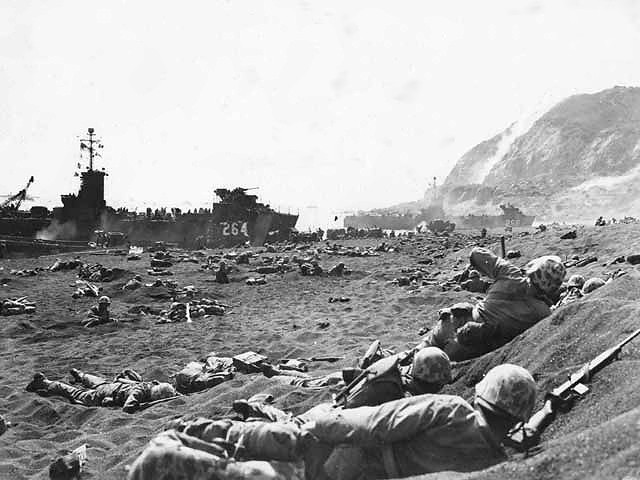 On one such trip, Williams actually came upon the air vent for one such defensive position that was terrorizing allied troops. Mounting the Japanese pillbox by himself, he inserted the nozzle of this flamethrower into the air vent and destroyed the enemy gun position.
And when the enemy with bayonets fixed tried to stop him, Williams took them on head on and ended their war with a burst of flames. A remarkable feat considering that the flamethrower was so feared, it was often the first target of enemy infantry.
The Future
While the future would go on to say that the flamethrower was too cruel a weapon to remain a mainstay of modern warfare, for those who fought in World War 2 it was more a matter of survival on a global scale. Hershel Williams ensured the survival of his fellow Marines by wielding one of the harshest weapons of warfare with unparalleled proficiency.
World War 2 was a global struggle of which the world has not seen since. Bravery, heroism, and valor were the main courses for each day's meal and we must stop and pause at what that generation above all deemed to be above and beyond the call of duty. And Marine Hershel Williams did it with a 70lb flammable target strapped to his back.
Enemies of America might have reason to fear the United States Marine Corps, but when they see Marine Hershel Williams approaching with a flamethrower, they have historical cause to drop everything and run for hills. For there have been many deserved Medals of Honor distributed throughout the course of American history, but we have to admit that this one might be one of the hottest known to man.
Medal of Honor Citation:
For conspicuous gallantry and intrepidity at the risk of his life above and beyond the call of duty as demolition sergeant serving with the 21st Marines, 3d Marine Division, in action against enemy Japanese forces on Iwo Jima, Volcano Islands, 23 February 1945.
Quick to volunteer his services when our tanks were maneuvering vainly to open a lane for the infantry through the network of reinforced concrete pillboxes, buried mines, and black volcanic sands, Cpl. Williams daringly went forward alone to attempt the reduction of devastating machinegun fire from the unyielding positions. Covered only by 4 riflemen, he fought desperately for 4 hours under terrific enemy small-arms fire and repeatedly returned to his own lines to prepare demolition charges and obtain serviced flamethrowers, struggling back, frequently to the rear of hostile emplacements, to wipe out 1 position after another.
On 1 occasion, he daringly mounted a pillbox to insert the nozzle of his flamethrower through the air vent, killing the occupants and silencing the gun; on another he grimly charged enemy riflemen who attempted to stop him with bayonets and destroyed them with a burst of flame from his weapon.
His unyielding determination and extraordinary heroism in the face of ruthless enemy resistance were directly instrumental in neutralizing one of the most fanatically defended Japanese strong points encountered by his regiment and aided vitally in enabling his company to reach its objective.
Cpl. Williams' aggressive fighting spirit and valiant devotion to duty throughout this fiercely contested action sustain and enhance the highest traditions of the U.S. Naval Service.