All battles fought in history have depended to a greater extent on the technique of foot soldiers and World War II  was no different. Infantry tactics simply refer to military techniques and strategy employed by a nation's infantry on the battlefield to achieve set goals and tactical objectives.
Foot soldiers typically make up the larger portion of a nation's army strength, as a matter of fact most military training programs begin with direct combat training modules before going on to more specialized training operations.
Being frontline commandos of sorts, they become endangered species in a sense because they are exposed to greater dangers and damage from enemy defenses, so one might say they bear the brunt of the battle and their experiences on the battlefield however vivid, paint a rather holistic and realistic picture of actual battle events compared to any other viewpoint, they are commonly known as cannon fodder.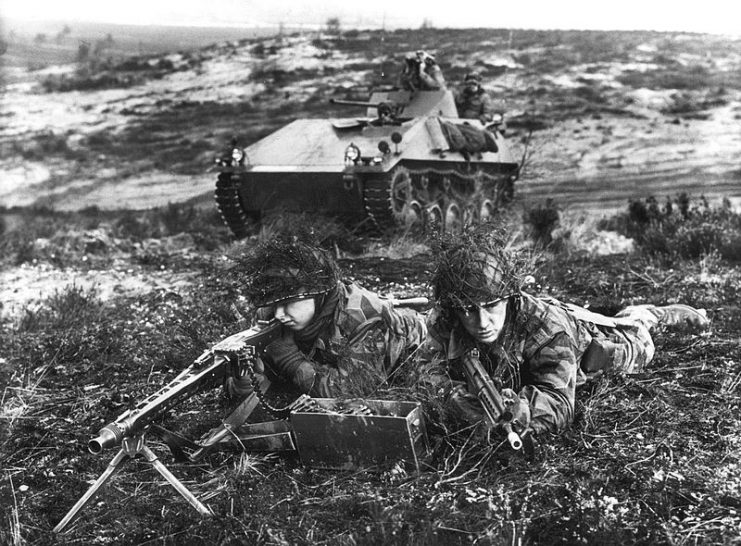 Therefore good infantry tactics are vital and will comprise strategic military approaches and techniques that serve to minimize risk and casualty to foot soldiers and conversely those that increase risk and casualty to infantry can be considered bad infantry tactics.
The more efficient infantry tactics overall may depend on such things as battle terrain, weaponry and technology in play, relative might and number of soldiers, and possibly availability of support from other fronts like naval and air force.

German Infantry in WWII
The German infantry was also known as the Wehrmacht with a strength estimated at 10 million soldiers at the time. Contrary to popular opinion, the Wehrmacht was not so mechanized or technologically sophisticated, they often were left to navigate their terrain on horses, and their mechanized and tank formations accounted for about 20 percent of their capacity.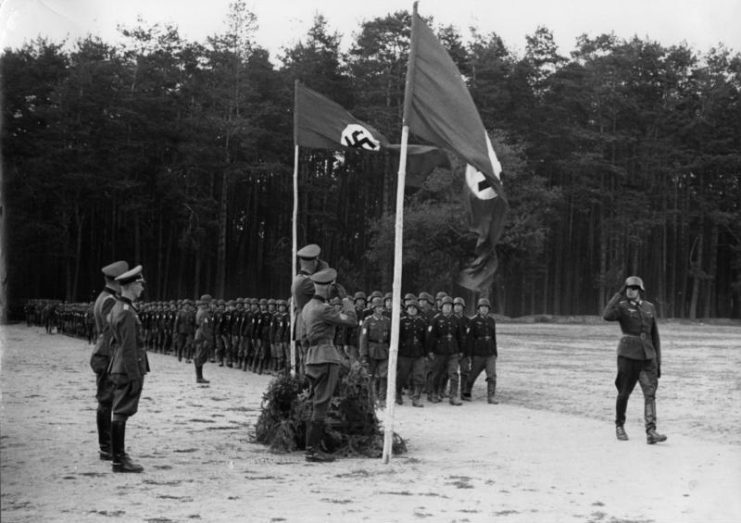 German infantry tactics in WWII emphasized an aggressive offense with the element of surprise as a recipe for success. They focused on such aspects as speed of attack, relying on novel and sensational weapons notable amongst which is the machine gun MG 34 and MG 42. They depended significantly on the use of automatic weapons, often at the expense of accuracy.
The Germans instilled discipline via training in soldiers much like any other, emphasizing responsibility and encouraging subordinates to use initiative and this was responsible for several bold decisions made by German infantry soldiers in WWII.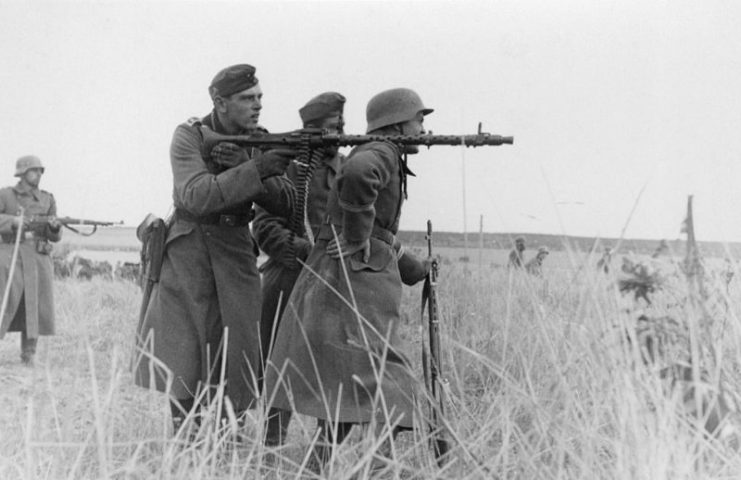 Squad
The Wehrmacht often operated in small specialized groups of about ten men. In terms of role, a squad comprised of a leader, his assistant or second in command, a machine gunner, and his assistant who often carried ammo and continued to fire rounds if the machine gunner took a bullet, and others who were given rifles and collectively referred to as riflemen. Some of the riflemen had expertise in explosives and carried hand grenades and so were sometimes referred to as grenade carriers and or throwers.
The squad leader gave the group purpose, communicating orders from command as well as mission objectives and targets. It was also his responsibility to meet the needs of his teammates ensuring that ammunition and other necessary supplies were made available as needed whilst ensuring the safety of his squad on the battlefield.
The assistant squad leader coordinated the group and deputized in the absence of the squad leader or while pinned down on the battlefield, he was also a liaison to other squads in the platoon in the event of a joint mission. Each platoon typically comprised of four squads.
The machine gunner operated a light machine gun (LMG) and was responsible for his weapon. His objective was usually to get within range of his target and open fire, he was also needed to provide cover while his teammates advanced or to distract the enemy by drawing fire while his teammates infiltrated their ranks.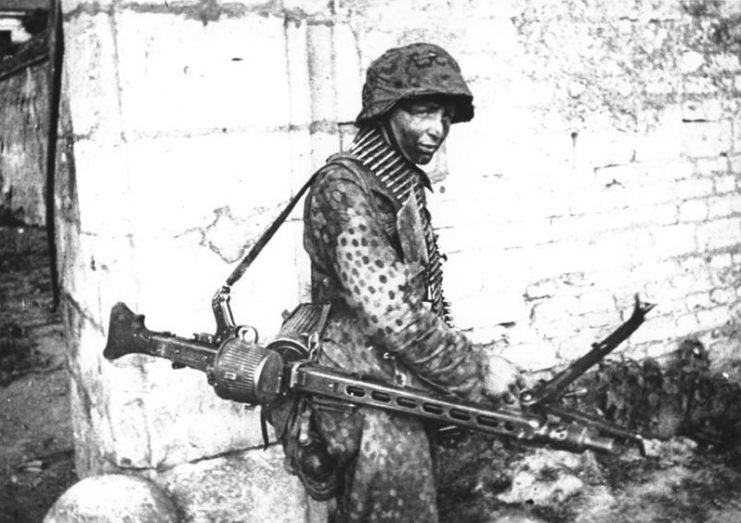 His assistant would help with ammo changes and jam fixes and if necessary step up to assume the role of machine gunner in the event of a casualty, he also carried a pistol.
The riflemen formed the assault part of the squad, usually opening fire on enemy combatants once, within range, they were more mobile than many other squad members. The grenade throwers were often riflemen who had the additional responsibility and skill of launching grenades from respectable distances at the enemy, the massive explosion had a greater impact on enemy forces while the smoke provided some cover that allowed them to navigate without significant opposition.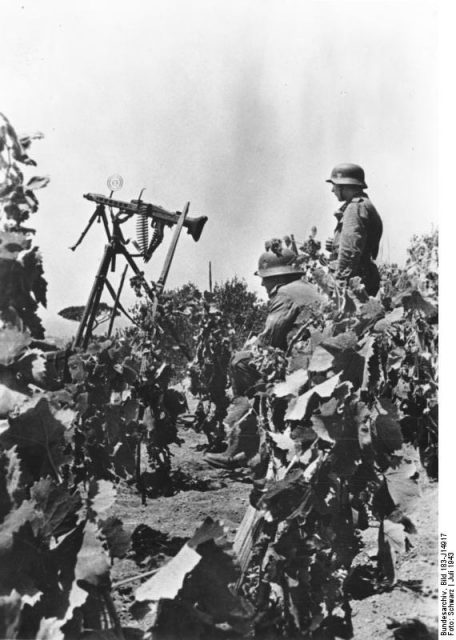 Formation
The German squad operated using a combination of three basic formations including the squad line or Reihe, the squad column or Kette and the squad in march order. The Reihe consisted of squad members spread out in a horizontal line advancing towards the enemy with gaps in between, whilst in this formation the machine gunner designed Schutze 1 or infantryman number one was positioned in the middle, giving him sufficient spread against his target. This formation was commonly employed in offensives that caught the enemy by surprise and without cover.
The Kette consisted of squad members advancing on a single file that may or may not entirely be at ninety degrees usually in stealth or under cover of night to quickly get into position of an unsuspecting enemy. In this formation, the machine gunner is often positioned in front, ready to open fire on the enemy if things went south. The Kette could very easily be modified into schützenkette or a skirmish line.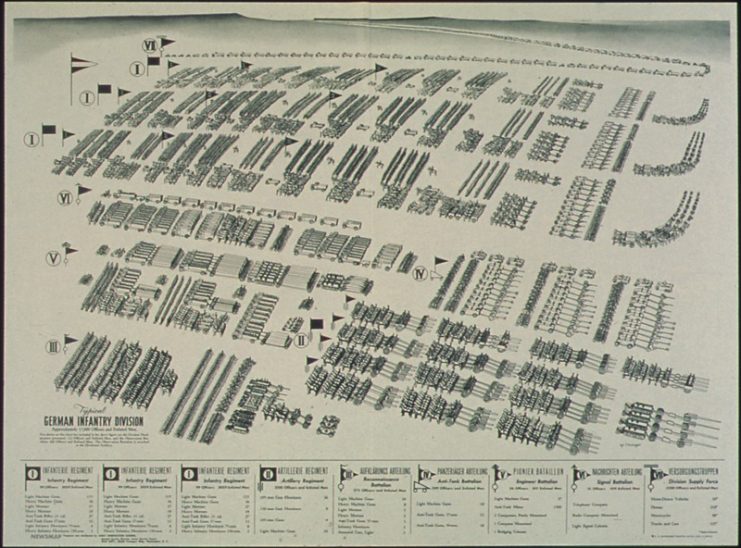 The squad in march formation was essentially a mix of the Kette and Reihe that was employed when advancing towards an expectant enemy possibly under siege or in the event of an invasion. The machine gunner may not be centrally positioned for this and his main objective was to provide superior firepower during an attack.
Offense
A German offensive attack took place in five stages; development, deployment, advancement, attack, and penetration. These various stages took place in rapid succession and the transition between each has been described by some as blurry.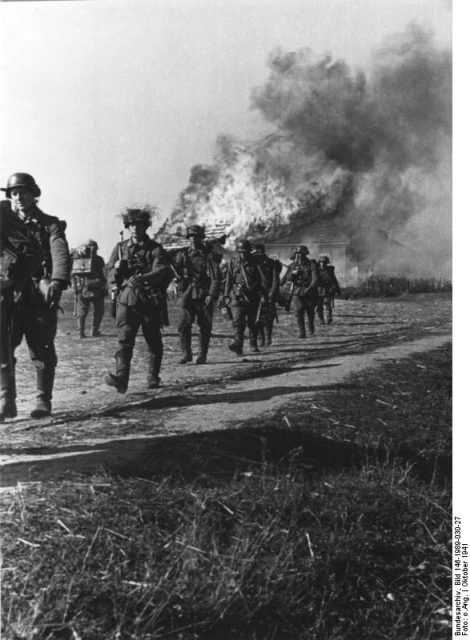 The development comprises the series of events leading to the dispatch of infantry soldiers to designated battlefields. In deployment, soldiers are briefed on their objectives and quickly get into formation. On the battlefield, advancement commences with the squad operating under a formation as earlier discussed whilst systematically closing in on enemy forces. Depending on the nature of the mission, this stage may or may not see major gunfire.
In attack, tension is broken and there is an all-out firefight, riflemen fire in all directions whilst covering their flanks, machine gunners provide fire cover for squadmates and strive to achieve fire superiority. There is usually not much forward movement at this point and the squad members engage enemy defenses in an attempt to break through it.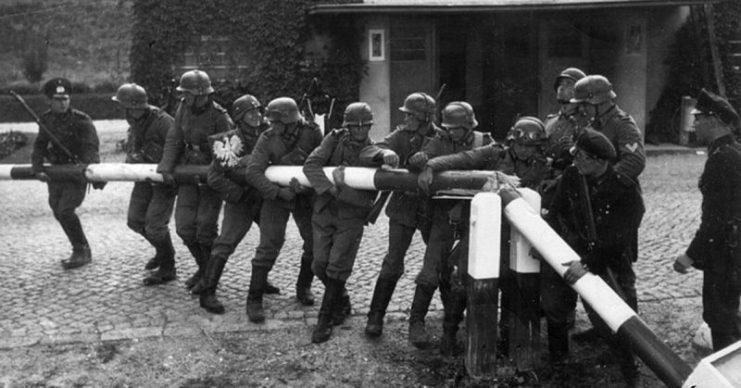 Penetration sees the Germans far into enemy lines, it is usually initiated at about a hundred meters from the enemy's position and often is an indication of a good offense as enemy soldiers may begin to fall back or retreat at this point.
Defense
In defensive operations, German infantry were dispatched to hold the main line of defense, the machine gunners and grenade throwers are deployed to the left and right flanks to initiate a counterattack or offensive whenever possible. The riflemen were spread out across the front in defense of their occupied territory.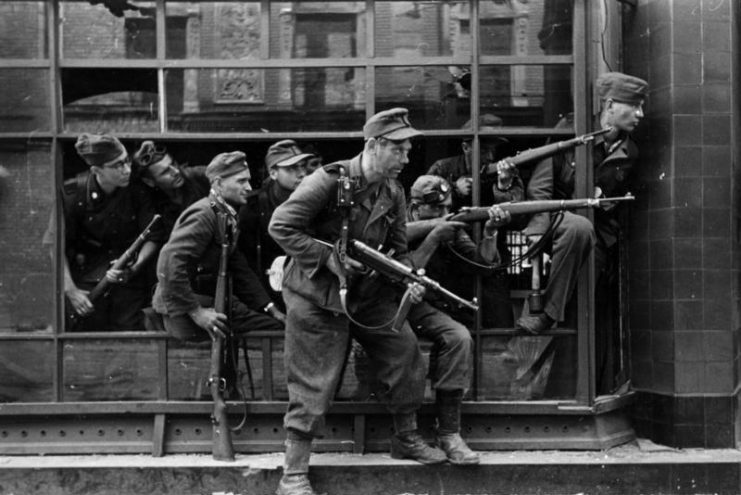 Conclusion
The Germans may have lost WWII but military strategists agree across the board that they operated an efficient military infantry that was swift, surprising, and superior at the time earning them the aura of invincibility that afforded them several victories during the war.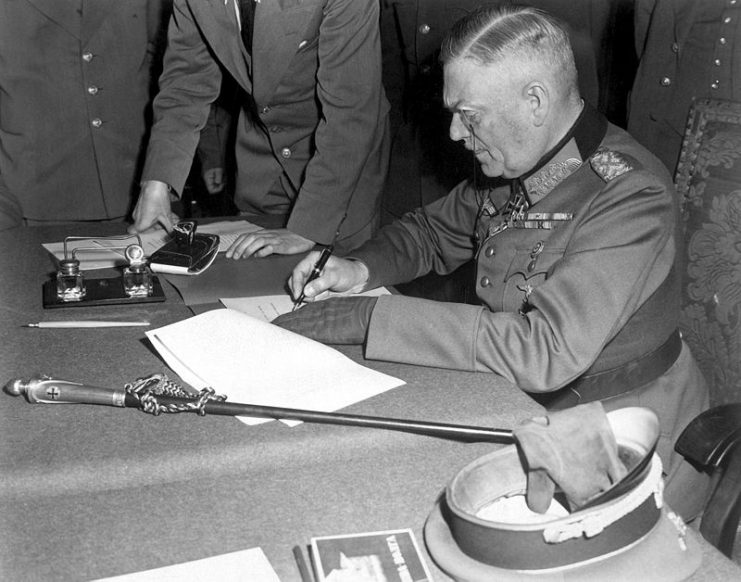 Read another story from us: Many of Germany's finest tacticians & commanders of WWII served in the panzer forces. One of those men was Walther Nehring
They were formidable and known for their aggression that served them quite well until the USSR invasion that led to the battles of Stalingrad and Kursk in 1943, after which they suffered major defeats that forced them into retreat until their eventual surrender in May 1945.