On August 24, 1940, during the Battle of Britain, Oberfeldwebel Fritz Beeck was one of many Luftwaffe fighter pilots tasked with escorting bombers on their way to hit RAF Manston, in Kent. His role was to ensure any enemy aircraft that flew up to meet them was neutralized. One of the Royal Air Force pilots tasked with defending the base was Sgt. Antoni Głowacki, a Polish pilot.
Beeck was on his second escort mission of the day, the first being uneventful, when his Messerschmitt Bf 109 Yellow 10 was hit. It was Głowacki, a member of No. 501 Fighter Squadron RAF, who hit Beeck. Oil began flowing freely from the aircraft's engine, and the Oberfeldwebel was forced to crash-land in a farmer's field, near East Langdon.
This is believed to be one of the victories that made Głowacki the very first "Ace-in-a-Day" of the Battle of Britain. He was also credited with downing two more Messerschmitt Bf 109s, as well as two Junkers Ju 88 over the course of three sorties that very same day.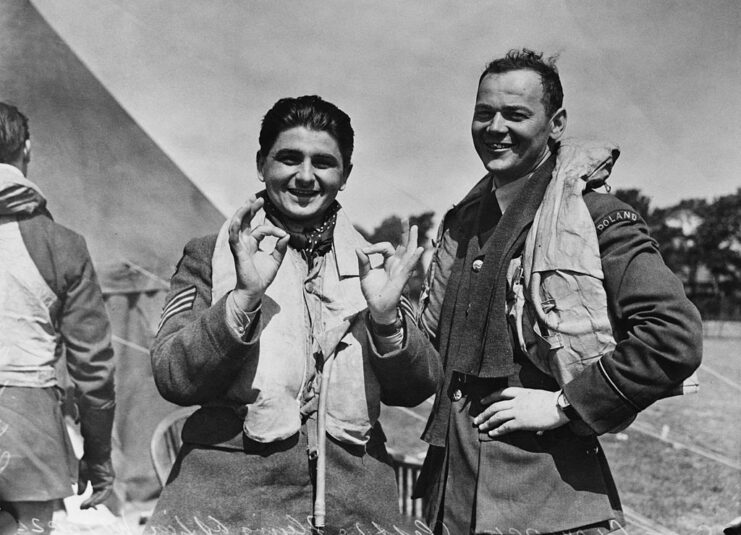 Above is a photo of Yellow 10 after the crash, with a British airman cheerily posing in the cockpit. The fighter was in relatively good shape, considering the emergency landing. Difficult to see, however, are the three victory bars marking the tailfin, which denote the three kills Beeck made earlier in the battle. His fourth was never marked on the aircraft; he'd downed a Hawker Hurricane just before he himself was shot out of the sky.
Also difficult to see is the emblem of the Second Gruppe, a weeping bird with the words "Gott Strafe England" written beneath, which translates to "God Punish England."
Ready to meet the somehow unharmed enemy pilot as he exited his Messerschmitt Bf 109 was a police officer. Upon seeing him, Beeck reportedly said something akin to, "It's a fair cop," before being taken as prisoner.
More from us: A WWII Bomber Pilot Flew a Cessna 172 for Over 64 Days As a Publicity Stunt
It's unclear exactly what happened to Fritz Beeck after World War II, but Antoni Głowacki was eventually made squadron leader, before emigrating to New Zealand, where he served with the country's air force.