A POW escaping from captivity has long been one of the most fascinating stories of World War 2. For all the war's brutality, there seemed to be this complicit understanding in Europe that a captured soldier or airman would do all they could to escape and that was just the game they played.
Certainly, brutal reprisals were common, but when an escapee was captured it almost took on the sense of, "nice try, now back you go." And while allied POWs tend to get all the Hollywood-style fame for their captivity with movies and television series, there was one German Fighter Ace who actually made his way out of a POW camp in Canada and all the way back to Germany to score 13 additional air to air kills.
This is the story of Franz von Werra and the man who made it back.
A Personality Made for War
Franz von Werra was born in July 1914 to Swiss parents. Growing up, von Werra would demonstrate a boisterous and playboy personality that made him a perfect fit for the role of World War II fighter pilot. In 1936, he joined the Luftwaffe and by 1940, he was fully immersed in the battle for France.
He scored his first victory in May 1940 when he shot down a Hawker Hurricane. He would claim two more bombers before moving on to the Battle of Britain. In one particular battle in August 1940, he claimed a Spitfire and three more Hurricanes as victories along with five more aircraft destroyed on the ground.
Already a fighter Ace, von Werra was starting to gain national attention when he was shot down on September 5, 1940, over Kent. And while it's not clear whether he was shot down by British pilots or friendly fire, the end result was von Werra crash landing in a field where he was subsequently captured. While it remains to be understood why some POWs embrace their captivity while others attempt to flee at the first sight of opportunity, von Werra would clearly be the latter.
He made his first attempt to escape while on a working detail during the time in which he was held at Maidstone Barracks. This attempt was unsuccessful, and after a period of interrogation, he was sent to POW Camp No. 1 at Grizedale Hall.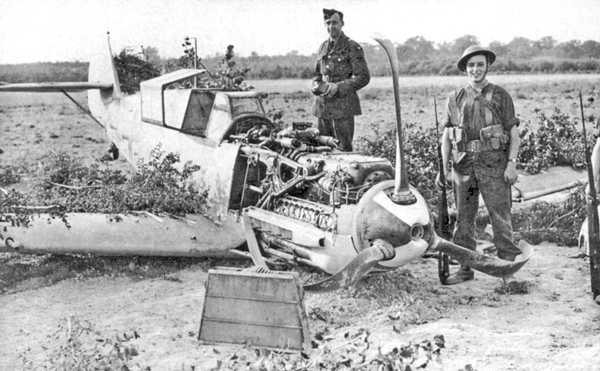 He would get his first taste of freedom on October 7th when he jumped over a wall with the help of his fellow German prisoners. For the next five days, von Werra would allude captivity in the English countryside despite a massive search for his whereabouts.
He was found on October 12th completely covered in mud as he attempted to dig a ditch in the ground. He received 21 days of solitary confinement and was sent to No. 13 in Swanwick, Derbyshire. It was here that he would come remarkably close during another escape attempt before being sent to Canada.
Hard to Keep von Werra Around
in December 1940, von Werra and four other POWs had managed to dig a tunnel out of No. 13 and slipped away into the night under the cover of antiaircraft fire and with the aid of their fellow POWs. Somehow they had come into possession of forged documents to aid in their escape. And while the other four POWs were quickly caught, the ingenious von Werra had another plan.
Somehow he had convinced British citizens that he was actually a downed Dutch pilot trying to make his way back to his unit. Remarkably, he made it all the way back to the aerodrome at RAF Hucknall where his plan was almost completed.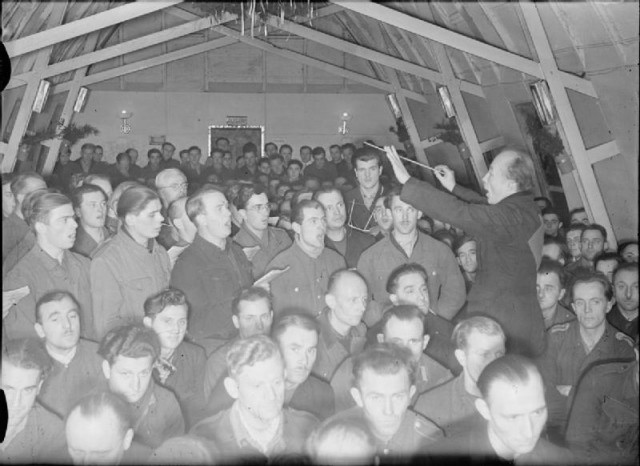 When being questioned by a squadron leader who left to check on his story, von Werra quickly ran to the nearest hanger and hopped in a plane after convincing a mechanic he was cleared for flight. When he was found out, he was arrested at gunpoint as he sat in the cockpit attempting to learn the controls of the craft perhaps just moments from freedom. At this point, the British thought that von Werra might be better off in Canada.
Along with many other German POWs, he was ordered to be taken to a POW camp on the North Shore of Lake Superior in Canada. However, von Werra would accept this new challenge and immediately began planning his escape. In January 1941, the United States was still a neutral power. So when the opportunity presented itself, von Werra leaped off of a prisoner train and made his way to the United States.
Making his way across the frozen St. Lawrence River, he arrived in New York State and turned himself over to the police. Not yet at war, the United States simply charged him with entering the country illegally. As a result, he contacted the German Consul who paid his bail and gave him his temporary freedom.
And while the US and Canada were discussing extradition, the German vice-consul took care of his fighter Ace and helped him make his way to Mexico. Once over the border, von Werra would begin the long journey that would take him from Brazil to Spain, to Italy and finally back in Germany in April of 1941.
Back in the Fight
Once back in Germany, von Werra was recognized as a hero by Adolf Hitler for having made his way back to the fight and was awarded the Knight's Cross of the Iron Cross. Von Werra would eventually be assigned to the Eastern front where he would go on to score 13 additional air to air kills over the skies of Russia.
It seemed von Werra was a man destined for greatness in the war, but a tragic accident would end his storied career.
After his unit returned to Germany in order to rest and re-equip with new aircraft, von Werra's BF 109F-4 experienced a catastrophic engine failure and crashed into the sea.
His body was never found and he would go down in the history as the only German POW to escape Canada and return to the war. His story would get a little bit of the Hollywood treatment be made into a 1957 film aptly named, The One That Got Away.