Most people believe that although the Japanese succeeded in bombing Pearl Harbor during WWII, they never managed to occupy so much as an inch of American soil, but this is not quite true. They held some 2.73 square miles of it until the end of the war – resulting in an occupation that many Americans paid for with their lives.
One man who paid for it was Henry Talmage "Hammerin' Hank" Elrod. He was born on September 27, 1905, in Turner County, Georgia. Elrod studied at the University of Georgia, and later, at Yale University, before deciding to take up aviation.
In December 1927, he joined the Marine Corps. After a year, he was sent to the Naval Air Station Pensacola, Florida where he became a company officer and student aviator. By February 1931, he was a Marine second lieutenant.
After earning his wings in February 1935, he became a Marine Aviator at the Marine Corps Base Quantico in Virginia. He transferred to San Diego, California in July 1938. There he was assigned to a squadron as their material, parachute, and personnel officer. By January 1941, he was in Hawaii.
On December 4 that year he headed to Wake Island with 12 planes and pilots, as well as the ground crew of the VMF-211 fighter squadron. Located west of Honolulu and east of Guam, Wake Island measures some 2.73 square miles; if you exclude its lagoon. As it is the easternmost part of the US, it's motto is: "Where America's Day Really Begins."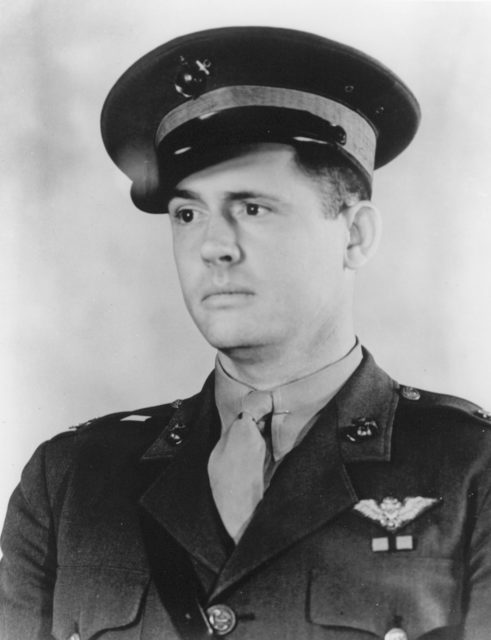 With a war raging in Europe, the US Navy built a military base there in January 1941. By August 19, it hosted its first permanent military garrison – the 1st Marine Defense Battalion with 450 men under Major James Patrick Sinnott Devereux. There were also 12 F4F-3 Wildcat fighters commanded by Major Paul Albert Putnam.
The island housed 68 US Navy personnel and 1,221 civilians who worked for the Morrison-Knudsen Civil Engineering Company. Another 45 Chamorros (native Mariana Islanders) served the Pan American Airways facility that had been there since 1935.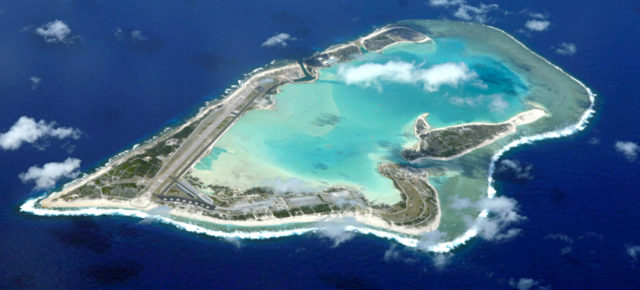 On December 7, the Japanese attacked Pearl Harbor. The following day, four Wildcats took off from Wake Island for a routine patrol mission, but poor visibility prevented them from seeing the oncoming Japanese bombers.
Eight Wildcats were destroyed on the ground, and 23 Marines killed. The Pan Am employees were evacuated to Hawaii, but not the Chamorros. On December 9, two more raids took out the civilian hospital, the Pan Am facility, and the munitions depot at the cost of two downed Japanese bombers.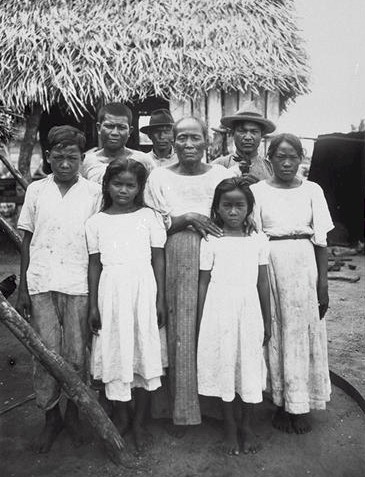 On the morning of December 11, the Japanese sent in their South Seas Force to take the island, but it did not go well. At 9,000 yards distance from the shore, nothing fired at them, so they assumed their aerial assault had taken out the American coastal batteries. Exactly what Devereux wanted them to think.
At 4,500 yards, the Americans let loose their six 5-inch coastal guns. One took out the Japanese destroyer Hayate, sinking her within minutes – the first Japanese warship casualty of WWII.
The Yubari took 11 direct hits from another gun but stayed afloat. On board was Rear Admiral Sadamichi Kajioka – Commander of the invasion forces. Surprised by the American resistance, he ordered a retreat.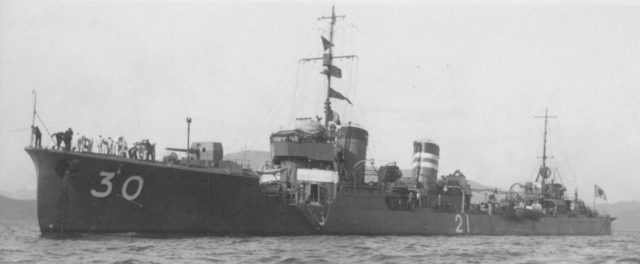 There were four surviving American planes. Four took to the skies with Elrod in one of them. To maximize their chances, they split up. Elrod faced 22 incoming enemy craft on his own, taking down two before he ran out of ammo. He still had bombs. Flying his Wildcat over one of the Mutsuki-class destroyers he let loose his small caliber 100-pound bombs.
Although sailing away from the island, the Kisaragi was not fast enough. One of Elrod's bombs hit her on the stern. Alone, it would have damaged her, but her depth charges had been stored there in case American submarines showed up.
The explosion was spectacular. It made the Kisaragi the first warship to be sunk by a plane during WWII. There were no survivors.
Elrod engaged in another dogfight the following day until his plane became too damaged to fly; leaving the Americans with no more planes. Despite the media frenzy which followed, and requests for more supplies, none were forthcoming.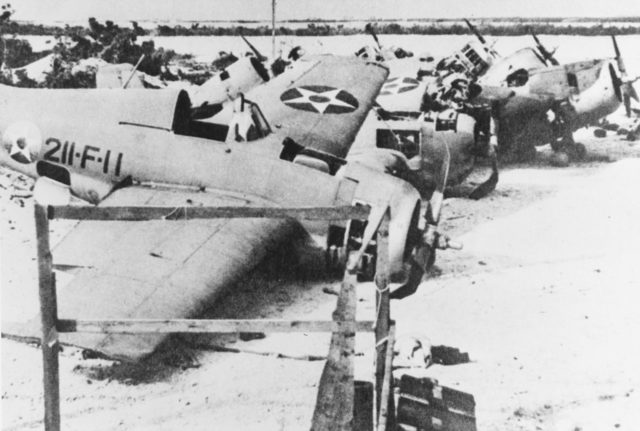 Then on December 22 several destroyers and heavy cruisers carrying supplies of more planes and ammo, as well as Marines, left Pearl Harbor. Some headed to Wake Island, while others made their way to the Marshall Islands to keep the Japanese away from Wake.
They never made it. Intelligence reports claimed two Japanese carriers and two heavy cruisers were in the vicinity of Wake Island. The US Navy at that time was small, and its military capacity nowhere near what it is today. Priority had to go toward conserving what warships and warplanes they had. The defense of the US mainland had to come first.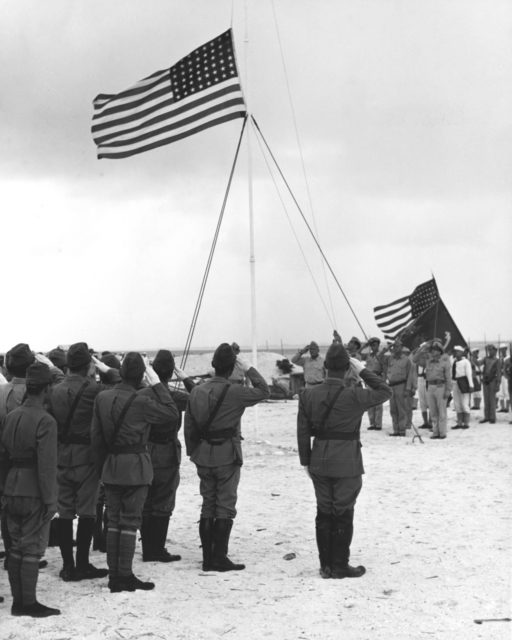 At 9 PM, the convoy was ordered to return to Pearl Harbor. The remaining survivors on Wake Island were on their own.
The next day, the Japanese launched their second attack. This time, Elrod had no more planes to fly.
The aerial bombardment came first. It paved the way for the arrival of 1,500 Japanese Marines aboard the carriers Hiryū and Sōryū – which had participated in the attack on Pearl Harbor.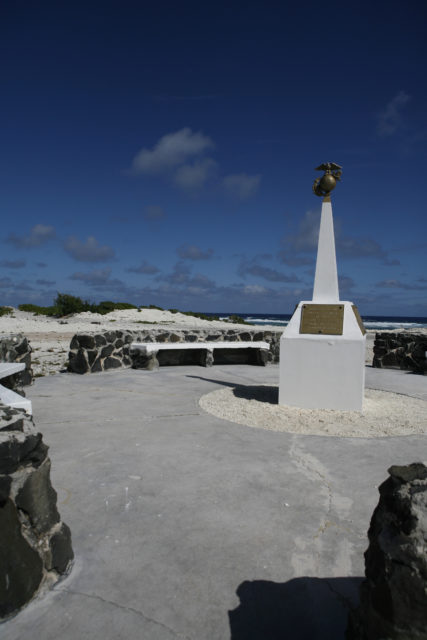 Elrod took command of one flank defending the beachhead, helping his men hold their positions and protecting the civilian ammunition carriers. When a wave of Japanese tried to breach their position, he managed to capture an automatic weapon and handed his own gun to one of his men.
However, it was hopeless. The Americans were ridiculously outnumbered and were forced to surrender. Elrod had been fatally shot.
Despite frequent American air raids, the Japanese held the island until they were forced to surrender on July 24, 1945. Elrod was posthumously made a Major on November 8, 1946 – the day his Medal of Honor was presented to his wife.