Gustav Schwarzenegger is the father of the famous Arnold Schwarzenegger, former California Governor. Gustav was a Police Chief (Gendarmeriekommandant) in Austria, a senior military police officer (non-commissioned) as well as a postal inspector.
Gustav was born in the country of Austria-Hungary to Karl and Cecelia (nee Hinterleitner). He was married to Aurelia Jadrny, a war widow (who lived from July 29th, 1922 until August 2nd, 1998) on October 5th, 1945. They married in Austria (Murzsteg, Steiermark).
He lived up until he reached 65 and died in Austria (Weisz, Steiermark); he was living here and working as a policeman. His burial site is in Weiz Cemetery. Aurelia passed away after suffering a heart attack whilst paying a visit to the cemetery, aged 76, and was subsequently buried right next to her beloved husband.
Gustav was an avid sportsman and adored music. In the video 'Pumping Iron', Arnold was heard to say that he wasn't in attendance when his father was buried. Later withdrew this statement, saying that he'd took that line from a fellow boxer's story so that he could make it perceived that his personal life did not interfere with his sports training.
Rumors of Gustav's Nazi links started to circulate in 1990, being covered in news reports. Following this information being released Arnold decided to do his own investigation and approached the Simon Wiesenthal Center to dig into his father's past and research it.
Gustav's army records were sourced and membership to the Nazi party also, however, they could not find any links between Gustav to any crimes of War or the Schutzstaffel (SS) paramilitary organization. The media renewed their interest in these rumors following Arnold's decision to run for Governor of the state of California in 2003.
Nazi Party and SA membership
The Los Angeles Times managed to acquire documents from the Austrian State Archives in 2003; they were able to do this as 30 years had passed and Gustav's records had taken advantage of Austrian privacy laws which sealed his records for a period of 30 years. Within these documents, it was found that Gustav had applied voluntarily to enroll in the Nazi Party in 1938 (March 1st) which was two weeks before the country was annexed.
On March 12th, 1938 Austria joined the German Reich due to the Anschluss. A record that was procured separately from the Wiesenthal Center shows that Gustav requested membership before the annexation being official, however, was not accepted into the Nazi Party until January 1941. Records show that one year after Austria was annexed he had also applied to join the Sturmabteilung (SA) at a time when members were declining.
The SA had 4.2 million members during 1934, but these numbers had dropped to 900,000 by 1940. The decline in membership of the SA was attributed to 'The Knight of the Long Knives' which was a politically motivated purge, put in practice by Adolf Hitler and used against the SA, which was viewed as being too powerful and radical by members of senior military and leaders within Nazi Germany.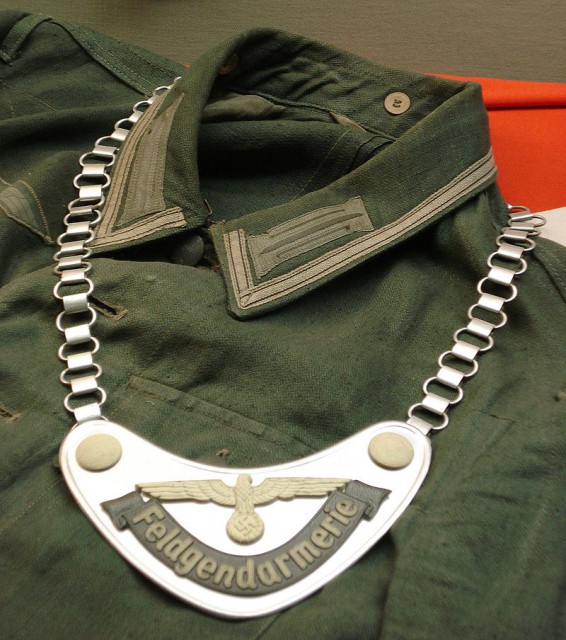 Gustav had been in service with the Austrian Army for a period of 7 years (1930-1937) and had achieved the status of Section Commander. He became a police officer in 1937. Following his enlistment into the Wehrmacht in 1939, he became a Hauptfeldwebel (Master Sergeant) of the Feldgendarmerie (military police units). He served in many countries; including Belgium, Poland, Ukraine, France, Russia and also Lithuania.
He was part of Feldgendarmerie-Abteilung 521 Unit, which was a part of Panzergruppe 4 (later known as Panzeramee 4). On August 22nd, 1942 he was wounded in action while in Russia and received Iron Crosses 1st and 2nd classes for bravery, as well as the Eastern Front Medal through the extremely bitter winter in Russia during '41/'42 aka the Wounded Badge.
Gustav seemed to have needed a lot of medical attention. At first his treatment was given in Lodz Military Hospital, but according to official records, Gustav suffered from bouts of Malaria (that were reoccurring), which eventually led to him being discharged in February 1944. After he had been classed as unfit for active duty, he decided to go back to Austria (Graz) where he got an assignment to work as an official postal inspector.
A document found from a health registry described Gustav as a 'calm and reliable person, not particularly outstanding' and made an assessment of his intellect as 'average.'
A historian from Vienna's Documentation Centre of Austrian Residence, Ursula Schwarz, has said that Gustav's career was very normal and predictable of his generation and that no hard evidence has come out that has linked him directly with any part in War crimes or abuses against civilians. Gustav returned to his policing career in 1947.
Equipment Likely Used by Gustav
The Battalions that Gustav was part of were equipped with plenty of motorcycles and Kubelwagen (sidecars). They also used field cars, like the Horch 4×4 and Opel Blitz Lorries, which were 3 ton. Armored vehicles were also used for transport, though in far fewer numbers than other vehicles.
Weapons Likely Used by Gustav
Small arms, like the Walter PP, tended to be used as personal weapons and were also commonly used as a civilian police pistol (Polizei-Pistole or PP). The Walther PPK was also favored by police officers. Other ranks utilized the Walther 38 or the Luger P08. NCOs carried automatic machine pistols or the Mauser Karabiner 98k rifle; however, this was not commonly used. Vehicle mounted weapons tended to consist of the MG34 and MG42; these were used for defense, mainly at vehicle checkpoints or roadblocks.