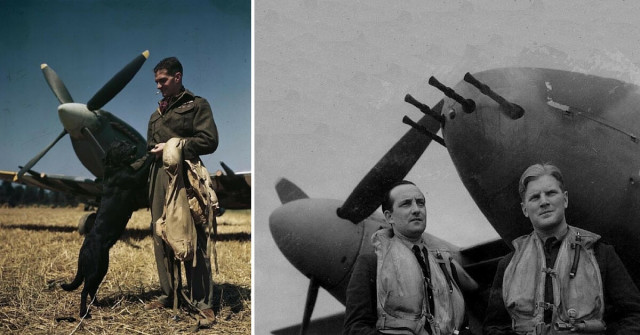 Here are the top ten Royal Airforce fighter aces of World War II
10 – Adolph Gysbert Malan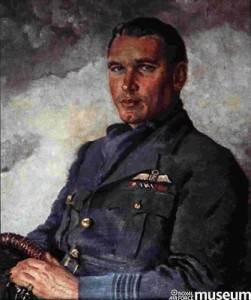 Often called Sailor Malan and hailing from Wellington, Cape Colony, South Africa, the number 10 Royal Air Force flying ace of World War II had 27 confirmed single kills (enemy aircraft shot down). Serving with 74 Squadron, Malan he was promoted to flight lieutenant six months before the start of the war.
At the Battle of Dunkirk on June 28th, 1940, Malan racked up 5 kills and earned the Distinguished Flying Cross (DFC). His 74 Squadron became one of the top British fighter squadrons of the war. After his service, retiring with the rank of group captain, Malan became a fierce anti-fascist and anti-apartheid activist back home on South Africa.
9 – James Harry Lacey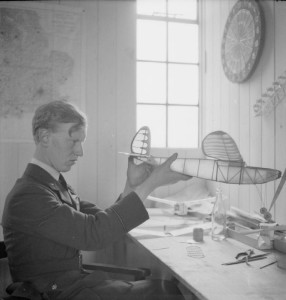 Nicknamed Ginger, Lacey has 28 confirmed kills. Not just highly decorated with British awards, however, he also earned the Croix de Guerre from France for his action in the Battle of France.
Between Germany's invasion of France and their Attacks on Britain, Lacey was forced to land planes damaged while he fought the enemy nine times. On operational duty the first and last days of WWII, Lacey also fought from a posting in India which began in March 1943. After the war, he became the first pilot to fly a Spitfire over Japan.
8 – Brendan Eamon Fergus Finucane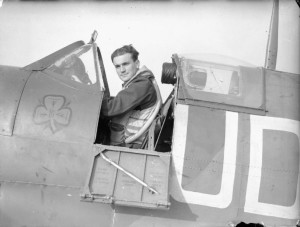 Known to his comrades as Paddy, the Irish-born Finucane racked up at least 28 confirmed kills. This number could be as high as 32 as official reports do differ. He joined the RAF in 1938 at the age of 17, the bare minimum required.
In May, 1941, at the age of 20, Finucane had already earned the DFC and now was the well-liked commander of 23 pilots and over 100 ground crew. He was also decorated with two bars on his DFC and received the Distinguished Service Order (DSO) before his death on July 15th, 1942 when his plane crashed into the English Channel and he disappeared.
7 – John Randall Daniel Braham (right)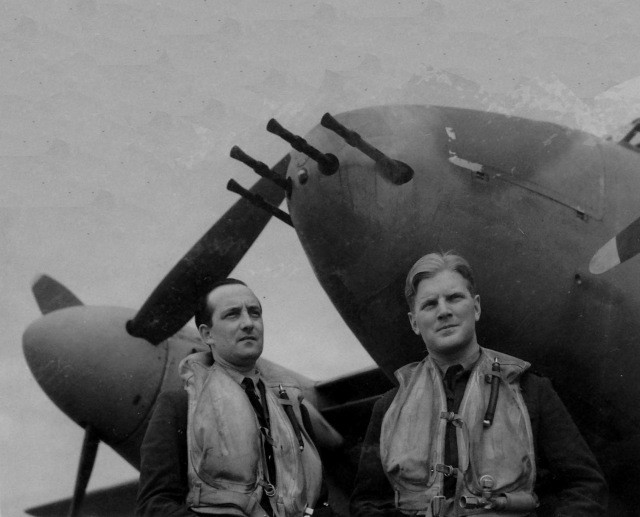 "Bob" Braham brought down 29 enemy aircraft during WWII. Defending his homeland during The Blitz, he received the DFC at the age of 20. Less than two years later, he was a wing commander and would become the highest decorated pilot in RAF Air Command by the time he was captured by the Germans in June 1944 after being shot down.
On top of being the best British pilot in a twin-engine craft (the De Havilland Mosquito) Braham was also one of Britain's most successful nighttime fighter pilots.
6 – Robert Roland Stanford Tuck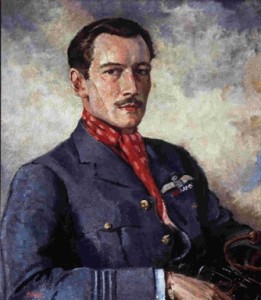 With 29 confirmed kills, Tuck comes in at 6 on the ace list. Born to Jewish parents in Catford, Southeast London, Tuck was serving as an acting pilot officer when war broke out.
In his first combat patrol, flying over Dunkirk on May 23rd, 1940, he shot down three German fighters. He shot down two more planes the next day and his success only continued. Within a month's time, he had earned the DFC, which was presented to him by King George VI himself on June 23rd.
After being shot down and captured by German troops on January 28th, 1942, the men who captured him noticed that one of his 20mm machine-guns had gone right down to the barrel of a similar-sized weapon on the ground, causing a banana peel effect. This was because he had fired so many rounds. The Germans were so impressed, they congratulated him heartily before shipping him off to a POW camp.
5 – William Vale
"Cherry" Vale served as a pilot in the RAF mostly flying out of Egypt and Crete. With 30 enemy craft down, Vale reaches number 5 on the ace list. Ten of these kills were in a Gloster Gladiator, a biplane, no less.
Noted for his valor, Vale received the DFC. In 1942, he was moved to Britain, promoted to flight lieutenant, and awarded the Air Force Cross two years later for his work training other pilots.
4 – George Frederick Beurling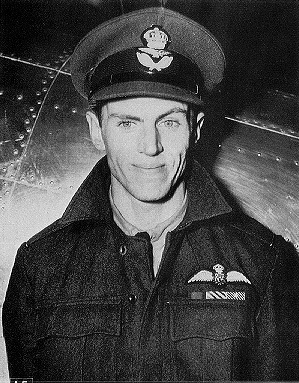 Nicknamed Buzz and Screwball, this Canadian born in Verdun, Quebec (now part of Montreal), was denied entry to the Royal Canadian Air Force, wasn't allowed by his parents to join the Finnish Air Force and, finally, after his second trip to England, was accepted into the Royal Air Force at the age of 18 in 1940.
Stationed in Malta in June 1942, after an unimpressive tour flying out of England, Beurling soon earned his high spot on the ace list. In defending the island against Italy and Germany, he earned the nicknames The Falcon of Malta and the Knight of Malta along with the DFC, DSO and Distinguished Flying Medal with one bar. He total tally was 31 kills, which also makes him the top Canadian ace of WWII.
3 – Pierre Clostermann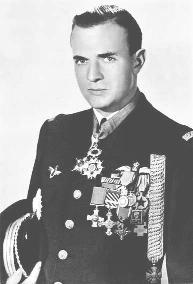 Born the son of a French diplomat in Brazil, this Frenchman was refused the opportunity to serve in France when war broke out and he was still a teenager. He then moved to California to train as a commercial pilot before joining the Free French Air Force in Britain in 1942 at the age of 21, officially under RAF command. At 24 years old, he had racked up 33 kills and received a personal  accommodation from General Charles de Gaulle.
Among Clostermann's credits are also attacks on several hundred ground vehicles and missions against  V-1 rocket launch sites. He received high honors for his impressive actions from Britain, France, and the U.S. After the war, he became a successful author, politician, engineer and sport fisherman.
2 – James Edgar Johnson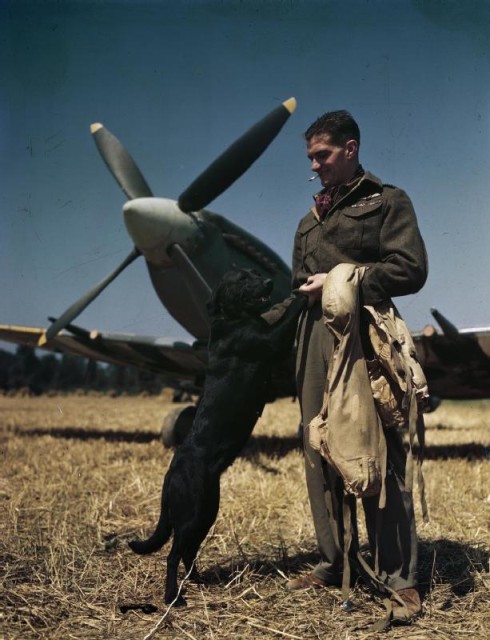 "Johnnie" Johnson spent several years trying and failing to join the RAF due to a collarbone injury from his rugby days as a teenager. He was finally accepted in August 1939 at the age of 24, but the problems caused by the old injury were evident in training and he missed the first part of the war while recovering from the surgery to resent his collarbone.
The RAF would make good use out of Johnson for the remainder of his service, however. Between June 1941 and September 1944, he claimed 34 kills, all fighters, making him the most successful British pilot against the Focke-Wulf FW 190 and the most successful Western Allied pilot against the Luftwaffe's most fearsome fighter-plane.
1 – Marmaduke Thomas St John Pattle (left)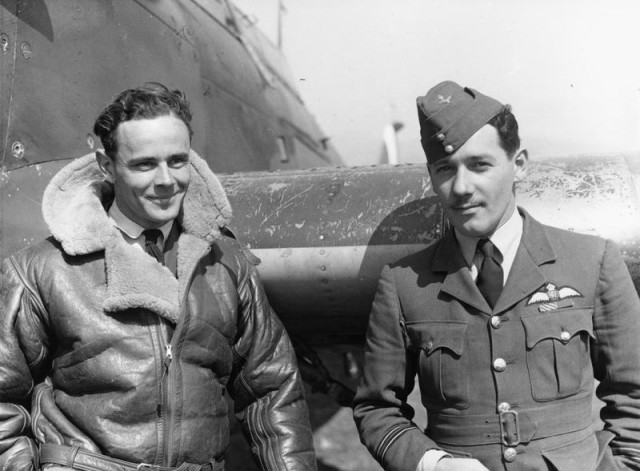 "Pat" Pattle was born in South Africa, rejected by the South African Air Force at the age of 18, he later journeyed to England to join the RAF in 1936 at the age of 20. Before crashing into the Mediterranean in April 1941, in just nine months of fighting in North Africa and Greece Pattle became the top RAF ace of WWII and was never bettered.
Reports and records of Pattle's kill tally very. At the minimum, he had 40 and that number could easily be as high as 60. Though much lower than the top German aces of WWII, this is a noteworthy achievement for less than one year of service. Three times, Pattle claimed five or more enemy craft destroyed in one day. On the day he died, he was running a fever and flew against orders.
By Colin Fraser for War History Online
All photos sourced from wikipedia.org