War History online proudly presents this Guest Piece from Jeremy P. Ämick, who is a military historian and writes on behalf of the Silver Star Families of America.
The legacy of the late Warren E. Hearnes, 46th governor of Missouri, endures through contributions to education, civil rights and other legislative achievements from his many years as a public servant. Prior to any legislative endeavors, however, was his desire to someday attend the United States Military Academy—a dream that came to fruition through a circuitous set of circumstances.
Growing up in the southeastern Missouri town of Charleston, Hearnes and a group of 16-year-old boys from around the community made the decision to conceal their true age and enlist in Headquarters Company, 140th Infantry Regiment of the Missouri National Guard on May 27, 1940.
"The boys were sent to Camp Robinson (Little Rock, Arkansas) because their unit got called up," said the late governor's wife, Betty Hearnes. "They did their duty while they were there but when someone found out their true age, that's when they were discharged and sent back home to finish out their senior year of school.
According to the December 12, 1940 edition of the Sikeston Herald, the 140th Infantry Regiment "will be called for encampment December 23, after which they will be stationed at their home armories for ten days before reporting for their year's training at Camp Joseph T. Robinson …"
Service records obtained from the Missouri State Archives confirm Hearnes was discharged from the National Guard at Camp Robinson on April 11, 1941 for reasons of being a minor, although his discharge document indicated his character as "good" and his efficiency as a soldier "satisfactory."
Returning to high school and finishing his senior year several weeks later, Hearnes' wife noted, "Warren was attending school at the University of Missouri in Columbia when he received his draft notice for the U.S. Army."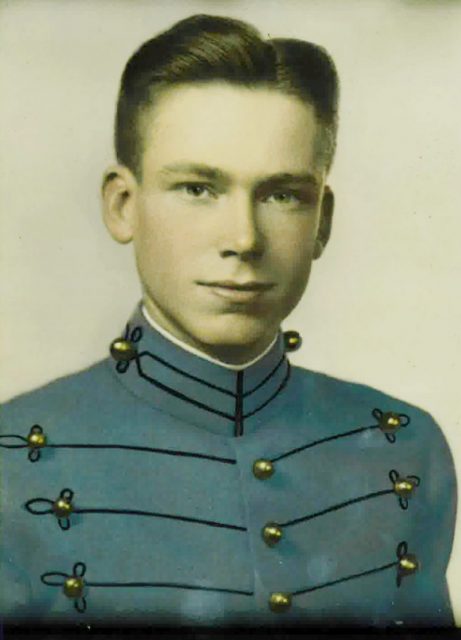 Prior to his induction into the Army at Jefferson Barracks on February 24, 1943, Hearnes had taken the first step in pursuit of his dream of attending West Point by taking the academy's competitive examination in his congressional district.
"While he was training at Fort Sheridan, Illinois (a regional induction and training center during WWII), he received a telegram from his congressman and President Roosevelt appointing him to West Point," said Betty Hearnes. "They gave him another discharge from the service and he went on to the academy," she added.
The "Report of Separation" issued to Hearnes noted that on June 28, 1943, the recent inductee left the service to begin his military education at the academy. For the next three years, while undergoing an accelerated program crafted to train officer's for the war effort, Cadet Hearnes was a member of the cadet choir and "studied all day and most of the night, then got up and did it again," said Betty Hearnes.
Graduating from the academy in 1946 with his bachelor's degree and receiving his commission as an officer, Hearnes traveled to Ft. Benning, Georgia, to complete additional training to become qualified as an infantry officer. The war may have been over, but the young officer still had a commitment to the United States Army and was assigned to the 35th Infantry Division in Puerto Rico.
Hearnes' wife explained that the young officer was stationed at Henry Barracks—a U.S. Army post near San Juan, Puerto Rico, that was closed in 1965—and remained actively involved in training troops, which included conducting drill and ceremony in addition to going on various types of maneuvers to maintain a state of military preparedness.
The time the troops spent on the island was not entirely dedicated to performing their military duties and they often would engage in friendly games of baseball to help pass the time and build camaraderie. This activity, Betty explained, would lead to the accident that resulted in Hearnes' eventual discharge from the military.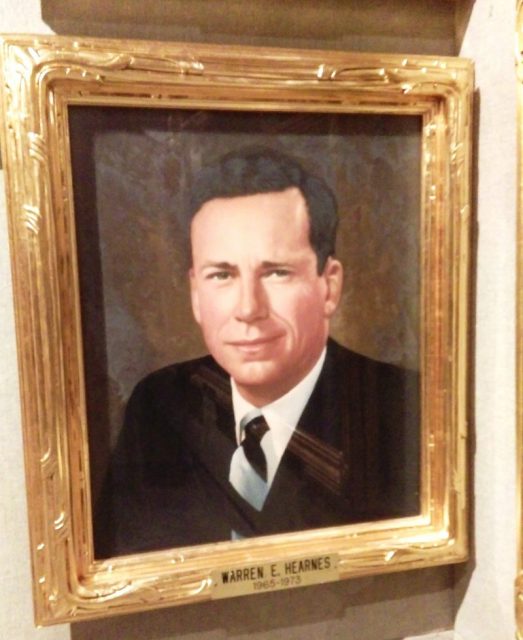 "He and his men were playing another team in baseball in 1947 and (Hearnes) was jumping for a fly ball when one of his sergeants ran into him and broke his (right) ankle," said Betty.
The soldier was sent to the Percy Jones Army Hospital in Battle Creek, Michigan, where he underwent numerous treatments and procedures in an attempt to correct the damage done to his ankle. However, as Betty noted, the injury never fully healed and resulted in perceptible limp for the rest of Hearnes' life.
While undergoing treatment for the injury, Hearnes was allowed to recuperate in his hometown of Charleston and was married to the Betty Cooper in 1947. Although the Army eventually allowed him to return to his unit in Puerto Rico, his wife noted that it was only for a brief period.
Betty explained, "Warren went on maneuvers in Vieques (an island-municipality of Puerto Rico) and his colonel called him in and said that he couldn't stay in the service because he couldn't pass all of the (physical) tests at a 100 percent level. He was walking with a cane at that time." Pausing, she added, "It changed his life."
The years following his discharge from the service have become an important part of the state's political history, crowned by Hearnes becoming the first two-term governor of Missouri. The former governor passed away in 2009 and his wife affirms that despite his many successes, he reflected on his time in the Army as the most influential period of his life.
"He loved being in the service and all of his life he wanted to attend the military academy," said Betty Hearnes. "Graduating from West Point was certainly his proudest moment."
With slight solemnity, he added, "I am so proud of his service and thought, as did he, that he would stay in the Army forever … but that didn't work out. But all the lessons he learned from the Army during that time—the focus, discipline and the ability to tell people 'no' when need be—those were all lessons that would later benefit him as governor."